When we attended HubSpot's 'Growth Driven Design' workshop in Dublin, it lit up our brains like one of those bulb-above-the-head stock photos. Your website should be your best salesperson, always working, never calling in sick or spending the day grinning through a hangover.
But it's always the way. You spend so much time looking after your clients that you forget to look after yourself. After doing some great work, the referrals started flooding in, and suddenly your own lead generation seems less important than it was in the beginning.
So our website (let's call him Bryan) became neglected, stuck in that two year post-redesign rut when everything else seems more important and he slips to the bottom of the pile. Sound familiar? Well, we're pleased to reveal there is another way.
The best salesperson you've already hired
We fully expected Bryan to be our best salesperson, despite the fact we don't pay him a salary, make him coffee or ever invite him on our team nights out.
Instead, we hand him a stack of brochures on the money-saving benefits of double glazing*, slip him a briefcase full of money and push him out the door, hoping he comes back with some orders and has enough budget left by Christmas to buy those new bikes for the kids.
So of course, Bryan gets complacent, he stops working as hard for you. After a while, nobody wants to talk to Bryan because he hasn't showered in weeks and seems to have watched every series on Netflix. Doesn't sound like your best salesperson, does it?
Growth Driven Design (GDD) encourages you to give Bryan some love and attention. Not so much that you'll get in trouble with HR, but enough to keep him motivated. You'll consider what his priorities are and assign him small, achievable tasks each month. You'll listen to his feedback on how the conversations with your customers are going, and give him better brochures (or one of those calculators with the extra big buttons) as a result.
* Note: Six & Flow do not and never have sold double glazing, it's an analogy. A really stretched analogy, but an analogy nonetheless.
We need to talk about Bryan
It all starts with a strategy session. We thought about what we wanted Bryan to achieve, what was holding him back and what we'd love him to be doing for us in the long-term. We made some fundamental assumptions about his customers, based on our ideal personas and data we already had on how people interacted with him.
With a lot of this information already buzzing around our collective brains, it only took a few hours around a whiteboard to define what the opportunities for improvement were. Below, you can see how we tried to get to the crux of what questions we thought our personas most wanted answers to.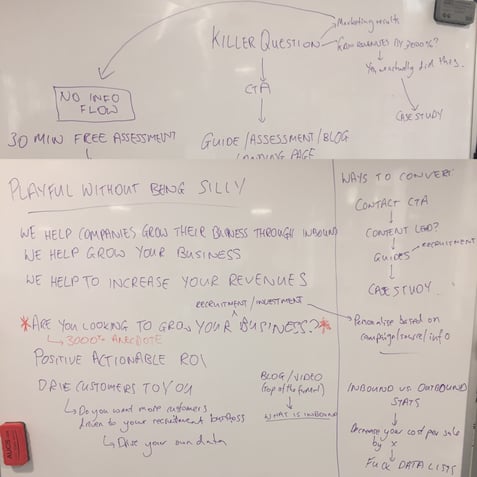 Those opportunities formed a wishlist of ideas, which was accompanied by an educated guess of how long each idea would take to implement. Next, the prioritisation exercise. Use the 80/20 rule to look for the 20% of items that will produce 80% of the impact and value for the site. We know Bryan could do with a full makeover, but just giving him a new suit and cufflinks would still produce a big impact in a fraction of the time.
In real terms (rather than overstretched analogical terms) this meant focusing on our homepage first. We knew that the message being delivered to customers could be stronger, we knew the call-to-action was too hidden and we knew that the design was not truly reflective of our brand.
Getting growth driven design stuff done (in sprints)
Solving those three core problems made up the first sprint of our GDD project. We identified the proposed change, decided which personas it was targeted at (in this case multiple personas, as we are going to include personalisation with HubSpot), what the expected impact will be and how we are going to measure it. This was all backed up with the 12 months or so worth of data we have collected in HubSpot from the current design.
With client work taking up the majority of our available hours, we set a homepage redesign as an achievable aim. Everything else that came out of the brainstorm stays in the wishlist for the next sprint.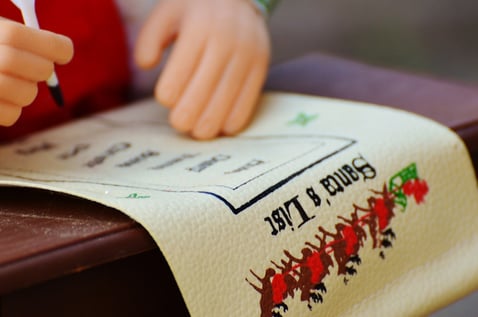 The most important concept to take from all this is that the homepage redesign (which we'll talk about in part 2 of this series) will just be the first iteration of our new and improved site, it's 'the launchpad' in GDD terminology.
What we come up with here will, in theory, improve the performance of our website, but it will likely be unrecognisable several sprints down the line. Honestly, Bryan will be bloody knackered (but in great shape and performing well)**.
Stay tuned for more updates as we venture down our Growth Driven Design adventure.
** Note: I really wish I hadn't started this analogy