As a consumer, you've probably got post demographic consumerism nailed down. In fact, you're no doubt handling it in your sleep (and rather enjoying it) because it's all happening as a result of digital, social and tech becoming more integrated into our lives.
For the customer, things are getting better. As a marketer, business or brand however, it's a little more complicated. People are bucking the trend all over the shot and the demographics we've relied on for decades are dead in the water. The marketing landscape is changing. We're having to become smarter in the way we pinpoint, identify and attract customers.
So what is Post Demographic Consumerism?
Post demographic consumerism, a term coined by TrendWatching in their recent report, is a trend that's seeing:
"people – of all ages and in all markets – constructing their own identities more freely than ever. As a result, consumption patterns are no longer defined by 'traditional' demographic segments such as age, gender, location, income, family status and more."
According to TrendWatching, this is happening due to four reasons:
Access - to global information on a ubiquitous scale, which means we're having more global experiences
Permission - increased freedom is seeing convention collapse, and the rise of increasingly unique identities
Ability - to experiment and identify with more products and services worldwide, leading to higher demand for increased personalisation
Desire - money no longer means status and as that status quo is erased, the balance of power between the generations is shifting
As a result, consumers can (and increasingly do) pick and choose what products and services they purchase and the brands they identify with, without any regard to demographic 'conventions'.
Great. So where does that leave a growth marketing agency and a business or brand wanting to acquire, reach out and connect with consumers on an ongoing basis?
TrendWatching define a few symptoms arising from post demographic consumerism. Here's our take on them and how we see marketers moving forward in the future.
Lesson 1 - Stereotypes are dead
There will be no more 2.4 children. There is no 'perfect' and certainly no ideal culture anymore. 'Millennials' and 'Baby Boomers' are bullsh*t. They no longer exist in the way they once did. Consumers no longer want to be treated as part of a larger category.
The advice? Allow your audience and the conversations you have with them to be as tailored, specific and as individual as they need them to be. Even if they choose the same products and services as everyone else, make them feel totally unique.
In real terms, 'one size fits all' campaigns and approaches to marketing will see practitioners fall behind the curve, lose engagement and ultimately customers. Autoresponders, mass-emails, unpersonalised direct mail are all on their way out. Buying today is emotive and personal; marketing and sales need to reflect that.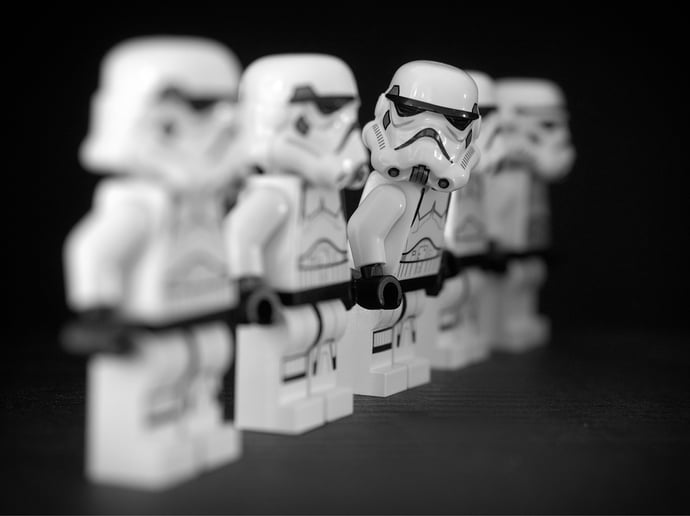 Lesson 2 - Rethink sentiment
'Because it's always been that way' is no longer an excuse. Prestige is not about money or power, but rather placement and appeal.
Sotheby's, a very traditional and reserved brand, has teamed up with eBay to provide shoppable live streams from its New York auctions. A great example of this new shift of sentiment.
When your customer is as likely to be a rich, 24 year old female entrepreneur who built her business from the ground up, as an aristocratic 60 year old who hasn't got two pennies to rub together despite inheriting a mansion, stereotypes are going to get your marketing nowhere.
Once-large groups with definitive archetypes are splintering and diversifying. For a marketer trying to engage and excite a prospect, averages will no longer do - they fail to resonate. To be effective, marketers now need to appeal to attitudes, behaviours, interests and motivations. It's now just as important to demonstrate cultural fit as it is product fit. Brands that restrict themselves because of their heritage will get hurt here.
Lesson 3 - Embrace expansive opportunities
These new shared tastes and aspirations will allow marketers to reach new markets. The tribe is no longer made up of one type of person – consumers have wider groups we need to appeal to; friends and family for example.
Finding your tribe through function, need and passion rather than traditional demographics will not only drive brand advocates, but increase your overall return on investment. With the right message in front of the right audience at the right time, customer acquisition becomes a much simpler task.
Take British Airways and Virgin Atlantic – two iconic British brands. Both appeal beyond the traveller's need to get from A to B and both have very loyal followings built around culture and fit.
Psychographics, enabled through social media, allow us to know and ultimately understand the identity of the user. Not just age and gender but likes, dislikes, where they work, what role do they fill, where they relax and even their interest and affiliations. When we know which conversations we fit into and who we appeal to, we can find who else fits that profile.
A great example of this done well is BA and Virgin. British Airways offers tradition and class. Virgin Atlantic offers vibrance and portrayed adventure. Both have built narratives, and driven sentiment and customer loyally, by ignoring stereotypes and instead focusing on passion, aspiration and desire.
Lesson 4 - Try hyper-small targeting and irony
Get personal, incredibly niche, and be ironic. A great example of this in full flight is the post-workout recovery beer from yoga brand Lululemon and Canadian beverage company Lean Machine. A tongue-in-cheek approach to building the brand.
The sole trader t-shirt creator, graffiti artist and Dismaland all smack of this kind of irony. This is about being cool and slightly satirical - but is this accessible for anyone but those brands or businesses built on a community niche right from the word go?
If there's passion behind your purpose, seeking out customers in these new ways will come easily to you. Tomorrow's best marketers will be those who are whole heartedly human in their approach to promotion. The 'sell' here is centred on abundance, connection and community rather than tradition, scarcity and fear.
Lesson 5 - Post demographic consumerism in 2017
It's official - Brexit has hit Britain, Trump is in the White House, and post demographic consumerism is very much in vogue. Trendwatching cited the comeback of anonymity as a key trend for 2017. But what does this mean?
Well, brands are recognising and embracing demographic diversity. Non-traditional segments of society are gaining increased recognition - good news for everyone. At the same time, marketing is changing as brands must connect with online audiences and fight off global competition. As a result, only the best stories will capture a prospective customer's short attention, so brands really need to make an impact.
K.V. Sridhar, founder of the creative outfit Hyper Collective, recently explained there's not just market leadership but thought leadership as well. Bobby Pawar, managing director and chief creative officer at Publicis South Asia, agreed: "Advertising, at most times, reflects society, sometimes it leads it." Many brands now pride themselves on their diversity - just look at Nike and Cover Girl.
At the same time, big data is enabling businesses to shrug off demographic segmentation entirely and appeal to individual members of their audience. For instance, WARC revealed that Netflix has moved away from relying on demographics to understand its users.

Todd Yellin, Vice President of Product Innovation at Netflix, explained: "Everyone's instinct was, 'Yeah, if you find out their age and gender data, that's fantastic'. But what we learned is: it's almost useless."
"Because, here's a shocker for you, there are actually 19-year-old guys who watch 'Dance Moms', and there are 73-year-old women who are watching 'Breaking Bad' and 'Avengers'."
"What we've learned over time is: it's not who they are in a superficial sense – like gender, age, even geography. It's not even what they tell you. It's what they do."
As a result, Trendwatching predict the rise of the 'incognito individual' who is free from (or dearly wants to be free from) assumptive and limiting demographic segmentation. Harvard Business Review has even gone so far as claiming that labels such as 'millennial' and 'baby boomer' are obsolete in today's more complex world.
Lesson 6 -

Post demographic consumerism in 2018
Phew, another year and another development in post demographic consumerism! Research from DoSomething Strategic recently found that Gen Z (born between the mid-1990s and early 2000s) is focusing on consumerism as a channel for change, bypassing traditional politics and expecting brands to use their platform for good.
76% of Gen Z has made or considered a purchase to support the issues a brand stands for

40% have used their consumer power to boycott a brand
67% have stopped purchasing or would consider doing so if a brand didn't align to their values
25% always/often buy a product or service "based solely because they believe that brand's values"

49% said it was important for a brand to have social change initiatives that consumers can be a part of.
Meredith Ferguson, managing director of DoSomething Strategic, explains:
"Gen Z believes that everything—from what you buy to where you eat—can make a political statement and they wield that power far more often than they engage in traditional politics.
With Gen Z expected to account for 40% of all consumers by 2020, this demographic is expecting brands to use their own platforms for good and to pick up where politicians and politics may have let them down."
Coming back to post demographic consumerism, the study also found that Gen Z are often unfairly stereotyped. While many assume that this generation are politically liberal, 50% actually consider themselves moderates and the nearly as many identify either as independent or unaffiliated.
So, it's still misleading to assume that we understand what drives Gen Z without asking them. However, it's likely this generation will use their voice and purchasing power in acts of consumer activism - whatever viewpoint they support.
"Gen Z is forcing brands to think beyond just 'what they stand for,'" explains Ferguson. "There is a huge opportunity for brands to make young consumers feel part of something bigger through their purchase power."
"But know that young people's BS detectors are finely tuned, so brands that act opportunistically or don't 'walk the walk' will be targeted."
Lesson 7 -

Post demographic consumerism in 2019
Consumers are turning to the Internet to find their "tribes," and input from like-minded strangers is having a growing influence on our behaviours. This new tribalism is particularly prevalent amongst young consumers, who look online to find lifestyles, products and services that fit their values.
Marketing tribes appear when consumers identify as a community based on common collective behaviours rather than demographics. Tribal marketing has existed for some time, but with our increasing utilisation of the internet and increasing global connectivity, the spread of information is constantly getting faster.
This in turn has boosted global brand recognition. Trends and conversations that start in one place can spread to the other side of the world overnight. It has also given consumers a greater ability to experiment and express unique interests. With so many more brands, products and conversations at our fingertips, there is now a greater variety of acceptable "norms".
For businesses, these tight-knit yet diverse tribal communities present both an opportunity and a challenge.
"What we continue to see is consumers going down the tribal path," explains Darren Seifer, executive director at The NPD Group. "It's become increasingly difficult to be a mass marketer."
The most successful brands today are active in understanding consumer behaviours in the online world. Whether you 're looking at website traffic or social media performance, there is so much consumer behaviour data online that can be defined, tracked, segmented and reported.
So there we go! Still a bit confused about inbound sales and marketing? Why not get in touch with Six & Flow, we're experts and we'd love to help.