Creating a connected business was a core reason HubSpot was chosen as their single source of truth within their tech stack.
To materialise their goals, we initiated a data mapping and CRM workshop as the first step. During this session, we mapped their current processes, identified challenges and goals, and reviewed automation objectives.
Data Processes
The result was a future-proof data strategy that unified information into a user-friendly format usable across multiple business units.
During the data mapping workshop, we established clear definitions, removed unnecessary properties, and introduced streamlined data structures.
Data flexibility was improved using a data warehouse and implementing connectors for ETL (extract, transform, load) and reverse-ETL processes. This allowed for a seamless transition from custom systems and enabled analysis of HubSpot data using Tableau.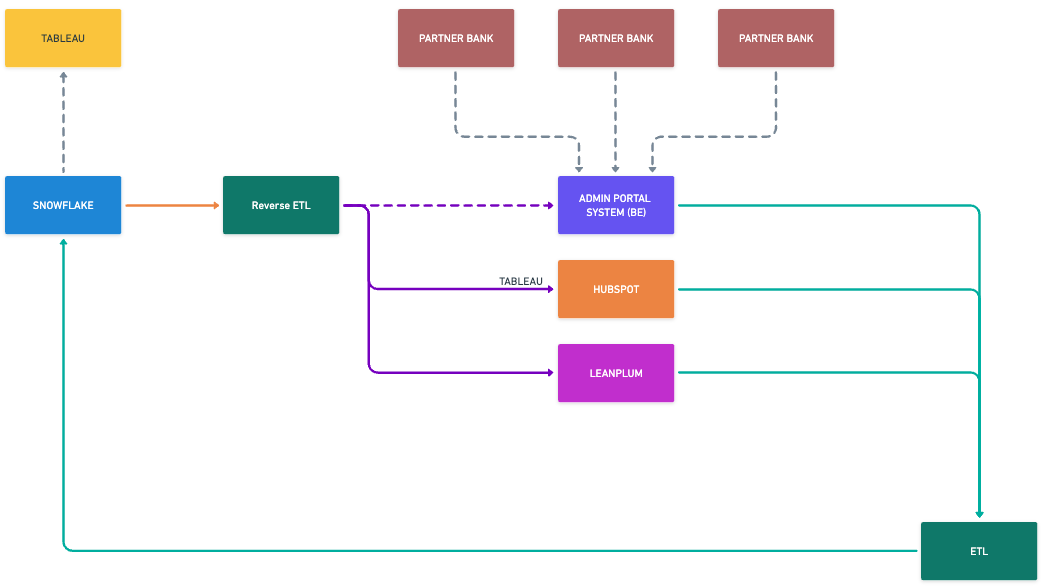 The HubSpot Implementation
The implementation began after mapping properties across the Digital Banking App's tech stack. As part of this process, the contact centre was designated as the central hub for customer interactions, encompassing various channels such as contacts, voice calls, emails, and texts. The data gathered from the contact centre, along with the customised on-premise database and CMS (Content Management System), seamlessly integrated with HubSpot.
Service Hub equipped them with automated and efficient customer management tools. They could swiftly handle inquiries, offer self-service options, and gather valuable customer feedback.
The HubSpot CRM supported the implementation, providing real-time insights into different aspects of their business. With built-in reporting and dashboards, they could easily visualise and track progress.
Showing Sensitive Data in HubSpot
To showcase sensitive data in HubSpot while remaining compliant, we used iFrames.
iFrames fetched from the Digital Banking Apps' Data Warehouse and temporarily held it in HubSpot, ensuring data remains on-premise.
This approach allowed agents to reference sensitive data, such as validation or transactions, from the external source without the data being processed inside HubSpot and then never having to leave the contact's timeline.