Integrate a conversational marketing platform successfully with your overall inbound marketing strategy, and you can:
Build strong relationships

Generate and nurture leads

Collect insightful data in new ways

Make it easier to close sales at a later date

Fit neatly with your wider inbound marketing plans
But first, let's take a step back and explore why businesses are adopting this tactic in the first place.
Why do we need conversational marketing?
The digital revolution has delivered so much. Today, businesses are more connected with their customers than before, and on-the-go information sharing and engagement is the expected norm.
Yet some elements of offline marketing have been placed online without being adapted to make the most of modern technology.
The lead generation process is a particular culprit. It typically involves capturing a prospect's attention and directing them to your website or social media pages where they can find lots of information about your offering.
If they have a question that can't be answered or if they're ready to buy, they will often be asked to fill out an online form. Some will walk away at this point to find what they want elsewhere. Others will complete the form and wait to be contacted.
What happens next is astounding.
Research shows that in 23% of cases prospects do not receive a response. And when businesses do decide to get in touch, the average response time is 42 hours. It's the equivalent of your prospect walking into a shop, placing the item they want on the counter and being told that the sales person will contact them in three days' time.
It makes no sense in person, because human interactions don't work like this. Yet online, this kind of customer neglect is common practice.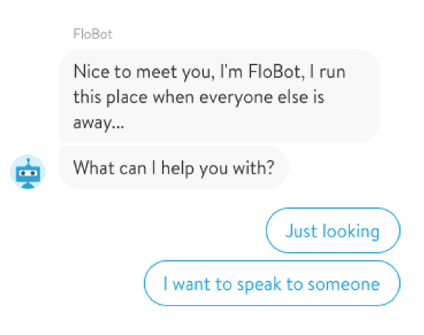 A conversational marketing change is afoot
Decreasing patience and a rise in the culture of immediacy means that prospects want answers during the buying process. And they want them now. In fact, 53% of online buyers are likely to abandon their purchase if they can't quickly find an answer to their question.
And other research shows that prospects and customers don't mind where the information comes from; human or robot. In fact, Gartner predicts that by 2020, conversational marketing platforms will mean virtual agents will "participate in a majority of commercial interactions between people and businesses."
This is a cultural communication change you can't fight, as the stats show:
73% say valuing their time is the most important thing a company can do to provide good online customer service.

Pre-purchase live chat sessions drove a 10% increase in the average order value at Oracle.

Live chat increased revenue by 48% per chat hour and improved Oracle's conversion rate by 40%.
Despite the name, conversational marketing and ChatBots can reach beyond your sales funnel, assisting in various roles from compliance to customer service. This makes them a perfect fit for the banking sector for example, which plans to automate up to 90% of their customer interactions with ChatBots by 2022.
Businesses across a range of other sectors have also recognised the need to place the individual customer journey at the centre of their marketing interactions.
Until now it had been difficult to do this at scale without incurring significant costs. However, conversational marketing strategies have been shown to save over 4 minutes per enquiry with an average cost saving of $0.50 - $0.70 per interaction. Multiply this by thousands of interactions and the potential is huge.
ChatBots make great customer service and business sense. But what does a conversational marketing strategy look like?
The conversational marketing solution
Introducing a conversational marketing platform gets best results when you consider it as part of your wider marketing strategy.
By combining inbound and outbound tactics, conversational marketing platform Drift believes that your business can hold "real-time, one-to-one conversations to capture, qualify and connect with your best leads."
The ChatBots are programmed to be able to recognise where someone is on your page, predict the challenges they may be facing and ask the right question from their scripts. This could mean engaging your sales-scripted ChatBot with someone who's looking at your product page. Or having a customer services scripted virtual agent see how they can help a prospect who's clicked on your FAQ section.
Good practice is to write scripts that ask open-ended questions to elicit information from the customer. As every good salesperson knows, getting the customer to talk about themselves is a great way to gain valuable insight. And it makes the customer feel valued and listened to, as well boosting brand engagement and customer experience.
Establishing the right tone of voice for these interactions is critical and it may or may not be an extension of your wider brand voice. Delivering consistent scripts is perhaps best achieved by working with an experienced conversational marketing agency.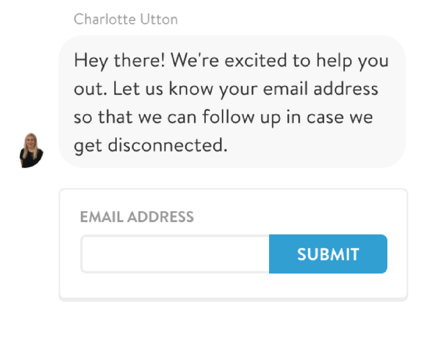 Conversations without barriers
This approach delivers a completely different feel for your customers. As your extended team of virtual agents tends to the needs of each individual, marketing and sales move from push to pull as part of a natural conversation.
In comparison to humans in call centres or on the shop floor, virtual agents are always having a good day and consistently deliver the same accurate messaging. And thanks to the conversational marketing platform that powers the bots, they are networked to an extensive range of information that can be accessed as it's needed.
By removing departmental silos in this way, your customers won't be passed between customer services and sales to solve their query. Chatbots can instantly access the required information and provide the right answer. Alternatively, they can connect the customer with a real human working in a specialist role who's best placed to help.
From conversational marketing chatbots to human interaction
Whether you want customers to go on to buy immediately or set up a face-to-face meeting, a phone call or an email exchange, chatbots can also do this for you. As part of your conversational marketing strategy and experienced marketing agency will ensure your wider sales and marketing systems (like Salesforce) are connected with your social marketing platform.
This enables customers to be presented with your team's calendar, a range of suitable dates so they can set up meetings instantly online. All this adds up to an enjoyable experience that your customer wants to repeat. And one that's a far cry from waiting 42 hours for a follow up to a lead generation form.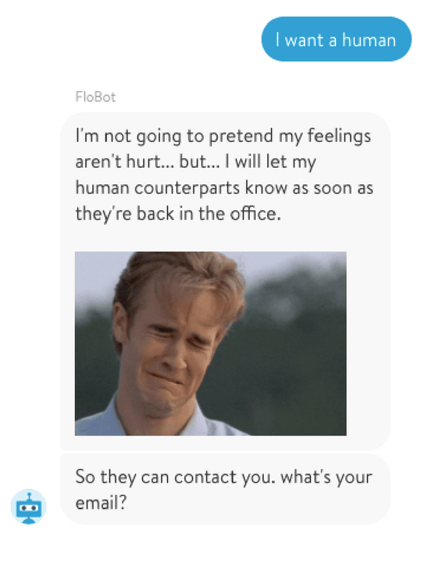 When should you start your conversational marketing journey?
The time to invest is now. Chatbots are already an established part of the marketing landscape in B2C businesses but more B2B organisations are taking the initiative.
By 2021, $4.5 Billion is expected to be invested in enterprise intelligent assistants which will drive chatbots into the mainstream. Businesses that have already made the move towards conversational marketing include National Geographic, Whole Foods, Domino's and Starbucks amongst other brands. And leading conversational marketing platform providers, like Drift, are using this technology to improve:
With communication habits changing, your strategy needs to incorporate conversational marketing to ensure you remain relevant and competitive. But which conversational marketing platform provider should you use? And how do you integrate this new tactic into your existing plans?
Work with a proven UK Drift partner
We know that a good conversational marketing strategy is about more than technology. Providing a steady flow of high-quality leads is the goal.
At Six & Flow, we're experienced in integrating conversational marketing platforms with your overall marketing roadmap. We understand the importance of getting your scripting right and developing a tone of voice that will resonate with your customers.
We ensure that your conversational marketing strategy delivers real engagement with your brand and secures more relevant conversions. To do this, we work closely with our clients and base outcomes on performance and growth.
Working with us means working with our industry-leading partners like Google and HubSpot, who help us deliver outstanding results. When it comes to conversational marketing platforms, Six & Flow is the first and only Drift partner in the UK, and one of only three in the whole of Europe. This means we've got all the insight and support you could need for peerless strategic planning and a seamless launch.
As a UK Drift partner and as one of their customers, we've seen first-hand the results that conversational marketing can deliver. Here are just some of the astounding results that can be delivered by Drift's conversational marketing platform:
In less than a year, RapidMiner secured 4,000 leads and $1m in their pipeline

TreeRing achieved a 10% uplift in the value of their sales pipeline resulting in a return of 15 times their investment

TrainedUp booked 80 product demos without asking customers to complete a single form
The greatest credential of all? We put our money where our mouth is and introduced Drift to complement our own inbound strategy. Below, you can see how we tailor our messaging for specific pages. Here we're using Drift to connect with potential candidates viewing our vacancies page.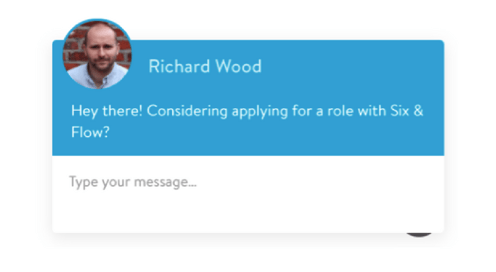 What results has our foray into conversational marketing delivered? It enabled us to capture relevant information and qualify leads before our sales team follows up. Over six months we saw a 23% increase in lead volume and a 15% uplift in conversions.
We're not just a UK Drift partner but a success story. Which is why we feel completely confident recommending Drift as our conversational marketing platform of choice.
Choosing your strategic conversational marketing provider
When you work with Six & Flow, we'll start by working with you to understand how a conversational marketing strategy will interconnect with your wider marketing plans.
Inbound marketing connects a range of marketing tactics including SEO, social and content. Introducing conversational marketing will place your customers at the centre of your communications enhancing the effect of your wider marketing strategy.
For example, if your customers mainly contact you via social we'll prioritise conversational marketing in this sphere. By establishing an appropriate tone of voice and scripting helpful, friendly content we'll start conversations with your customers that you've never had before.
These conversations will drive traffic to your sales pages or team. If people's movements on your social platform or website show they're ready to buy, we'll ensure your extended virtual sales team will instantly target people while they're in the frame of mind to spend.
We'll establish a conversational marketing strategy built on three blocks that will:
Qualify leads using effective targeting and conversational AI. Bots can ask specific questions to find a better match or improve the quality of your leads. This allows you to focus on the people most suited to your product and those who are most likely to buy. Get your virtual agents to book demos or sales meetings around the clock, keeping your customers happy wherever in the world they are.
This conversational marketing strategy approach has worked very well for a range of our clients and we're confident that we can help you achieve the same success by:
1. Creating a more human buying experience
Previously monotonous tasks, like form filling, are replaced with engaging human conversation. The data your sales and marketing teams need is still captured but they will also benefit from additional information too. This will enable them to use their skills more effectively only coming into the conversation at a point where human interaction adds value.
2. Improving your customer insight at scale
Two-way conversations develop a connection with a brand and allow you to capture information that is voluntarily given and therefore ethically sourced. Thousands of non-stop conversations mean ongoing learning that can be distilled within the conversational marketing platform to provide new and continuously developing insights.
3. Discovering new lead sources for your business
Conversations are often the best way to uncover unexpected leads. Simply by talking with your prospect about challenges they're facing helps you match solutions to their problem and encourages them to find out more.
4. Decreasing your sales cycle length
Because leads are better qualified, better informed and closer to being ready to buy, sales cycles shorten. As part of an overall conversational marketing strategy, chatbots also align sales and marketing teams by streamlining lead generation and nurturing.
5. Growing your sales pipeline
Working with Six + Flow means you'll have all the experience required to implement a rounded and successful conversational marketing strategy. We include scripts, chatbots and other conversational marketing tactics so your customers can immediately access the expertise within your company.