In recent years, conversational interactions have taken the tech world by storm. From Google's algorithm updates to HTML best practices, big tech companies are pushing this new way of human interaction. Tech companies have also adopted conversational marketing and sales, making B2B communication more human.
Evolution of ChatUX
Until now, AI chat has primarily served two use cases. Firstly, it is used for end-consumers engaging on websites, and secondly, it is used for external applications such as content creation. However, with ChatGPT's widespread adoption and extended capabilities, AI chat is now being used for language translation, summarisation, classification, sentiment analysis, and more.
The Rise of Conversational Interactions
As technology continues to advance at a breakneck pace, it has become an integral part of our daily lives, and as a result, more mainstream. The way we interact with it has also become less rigid. In certain applications, such as queries, we type almost as if we are interacting with another human. This shift towards conversational interactions can be seen in many places, such as Google searches becoming more conversational.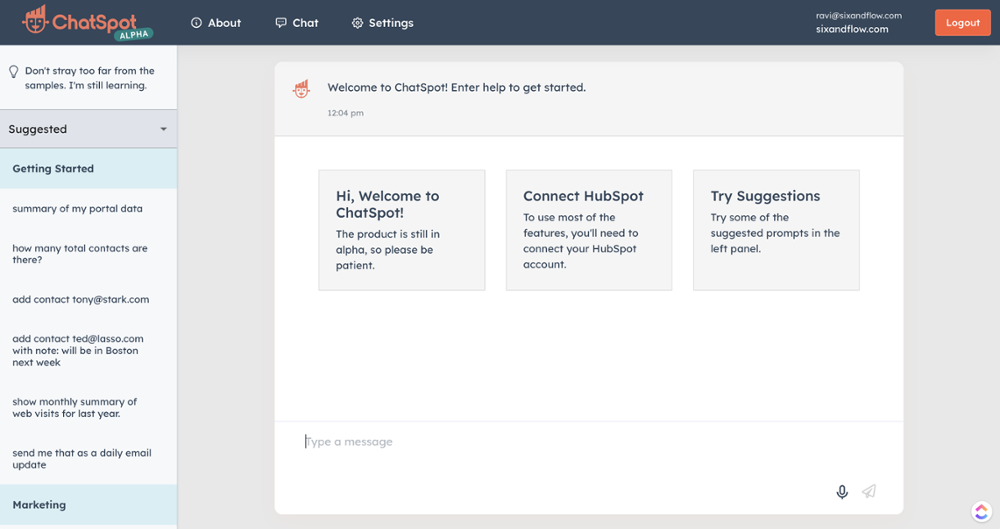 The Birth of ChatSpot
ChatSpot is the first CRM-AI-generated Chat UX application. Developed by HubSpot, this alpha version of ChatSpot aims to change the behaviour of how we interact with AI, particularly ChatUX.
ChatSpot leverages artificial intelligence to change the user experience for the HubSpot CRM platform.
Before Chat AI was being used to create blog posts. Today, it has the ability to leverage real customer data to improve the functionality of CRMs.
Think about how you might previously create a custom report in HubSpot - you'd need to know your end goal, the data required, the visualisation type, and how to pull the data correctly.
Now, you just need to know the end goal.
"ChatSpot, pull me a report that showcases lead generated by source"
You could then refine this report by setting a specific date range or evening asking ChatSpot to further narrow down on a specific channel.
How Do We As An Elite HubSpot Partner Plan To Use ChatSpot?
At Six & Flow, our team is always on the lookout for new and innovative artificial tools, and ChatSpot has certainly captured our attention. As an Elite HubSpot partner, we recognise the immense potential of ChatSpot and are excited to leverage its capabilities to the fullest. Because the product is in alpha, there are a few limitation. That being said, we firmly believe that as the platform evolves and matures, ChatSpot will continue to push the boundaries of how conversational AI impacts how we use software.
That being said, here's what you can currently achieve with HubSpot's ChatSpot:
ChatSpot for Sales and CRM
ChatSpot is a powerful tool that enables you to swiftly access critical information stored in your database. Whether you're searching for contacts, relevant persona types, industries, job titles, or even specific companies, ChatSpot provides a conversational interface that allows you to easily type in your queries and find the information you need.
In addition to finding information, ChatSpot also streamlines the process of adding new contacts and companies to your database. If you need to associate records with one another or assign owners, ChatSpot makes it simple and straightforward.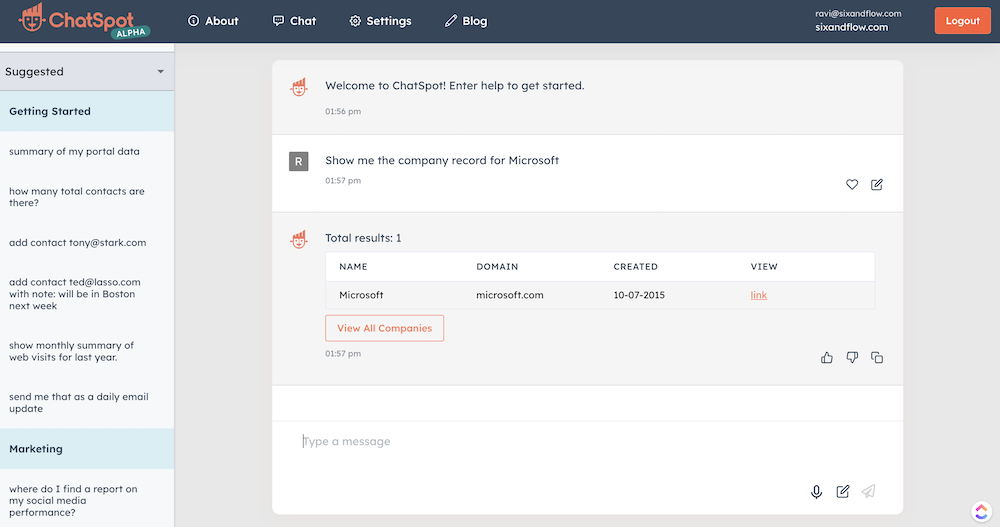 Furthermore, ChatSpot empowers you to move leads through various lifecycle stages effortlessly. This ensures that you can focus your attention on the most promising opportunities without getting bogged down in administrative tasks. With ChatSpot, managing your database and ensuring its accuracy has never been easier.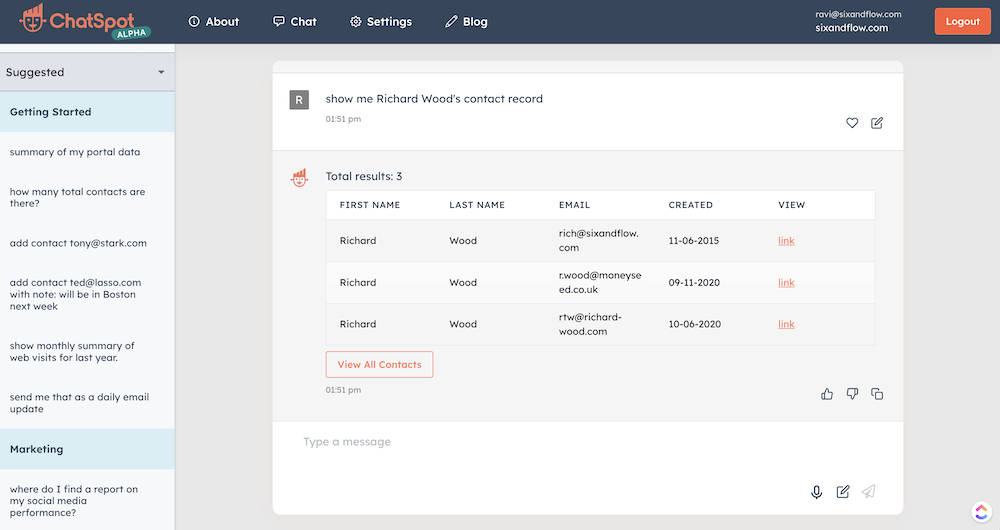 ChatSpot for Reporting
Now, looking at reporting functionality, ask ChatSpot to pull reports that capture an overview of your marketing and sales data. For example, ask ChatSpot to pull keywords you are currently ranking for or to see your sales team members who are booking the most meetings.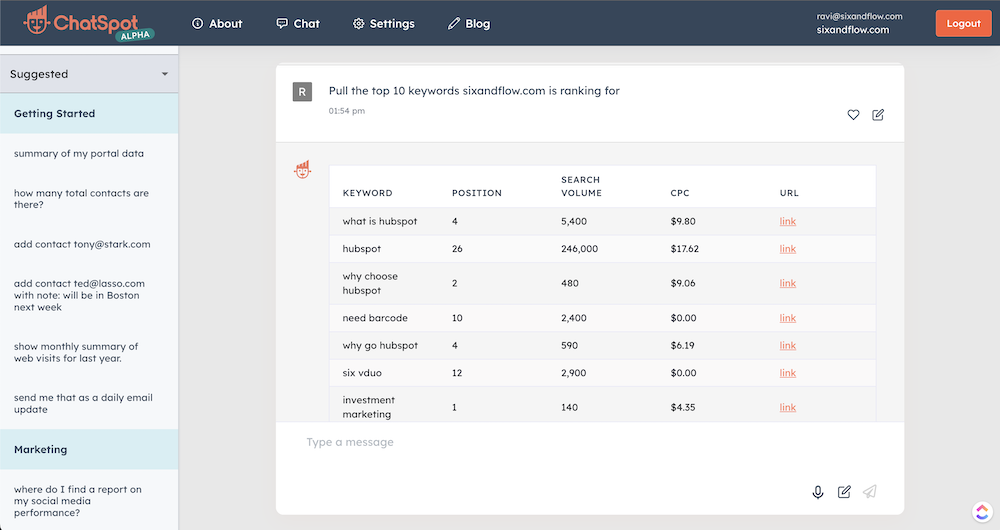 If you prefer to work with your data outside of ChatSpot, you can export your data to Google Docs with the Google Docs integration. ChatSpot makes it easy to keep tabs on your performance, and it's just a conversation away.
ChatSpot for Marketing
Lastly, If you're a marketer, ChatSpot currently offers text-to-image functionality, blog posts and content creation, and an understanding of your SEO performance.
At Six & Flow, we spend time with our clients setting up and optimising how portals - while there are few governance policies within ChatSpot itself at the moment, what we can see is how user adoption of HubSpot will increase and the ease by which companies can capture data will reach new heights.