Want to see an improvement in engagement when running your social outreach game? Then you've got to find the right audience, keep it consistent, and above all, start real conversations!
Here's a quick look into how we do it here at Six & Flow.
The events
We've recently been hosting 'Conversation With Drift' events all across Europe visiting major hubs such as London, Manchester, Dublin, Oslo, Copenhagen, Paris and Amsterdam.
(What can we say? We're just very cosmopolitan these days!)
Sign up to the free London Drift event on 16th Jan 2020
The 'Conversation With Drift' is a free to join event where conversational marketing experts Drift give informative and entertaining talks to a range of marketing professionals by walking them through the key principles of implementing a successful conversational marketing blueprint.
The talks covered a wide range of subjects, but ultimately their focus was on how to improve sales conversions and improve the customer buying journey.
This meant Drift wanted Six & Flow to cultivate an audience who would not only benefit from the event but also one capable of putting the theory into practice: marketers.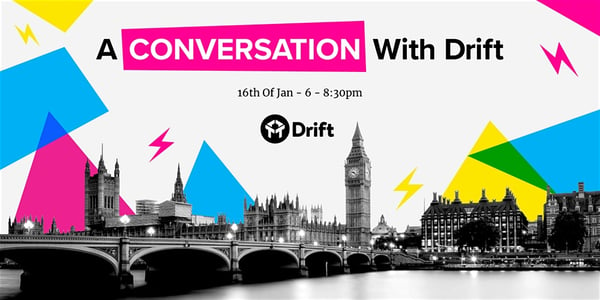 How we boosted numbers with effective social outreach.
The first step to successful social outreach is creating a list of suitable and appropriate people already aligned to what you're trying to achieve. For example, if you're trying to sell oranges to Spanish people, then it doesn't make sense to target your social outreach towards pear eaters in France. Right?
Using tools such as LinkedIn Sales Navigator - as we did for this particular project - you can limit your search based on location, company size, job function, seniority level, industry etc. This means you can assure your social outreach is effectively targeted from the beginning.
Then, with our target audience in mind, we set out to start real conversations with specific people instead of bombarding everybody we came across with unrelated content. This humanistic approach meant we could connect and engage with people first resulting in them being more open to hearing about our event and actually attending.
Yes, it's more labour intensive, and it can lead to a smaller event audience, but the pay-off comes when that focussed audience is highly engaged and already bought into the concept. After all, outreaching to the wrong people will not drive interest or engagement. In fact, it will likely be viewed as spam resulting in both the failure of your social outreach strategy and negative experiences of your brand.
How to do it.
The most important tip when it comes to outreach is a good response time. The best way to keep people interested and engaged is to reply quickly - if you take days to respond to a message of interest, then the likelihood is they will have already moved on and your message will forever languish at the bottom of their inbox.
Another great tip to ensuring social outreach success is to keep the flow of communication consistent. Social outreach always works best alongside your other marketing practices. This means building relationships through consistency.
For example, if you reach out to a prospect on LinkedIn and they sign up for your event/offer/product, then you *specifically* should always be the one to send any follow-up content such as reminder emails. Not only that, you should also be the one to meet them at the event and be the one responsible for sending them a 'thank you' follow up message. This way the communication pathway is clear from initial conversation right through until after the event - which in turn builds brand trust and rapport.
In our experience (and we do this a LOT!) people are more likely to attend an event if they feel engaged and connected. People just want to be loved!
The above will almost certainly take longer and require more dedication than your previous strategies. But if you reach out to the right people, and in the right way, then social outreach in this format will more often than not yield impressive results.