We really believe in inbound marketing for recruitment agencies, and part of the reason for this is our combined collection of terrible recruitment experiences.
All of us have at one point or another been cold called, bombarded with emails, approached on LinkedIn – and more often than not, 'tempted' with job opportunities that are entirely inappropriate or unappealing.
This unfortunately contributes to the negative reputation that recruiters often struggle with. However good you are at your job, you will probably have to fight this unfair stereotyping.
So how can you break the mould and prove you're different? We've looked at implementing inbound marketing for recruitment companies, and we think we might have cracked it.
Once more with feeling
It's becoming easier to communicate online. But is the same technological progress making it more difficult to actually connect?
According to research by global talent acquisition firm, Alexander Mann Solutions, a lack of emotion in digital recruitment can risk damage to a recruitment agency's reputation.
There are dozens of digital channels which can potentially be used as part of a recruitment strategy. Considering the amount of time most people spend online, many agencies use multiple social media channels, job sites and other platforms to reach candidates.
However, many recruiters are falling into the trap of adopting a scattershot approach and targeting anyone they can find.
Making a real connection
While trying to communicate with everyone, more often than not you will fail to connect with anyone. By not bothering to really engage with any candidates in a meaningful way, you will stall progress on your recruitment drive.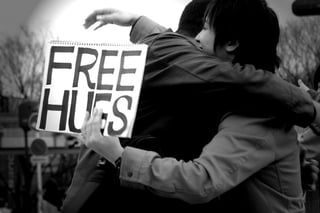 Alexander Mann Solutions claims that a lack of real engagement has a negative impact on the candidate experience, and even worse, it also damages a company's employer brand in the long-term.
That's right – that 'big push' for new candidates could actually damage your reputation and make it less likely that candidates will engage.

It's been emotional
Adam Shay, Director of Consulting Services at Alexander Mann Solutions, explains it best:
"Digital is the way forward in talent attraction and management, but there is a real danger of falling into the trap of behaving like a robot rather than a person.
We cannot forget that the end-to-end journey a candidate takes when searching for a new job is an emotional one. There still needs to be a level of human interaction and personalisation in order to truly engage and attract the future workforce."
"As we digitise the content that a candidate consumes… We must find ways not only to retain this feeling online, but also capture how people are feeling."
Implementing inbound marketing for recruitment agencies
One pet peeve is recruiters trying to fit a square peg into a round hole. In order to connect with a candidate, you need to know something about them. Being aware of their professional qualifications, wage expectations and relocation plans is a good start.
But you're not a machine! You can't remember everyone's ideal commutes and preferred working hours and full employment history! Don't worry, there's another way.
Inbound marketing tools such as HubSpot can effectively enhance a recruiters' skills, save them plenty of time and make their life a whole lot easier.
HubSpot's CRM gives you the ability to record any lead metric you want. This makes it incredibly easy to find the right candidates for a role. You can also set up automated workflows that will contact candidates at the right time.
Marketing automation wizardry can also pull loads of information together on your behalf, so you can easily see what any individual candidate is up to. Got leads registered in HubSpot? Then you can see every time a candidate has read your emails, looked at your website or clicked one of your blog call to actions.
Real-time metrics let you know what's happening with candidates today, so you can react appropriately. In short, timely updates on candidate behaviour can provide deep insight into your talent pipeline with little to no effort on your part.
Sound good to you? Get in touch to find out more, or download our handy guide below.