One of the biggest benefits HubSpot Marketing Hub offers to marketing teams is the ability to use email marketing automation. HubSpot marketing automation workflows enable your team to automate content delivery with the goal of creating a frictionless customer journey. Because, that's the goal right? To put your customer at the heart of your business.
Watching your email inbox like a hawk and frantically typing out every response isn't practical, sustainable or scalable.
Yet a shocking number of businesses expect their beleaguered teams to take on this mountain of manual work, only to be disappointed by the speed and quality of their work. Not to mention that when inboxes are crowded with newsletters, spam, and promotional content, it's easy for things to get lost. And, what that's the case - you won't be segmenting correcting. You won't be delivering the right emails at the right time to the right audience.
When you don't introduce automation into your content workflows, it's the customers that are impacted the most. They expect a seamless journey and want to stay engaged with your company. Workflows enable this. Workflows enable personalization marketing.
Benefits your organisation achieves from automating content management:
Standardize lead nurturing
Ensure consistent quality
Analyse performance
Make data-driven improvements
Save time and give your team the opportunity to focus on more value-added activities.



Benefits your customers receive from automating content management:
The customer receives a personalised journey

The customer receives greater support throughout their buyer's journey
The customer's needs are better understood
The customer receives valuable information on the content channels they enjoy using most.
ATTRACT - Acknowledging lead conversions
Picture the scene - you've created an incredible new guide to share with your audience, and your content asset is being downloaded.
You should now create a workflow that enrols these leads based on the guide download form.
An automated email can instantly deliver a copy of the asset to their inbox, thank them for downloading and share an opportunity to progress along the buyer journey if they're ready (for instance, providing a meeting link to book a consultation call), or offering them other supporting resources.
By implementing this email automation workflow, your customer has a contact for questions, can receive supporting resources, and has started to build a meaningful connection with your company.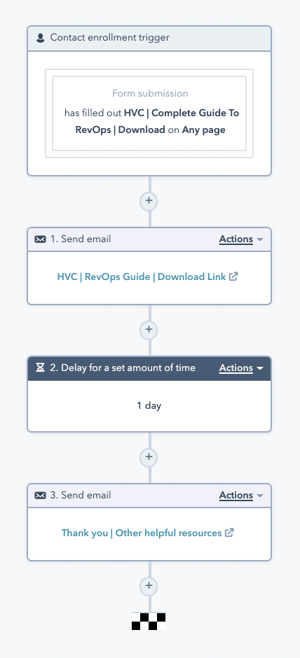 Improve this workflow by adding a delay, then sending a follow-up email a couple of days later. Re-share the content asset in case they haven't had the chance to read it yet, ask how they found the guide, and repeat the offer to progress down the buyer journey with a meeting link.
HubSpot's automation software platform enables you to set actions to trigger during work hours only if you want the emails to appear as if sent by the team. Alternatively, let the workflow run 24/7 to provide leads with instant gratification if they're on a research binge at 3am.
CONVERT - Reviving long-lost leads
Maybe you've inherited a database full of cold contacts, or discovered an audience segment that has historically been unmanaged. They could represent a potential goldmine, but your team just doesn't have the capacity to call thousands of potentially unresponsive contacts.
Build a linear email marketing workflow, delivering regular email communications to a contact list.
Enrol contacts to the workflow based on list membership, and alternate email sends with multi-day delays - we'd suggest limiting the outreach to one email per week to avoid overkill.
Set a workflow goal to identify any leads who interact with the emails and remove them from the nurture workflow to pursue within the team. You could base this on email opens, clicks or an explicit conversion point such as a meeting link or another CTA.
You can even provide an option to opt-out of communications within the email if your contact list is particularly unqualified and you're keen to avoid their wrath.
In this scenario, your customer is at the heart of the workflow. You are only engaging with relevant contacts and only offering a solution to those who actually need it.
CLOSE - Nurturing active leads through the sales process
Nurture emails are important for active leads too. Consider a prospect who's progressing through your sales pipeline, and has a meeting booked with your BDM. Why not set up a reminder workflow, sending useful email communications on the run-up to the event?
Make the customer experience with your sales team as effortless as possible. You can do so by providing supporting content such as directions to your office, recommendations on parking, requests about refreshments and more. In the instance they do have a problem, any responses from the client can be picked up by a member of the team and dealt with manually.
Other use cases include reminding prospects to provide important documentation or sign contracts, common steps in the sales process which can often result in delays.
Here, not only are you buying your sales team back their time, but more importantly, you providing value to your clients. It comes back to building meaningful relationships with your customer at every stage of the buyer's journey.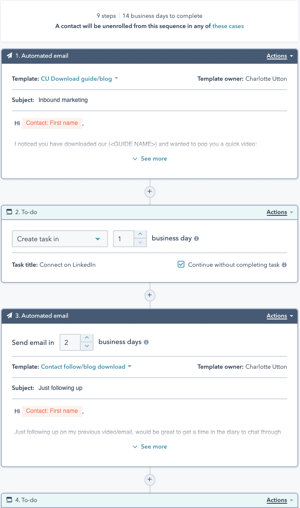 DELIGHT - Providing great customer care
Many clients we come across think good customer service needs to be entirely bespoke, but that's not true. Intuitive and supportive automation, triggered by the right data points, can offer real value without imposing undue pressure on your team.
Consider NPS surveys - you can use a contact's latest score as a workflow enrolment trigger, and automate follow-up communications using personalisation tokens to tailor your messaging. Thank your happiest customers, ask others for more insight, and flag low scoring contacts with your customer success team to deal with as a priority.
Content automation and workflows do not need to be meaningless and impersonal. With the proper tools, such as HubSpot's workflow tool in the Marketing Hub, you can build meaningful connections. The workflows you build should put the customer at the centre. If you didn't believe us at the start of this article, we hope you do now - customer experiences can be enhanced with workflows.
HubSpot tools referenced in this article: