As a growth and inbound marketing agency in Manchester, we're lucky to work in a city full to the brim of digital and creative types. They don't call it the Northern Powerhouse for nothing! Nevertheless, we do sometimes come across people who still aren't really sure what we do. That's OK though! Since we've never met, let us introduce you to Six & Flow...
We're two years old
Six & Flow celebrated its second birthday as an agency this summer. In two years, we've gone from being just a twinkle in our MD's eye to a fully-fledged inbound marketing agency, working across multiple sectors and servicing a growing client base.
Our experience belies our age
While the agency is still very young, the team is not (unfortunately). Within a small team, we have decades of experience in marketing, years of HubSpot use under our belts, and a huge range of successful client campaigns to learn from. Members of our team are carefully chosen for their talent, experience and passion for what they do, and it shows.
Growth marketing is our ultimate aim
While we're proudly a HubSpot partner and inbound marketing agency, Six & Flow isn't one to be pigeon-holed. We love the concept of growth marketing – the process of attracting more engaged customers, increasing revenue and ultimately growing a business. We want to make your company bigger, better, faster and stronger.
As a result, we will never just do "a bit of PPC" or "a few hours of SEO" for a client. These activities don't work in isolation, and clients won't see the best returns for their investment. Instead, we take a holistic approach to marketing, and we promise it pays off. Our strategies often incorporate social media management, content creation, biddable media, marketing automation, lead scoring, sales enablement and plenty of analysis.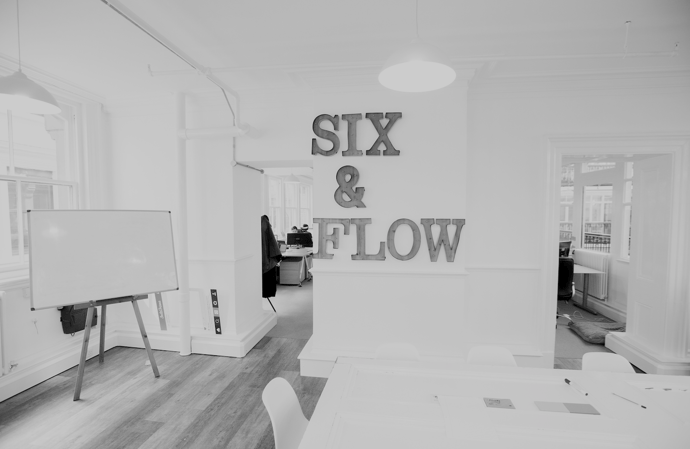 Our future is inbound
Sometimes the truth hurts, but we'll be the first ones to tell you that outbound marketing isn't what it used to be. Faced with an incredible degree of choice and autonomy, today's consumer can fast forward through TV adverts, make their phone number ex-directory, avoid online pop ups with ad blockers and throw direct mailers in the bin. In short, people can and often will ignore or actively reject outbound marketing efforts.
What's more, GDPR will promote outbound marketing from annoying to illegal. Time is running out for anyone buying in data lists and cold calling strangers. In contrast, inbound marketing represents a legally compliant, totally ethical and genuinely useful method of lead generation. It involves offering consumers helpful content on subjects they're actually interested in, and encouraging them to come to you. That's right - they come to you!
Needless to say, we're here to help anyone ready to give up the old outbound ways and give inbound a go.
We choose our clients wisely
Inbound marketing campaigns take time to really flourish to their full potential. With this in mind, we want clients that last the distance with our services. We don't want to lock clients into a lengthy contract, instead we want to work collaboratively and produce amazing results for everyone involved.
Our awards are stacking up
We've not had to invest in a trophy cabinet just yet, but Six & Flow has been honoured several times for our stellar work. Even HubSpot has presented us with an Impact Award for Client Growth - impressive, no?
We're Manc at heart
We are incredibly proud to call ourselves a Manchester inbound marketing agency. This doesn't stop us working with clients based all around the UK and even further afield though! Working in such a friendly, innovative and fast-growing and city is great inspiration for us, so if you're ever in town please pay us a visit.