Last week Twitter turned ten. Happy birthday Twitter! It's hard to believe that it's been a whole ten years since you set up your first handle (probably something you're cringing about now) but yes, it's been a whole ten years since Twitter co-founder Jack Dorsey posted his first tweet. Back then, Twitter as we know it was "Twittr", a platform that has now grown to over 320 million users, tweeting 500 million tweets a day.
Ten years of Twitter, what does that mean? Twitter has built up and damaged careers over the years, not just the people stupid enough to tweet about how much they hate their jobs, but also people who should know better (cough Emily Thornberry). Twitter has also created a breeding ground for internet trolls, who verbally abuse users behind the safety of a keyboard. Was internet trolling around before Twitter? Probably. But more importantly, Twitter has changed how many of us now receive news.
Everyone's a reporter
Today, Twitter is inherently associated with major events and cultural movements - the London riots, the Arab Spring, the Boston Bombings - and has given this generation a new method of receiving and distributing news. The invention of hashtags being used on the platform in August 2007 meant that information being tweeted regarding certain events and instances could be searched for and shared very quickly.
The first instance of news breaking on Twitter was in 2009 when Captain Chesley Sully Sullenberger made an emergency landing on the Hudson River, saving the lives of the 155 onboard.
Twitter became a crucial part of distributing and obtaining information in the aftermath of the Boston bombings in 2013, when the police department reached out to the public for help. The Boston Police department released photos of the suspect via Twitter, resulting in millions of eyes looking for the suspect. This led to them getting caught less than 48 hours later. When the suspect was captured, Boston Police announced the news over Twitter, with their tweet being shared over 128,137 times.
Disaster reporting
Hashtags even unite users across hundreds of countries. In light of last weeks' horrific attacks in Brussels came the PrayForBrussels hashtag, uniting likeminded individuals in support of each. Obviously using a hashtag on Twitter to "show your support" isn't anywhere near the same as doing something physical to help, but it does help to show that the thought is there. And very quickly.
During the Paris attacks in November, the more practical #PorteOuverte was born. The idea behind the hashtag was that people who needed a lift or a place to stay after the attacks could search or use the hashtag to find kind Parisians opening their homes to help.
Charity awareness and Twitter
It'd be wrong to write a blog celebrating Twitters birthday without mentioning how Twitter has helped to build awareness of charity campaigns. Do you remember the ALS ice bucket challenge that flooded our social media feeds in 2014? From Oprah Winfrey to Justin Bieber, it seemed liked everyone from celebrity to your annoying mate from university got involved. Which is why the campaign raised over 100 million dollars.
Another campaign that got us talking in 2014 was the #BringBackOurGirls campaign. The campaign was launched in response to 276 school girls getting kidnapped by Boko Haram in the town of Chibok, Nigeria. The hashtag generated worldwide attention, and within three weeks was used over one million times, getting high-profile figures such as Michelle Obama onboard to help. Unfortunately, the majority of the girls are still missing.
Social media gives a voice to the unheard. The Arab Spring showed us that when local governments have control of major media channels, people can still find out and share information through Twitter. This is exactly what happened in what some people refer to as the Twitter revolution.
Can you watch TV without Tweeting about it?
Moving away from news and charity, and going for a slightly less sophisticated angle... Twitter has changed the way in which we watch television. When you watch TV now, do you search for the show's hashtag on Twitter to see what other people are saying? If not, do, it can be quite funny.
Twitter's Lewis Wiltshere said of the site's big birthday: "Whether it's the London 2012 Olympics, the #GBBO final, the General Election or the BRIT Awards, when big events happen, they happen on Twitter". This highlights just how much Twitter has transcended popular culture.
I unapologetically watched this year's (very trashy) "Celebrity" Big Brother. Obviously a show like this generates questions such as "why the F is Gillian Mckeith wearing sponges," a question a number of other Twitter users were also asking . It's comforting to know that there's a community of watchers out there asking the same questions as you.
To Quote The Drum and Chris Moon, head of insights & analytics at Telegraph Hill:
"Gone are the days of only being able to watch TV at a scheduled transmission time. Audiences now interact with shows before, during and after they've aired, giving series a longer lifespan than ever before. It's these extended moments that present a new opportunity for both brands and broadcasters to interact with their audience through smart, creative content."
This is why social media marketing is so important…
Apologies for sounding simple, but we just love social media marketing. It's great; you can converse with likeminded individuals, target particular audiences and most importantly build relationships. Using social media for a business gives a much accessible approach towards communication, it shows what your company does, what it stands for and gives your brand a personality, making it stand out. Interested in our social media services? Get in touch, we'd love to hear from you.
In writing this blog we've only just realised how great Twitter is. From charity campaigns, to how we now receive news, to the extended lifespan of the television program, it's been a great ten years of Twitter. We can't wait to see what we'll see in the next ten years of Twitter. Take a look at our infographic of what we think are Twitter's biggest moments: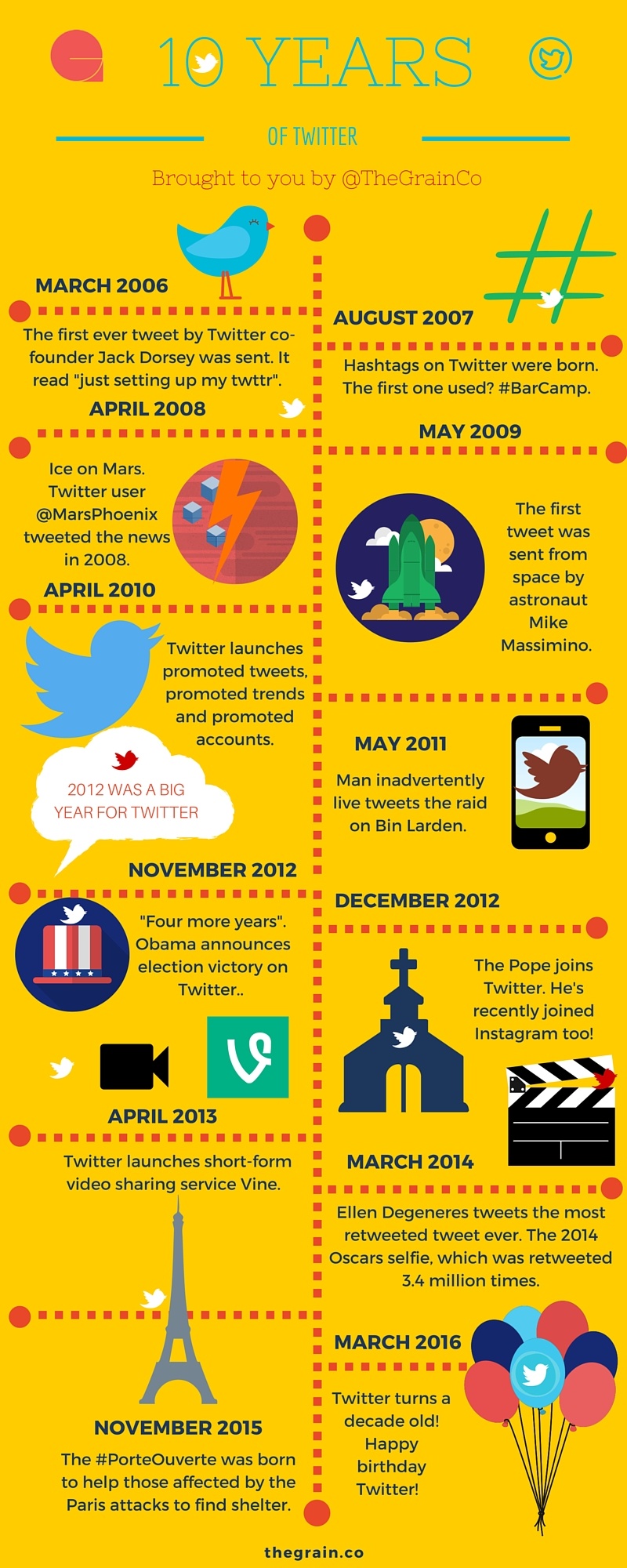 It takes 20 years to build a reputation and 5 minutes to ruin it. Make sure your social media management is helping not damaging your brand by reading our post "How to boost your brand reputation with social media management"