There are a lot of problems facing sales and marketing teams when it comes to getting in front of the right people and generating better B2B leads. A shift to inbound marketing and Account-Based Marketing (ABM) can help to improve results, as can introducing a conversational commerce strategy to your efforts.
Statistics from BrightTALK suggest that 61% of B2B marketers believe that a lack of resources including staff, funding and time are their biggest obstacles when it comes to generating leads successfully. At the same time, HubSpot says that only 28% of B2B marketers have a documented editorial mission statement.
On a more positive note, 49% of those that are employing inbound marketing for ecommerce within their strategy say that articles are the most effective type of content for moving prospects through the sales funnel, according to Statista.
That's still a lot of work to do in the nurturing process though, which is why we think that B2B marketers should consider a mixture of ABM and Drift for ecommerce to improve their results and accelerate business growth.
Read more: Our guide to chatbots and conversational marketing
For the uninitiated, ABM can also be referred to as 'whale hunting' and focuses on using inbound marketing for ecommerce techniques to target key decision makers in companies and the people you'd most like to work with.
ABM complements any and every inbound strategy and is absolutely perfect for B2B sectors, especially sales and marketing teams struggling to attract and convert leads. You can read more about ABM and its benefits here.
How does Drift for ecommerce help B2B professionals?
So, you're targeting key decision makers such as managers and CEOs who will naturally be tight on time. You believe – and perhaps rightly so – that you can offer them something they're missing and form a profitable relationship together.
They get those approaches on a regular basis though and naturally tune a lot of them out. Those that do attract their business will have to work a bit harder, and offer something different than what they're used to, to get noticed.
That's where conversational commerce and inbound marketing can be so important to the B2B lead generation process. The statistic above - that content is good at propelling leads through the sales funnel - is a compelling one. Content-led customer journeys aren't perfect though, and there's still the danger that your sales and marketing teams will spend weeks identifying and interacting with prospects only to lose them at the last minute.
This is where conversational commerce through a platform like Drift can be so rewarding for B2B. Instead of prospects having to fill out form after form on a website, go back and forth on the phone with the sales team and more, a Drift chatbot can do in minutes what would traditionally take weeks.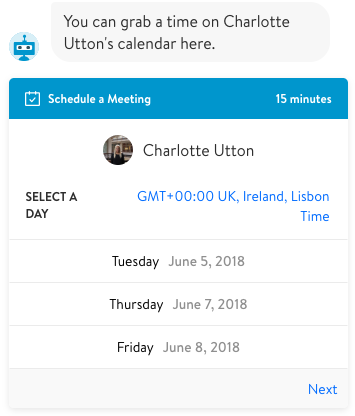 Conversational commerce through Drift can open conversations with the whales you're hunting almost immediately and alert you when those VIP decision makers visit your site so you can get in front of them and begin a conversation, while bots can also provide them with personalised messages, too.
They can also schedule meetings with you instantly through Drift, making it the perfect complement to any ABM and B2B campaign. Find out more about how an inbound approach can accelerate your business growth by speaking to the Six & Flow team.