Typically, CRM software is categorised as a sales tool. But these days, it's seen as more of a general business tool. With this in mind, HubSpot as we know it has evolved into a CRM platform that offers a one stop shop for go-to-market teams. With its capabilities, front office teams have the tools at hand to strengthen customer relationships and provide a stellar customer experience.
Although there are several differentiators between HubSpot's CRM platform and others on the market, there are three key ways that they went about providing a system that is built differently.
Way 1: Who HubSpot CRM platform is built for
Although businesses of all sizes can benefit from the HubSpot CRM platform, it's primarily aimed at companies that are scaling. Its user-friendly design makes it easy for organisations to meet business needs without adding layers of complexity to their processes.
Getting started is a quick and easy process, particularly when you have the option to get started for free. The platform offers enough flexibility for organisations to mirror their appearance in the market–no custom development required.
Both the quick start and easy data input give businesses more bandwidth to focus on scaling and adapting in preparation for their next growth phase.
Way 2: The benefit of growing better
What does it really mean to grow better? In a nutshell, it's remembering that you're aiming to help unique individuals and not just the personas that they represent. When it comes to building relationships, the focus is more on long-term than short-term, paired with solving problems for the customer above all else.
When an organisation is aiming to grow better, their customers' success and their success are one and the same. This mindset fosters scale, loyalty, and overall happiness from your customer base.
Managing customer relationships
The HubSpot CRM platform is a single source of truth for customer relationship management. It's made of up four Hubs:
Marketing Hub
Sales Hub
Service Hub
CMS Hub
When joined together, these Hubs allow organisations to quickly adapt, get their teams aligned, and promote internal adoption better than ever. They offer built-in tools, advanced (yet easy to understand) reporting, and popular integrations. The best part? They all offer clean and simple user experience.
Way 3: A consistent user experience
Throughout the history of CRM platforms, most have gotten to where they are through acquiring other systems and plopping them under one logo. With so much going on, these stitched together solutions can feel overwhelming and overpowering for the end user.
HubSpot decided to take a different approach and leverage their own product team to create a CRM platform that offers users a consistent experience–this is known as the HubSpot Framework. This framework includes five "primary colours" that are:
Data
Reporting
Automation
Messaging
Content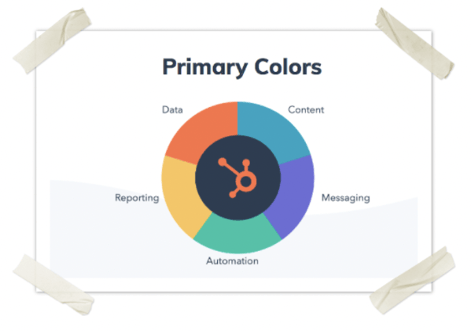 These "colours" work together to provide a structure of each of the four Hubs. With a consistent foundation, HubSpot customers have the benefit of working in a cohesive software system that is customisable (without being complex), and empowering vs. overpowering.