For many B2B businesses today, a great conversational marketing strategy is less of a nice-to-have and more of an essential. That doesn't always make it any easier to justify the costs to your board, though. Don't worry - we've pulled together four tantalising benefits which are sure to capture their attention.
Why conversational marketing?
Conversational marketing allows your website visitors to communicate with your brand in the format they are most accustomed to. Think Whatsapp, Facebook Messenger, Telegram, even Tinder! These direct messaging platforms all enable one-to-one communications in real time, providing instant gratification and a highly personalised experience.
With the right conversational marketing tools in place, your staff (or alternately, your hardworking ChatBot) can speak with visitors to direct them around your site, answer their questions, collect their contact details and even acquire explicit consent to contact them in future (an essential step now that GDPR is in full force)
Better yet, these newfound abilities can have a direct positive impact on your business finances. Don't believe us? Take a look below to discover how conversational marketing can boost your bottom line.
1. Increase overall lead volume
The beauty of chat marketing? It allows you to provide one-to-one service to many individuals at the same time. A personalised approach is proven to increase sales and marketing results, and the right conversational marketing platform can make all this possible.
It can feel more natural and more intuitive to share lead details as part of a two-way conversation, rather than filling out a static form. Better still, your scripting can ensure that you still acquire informed consent to meet GDPR requirements.
As a result, one of our clients saw conversational marketing increase overall lead volume by 13%.
2. Speed up sales conversion
No one likes to sit around clicking frantically in an attempt to navigate a confusing website. We already know that website speed has a significant impact on lead conversion, but it also won't help if visitors have to spend their precious time searching for the information they need.
However, the right conversational marketing platform can provide them with all the information they need in a quick and convenient manner. In an age of instant gratification, this helpful attitude can make all the difference when it comes to getting a sale over the line.
The right conversational marketing strategy can support your lead in making an informed purchase. As a result, one of our clients found that sales directly attributed to Drift activity completed 10% faster on average when compared to static submissions.
3. Achieve higher sales conversion rates
If you think about it, website visitors that interact with conversational marketing platforms can be seen as high-intent leads – they're beyond the point of passively browsing, and out to find some answers. Providing them with a direct line to your team is essentially harvesting the low-hanging fruit within your website visitors!
What's more, with the right out-of-hours ChatBot functionality in place – on the Six & Flow website we call this technology our 'night watchman' – you can provide essential support out of hours through pre-programmed scripting. This can include a request for contact details so your staff can follow up with them later.
We also use Drift's meeting schedule functionality to let website visitors pick a time which best suits them. Drift then automatically adds the meeting into the relevant staff member's diary, so that they can arrive into the office with their schedule already full of new prospects to sell to!
As a result, one client found their lead-to-customer conversion rate was 45% higher from conversational marketing when compared to lead conversions from static submissions.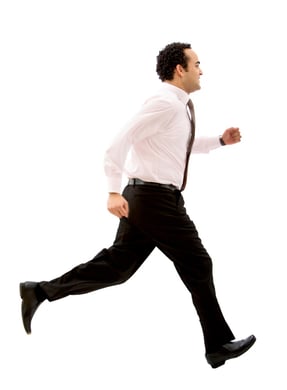 4. Enjoy a speedy sales boost
The best thing about conversational marketing is that it is incredibly quick to implement and to show results.
One client started with a sceptical sales team who weren't entirely bought into the conversational strategy. However, within just six months the brand had enjoyed a 16% boost in sales, and their team was now fighting over conversational leads as they knew these individuals had a particularly high conversion rate.
I think we can agree that this is a significant shift, and it took place without any huge effort on the brand's part. We implemented Drift as their conversational marketing platform, and the sales team were soon converted from reluctant adopters to evangelists.
Getting your conversational marketing strategy started
Have we convinced you yet? If we've brought you round to the idea, the next step is choosing your conversational marketing platform.
We don't think we're biased when we say that Drift and conversational marketing make the perfect pairing. Drift is our weapon of choice when it comes to conversational, and we've implemented it across various clients as well, all with resounding success.
If you want to learn more, speak to us. Six & Flow is the first UK agency to be included in Drift's partner program, so we like to think we know a thing or two.