With Aircall, you can better manage your phone support. Aircall is an entirely cloud-based telephony solution that allows your service or sales teams to manage calls from anywhere in the world.
Aircall Features & Benefits
Aircall offers a variety of features that make it an ideal solution for small and mid-size businesses. Through an intuitive interface, it's easy to take advantage of the platform's extensive capabilities. So, Why use Aircall?
Create a cloud-based call centre - Through a desktop or mobile app, your team can make calls, transfer to teammates, and organize your workflows.
Monitor performance - Easily and effectively see how well your agents are performing both as individuals and as a team. You can tailor the filter for your team's call centre metrics to better suit your needs so that you're always getting the relevant information.
Improve productivity - Aircall helps to eliminate manual administrative tasks by automatically logging calls, creating help desk tickets, transferring calls and more.
Personalise your conversations - Aircall's insight cards pull data from other apps so that your team is presented with the right information during each inbound call
Route calls to reps during business hours - Map out routes for where calls are directed to and schedule
Deliver back-to-back calls - Using Aircall's click-to-dial feature, you can boost productivity by having your sales reps call a list of contacts automatically without having to search for their details.
Improve transparency & functionality - connect Aircall to your CRM to centralise data, elevate Aircall automation, and improve marketing, service and sales communication.
In a recent Total Economic Impact of Aircall report, Forrester Consulting found that over the course of 3 years, Aircall can produce up to 373% return on investment.
Why Aircall & HubSpot?
Aircall offers a broad set of integrations - Including HubSpot's CRM platform to help optimise employee performance.
Humanise holistic conversations that are based in your HubSpot portal.
Learn more about the Aircall - HubSpot integration.
With the Aircall - HubSpot integration, you can achieve:
A more efficient sales and service process
With this integration, you'll get all of your customer communication data in one place, which will save you time and ensure that nothing gets lost in the shuffle. Calls and SMS activity will be automatically logged on contact, company and deal records. Not to mention, having all of this information in one central location will help you provide better service to your customers and ensure your sales team can have a quicker lead response time.
Improved productivity and delightful customer experiences.
With automations triggered by Aircall call outcomes, tags, and other custom contact properties, your team can focus on providing an excellent customer experience instead of managing their interactions. As a result, you'll be able to spend less time managing your customer base and more time delighting them.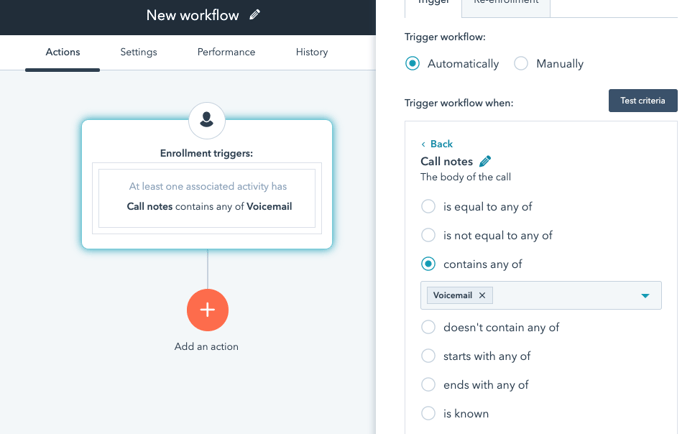 Consistency in your data across Aircall and HubSpot
After a call has been connected, the integration ensures data is synced across both platforms so you can focus on your customers instead of data maintenance.
More outbound calls in less time
By loading a list of contacts into Aircall's power dialer, reps can quickly and easily dial through a list of prospects. Additionally, the integration provides valuable insights into each call, such as which contacts are being called and how long the call lasts. This information can be used to further refine your lists and target only the most promising prospects.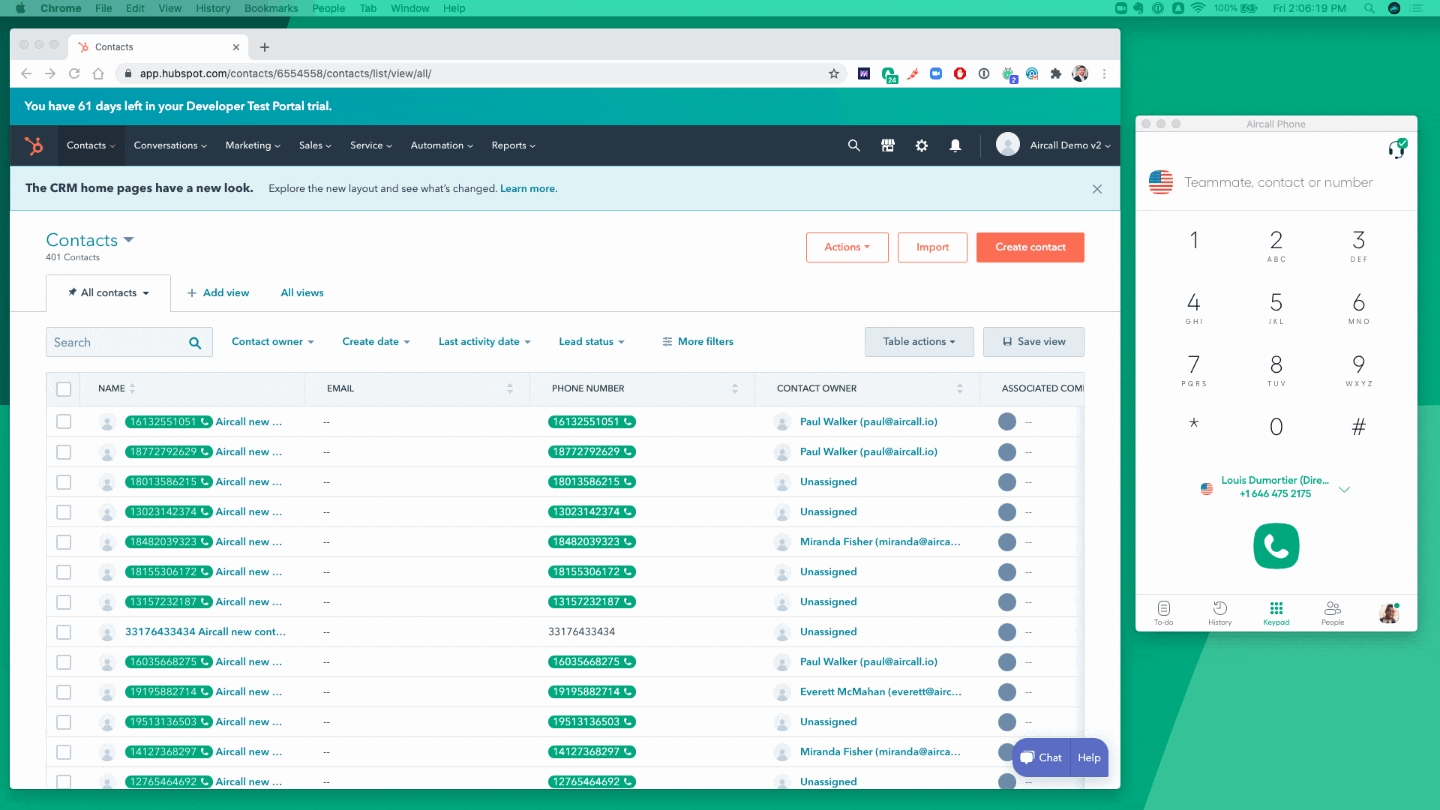 Transparent reporting in HubSpot
Track rep and team performance, understand how to close more deals, and improve your overall sales process. With this integration, you'll be able to see which calls are being made, how long they last, and what the outcome was. Use the data to see which stages of the sales process are taking the longest and where you might be losing deals.
Install and configure the HubSpot Aircall integration
Learn how to configure your HubSpot integration in Aircall.
With the Aircall - HubSpot integration you can HubSpot work better. We've linked Aircall's documentation so that you can begin installing and configuring the HubSpot Aircall integration with ease.