The rise of AI in the B2B landscape is undeniable, captivating consumers and driving businesses to respond quickly with a surge of AI-infused products. However, it's important to recognise that not all AI solutions are created equal.
Many are hastily assembled with integrations, resulting in subpar performance compared to other available solutions.
When it comes to UCaaS and CCaaS solutions, AI should promise seamless, powerful, and intelligent communication.
In this blog, we'll dive into some of the notable solutions on the market. And for the purposes of offering full disclosure, we are a DialPad partner. But we wanted to outline the options available in the space and explain why we chose DialPad as the solution we offer to clients.
Dialpad Ai
Designed with businesses in mind, Dialpad Ai is a language-savvy platform that aims to drive sales, provide valuable competitive insights, enhance customer service, and optimise conversational experiences. Its intelligent features are seamlessly integrated throughout the entire platform, empowering businesses to make the most out of their conversations.
8x8 AI
8x8 AI is an intelligent communication platform that harnesses the power of artificial intelligence and machine learning to elevate customer interactions. With the ability to leverage third-party integrations for advanced AI features, it offers an extra layer of intelligence to enhance customer experiences. Please note that certain AI features may require additional fees and access may be limited to managers.
RingSense
RingSense, the AI solution by RingCentral, revolutionises customer interactions by analysing conversation data and providing valuable intelligence. This enables businesses to gain deeper insights into customer needs and preferences, ultimately improving overall customer satisfaction.
3CX
3CX is a versatile CCaaS solution that offers both on-premises and hosted deployment options. While its contact centre capabilities may be limited, it compensates with the convenience of video conferencing, providing businesses with an all-in-one communication solution and does not offer a sophisticated Ai solution.
Vonage
As a cloud-based VoIP provider, Vonage offers a comprehensive suite of communication tools that cater not only to businesses but also to individual users. With its focus on residential services, Vonage stands out by providing a seamless experience across mobile and desktop applications, ensuring reliable and efficient communication for all users. Again, Vonage does not offer a sophisticated Ai Solution.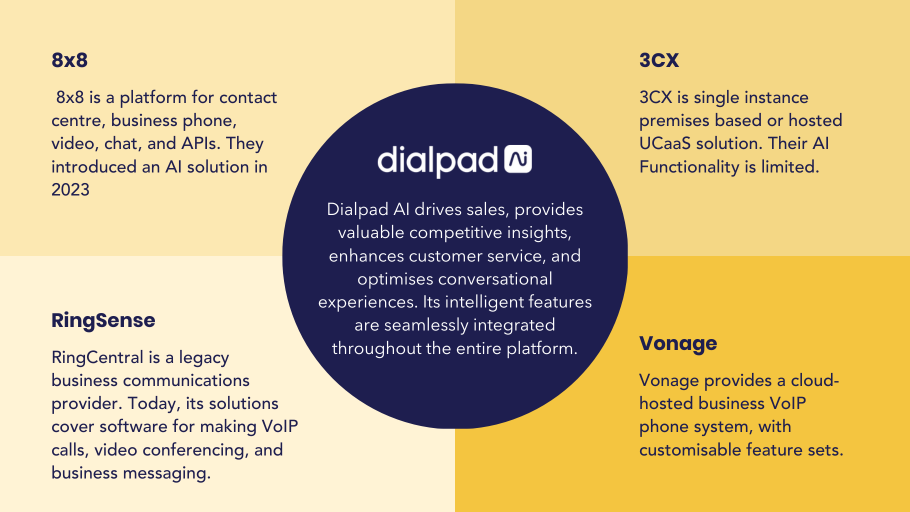 Key Capabilities of Dialpad Ai
Why use Dialpad Ai? Dialpad Ai revolutionises business communication, providing a sophisticated tool that transforms the way businesses connect. With its powerful features, Dialpad Ai has reshaped the landscape of business communications, setting new benchmarks for efficiency, insights, and intelligence.
Let's explore some of the key capabilities that Dialpad Ai offers:
Save Time
24/7 Self-Service and Faster Issue Resolution
Save time for customers with 24/7 self-service, reducing wait times and ensuring rapid issue resolution




Enhance employee efficiency with AI tools, reducing manual tasks like note-taking and call analysis.



Accelerated Training and Onboarding
Speed up the training and onboarding of both customer service agents and sales reps, connecting them to knowledge and guidance for quicker skill development.

Reduce training and ramp times for agents and sales reps through programmed responses and scripts.
Improve Customer Interactions
Personalised and Multichannel Communication
Deliver personalised customer service that addresses specific needs efficiently, elevating customer satisfaction.

Facilitate seamless multichannel communication with customers, providing context and guidance for faster issue resolution.




Real-Time Supervision and Coaching
Empower supervisors with real-time insights for coaching, leading to improved employee retention and customer-centric metrics.

Drive higher employee retention and satisfaction with real-time feedback and support.




Live AI Transcriptions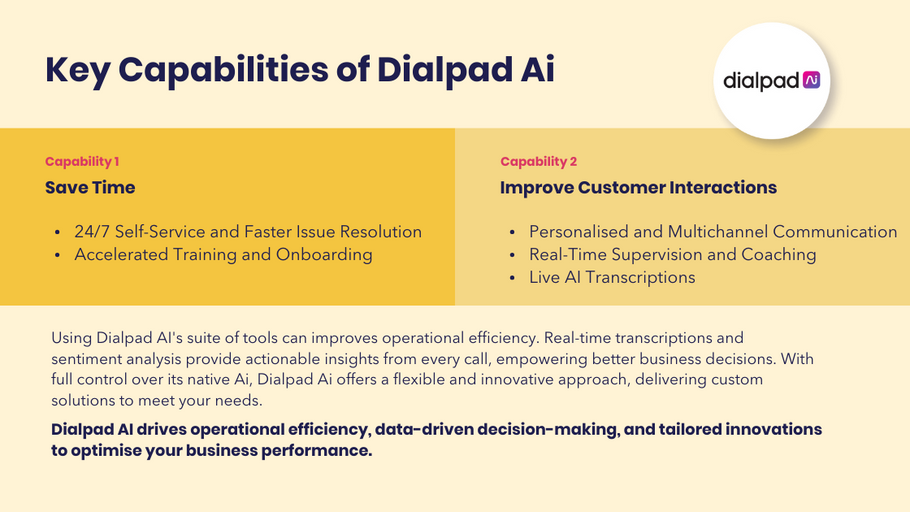 Let's see how Dialpad ai & Other UCaaS and CCaaS Solutions compare across these core capabilities that Dialpad Ai offers.
UCaaS & CCaaS Capability Comparison
November 2023 Comparison
| | | | | | |
| --- | --- | --- | --- | --- | --- |
| Features | Dialpad Ai | 8x8 | RingCentral | 3CX | Vonage |
| Ai Virtual Agent | ✅ | ✖️ | ✖️ | ✖️ | ✖️ |
| Ai Transcriptions | ✅ | ✅ | ✅ | ✅ - Limited | ✖️ |
| Ai Recap | ✅ | ✖️ | ✅ | ✖️ | ✖️ |
| AI Agent Assist | ✅ | ✅ | ✖️ | ✖️ | ✖️ |
| Real-time Assist Cards | ✅ | ✅ | ✖️ | ✖️ | ✖️ |
| Custom Moments | ✅ | ✅ | ✅ | ✖️ | ✖️ |
| Ai CSAT | ✅ | ✖️ | ✅ | ✖️ | ✖️ |
| Live Sentiment Analysis | ✅ | ✅ | ✅ | ✖️ | ✖️ |
| Native Ai Scorecards | ✅ | ✖️ | ✖️ | ✖️ | ✖️ |
| Realtime coaching | ✅ | ✖️ | ✅ | ✖️ | ✖️ |
Dialpad Ai Products & Features
Products
Ai Recap - Provides users with a brief synopsis of every call or meeting.


Ai CSAT - AI listens to every call and accurately predicts a satisfaction score based upon spoken keywords &
phrases


Ai Virtual Agent (Self Service) - Self service capabilities powered by AI that connects to backend knowledge
sources and understands user intent.


Ai Scorecards - AI suggests when an agent or sales rep's mandatory behaviour or process is met during a call.


Ai Agent Assist - All internal and external knowledge sources are connected so agents can access any information, workflows or processes in real-time on customer calls.


Real-time Assist Cards - AI listens to sales and service calls; Pre-defined phrases trigger guidance, objection
handling information, and scripts written by managers.
Features
Live Sentiment Analysis - AI listens to each call and determines if the call is positive, negative, or neutral based
upon keywords and phrases in real time.


Ai Transcription - Provides end users with a real time transcription that can be viewed as the call happens, as well as a record of past calls, meeting notes, interesting moments & action items.


Custom Moments - Admins and managers can input specific keywords and phrases that they would like to keep track of. AI recognises when those words and phrases are said and alerts supervisors and managers in post call review or in analytics.
Total Cost of Ownership
In today's world, an AI-powered voice platform should be the expectation, not a premium. Dialpad Ai has Ai built into their products and into their pricing and packaging - not an add-on.
| | | | | | |
| --- | --- | --- | --- | --- | --- |
| Feature | Dialpad AI | 8X8 | RingCentral | 3CX | Vonage |
| Ai | Native, hyper-accurate AI available to all users | Available through third parties at an extra fee and most AI features can only be accessed by managers | Native | N/A | Yes |
So, why Dialpad Ai?
Processes that lack efficiency can create undesirable consequences such as a high turnover of employees, a reduction in productivity, and a significant loss in revenue.
Dialpad Ai presents a collection of AI-based tools deliberately fashioned to refine your operations, decrease laborious tasks and, in the final reckoning, enhance overall efficiency.
Dialpad Ai understands the critical role actionable data plays in influencing improvements in your business. They provide real-time transcriptions and immediate sentiment analysis to deliver a deep comprehension of every call, ensuring you hold the most pertinent data in your hands, facilitating intelligent decision-making.
A key advantage that sets Dialpad Ai apart from its rivals is the element of control. Contrary to competitors who depend on third-party AI, Dialpad exercises control over its native AI, and innovation pathway.
This control affords them the nimbleness and adaptability to remain one step ahead, consistently presenting innovations, and providing you with the optimum solutions that are customised to your requirements.