So, your organisation has decided to implement a CRM. How can you work with your internal team to ensure adoption?
And, if you've chosen HubSpot, you've made the right decision... But, we'll leave that part out for now.
Because, with any CRM Implementation, having an internal champion is critical to success. And, we recommend having more than one.
The first is a key decision-maker - A stakeholder with the authority to make business decisions and who motivates a team to adopt the new software.
Next is an early adopter - An individual who has adopted the software early on in the project and is comfortable supporting other team members.
The last is a late adopter - Somebody who initially struggled to use the platform, but through the help of other team members and training materials, has since become an expert.
All three are important in different ways, and their roles should be clearly communicated to ensure a successful CRM Implementation. Having internal champions will help get adoption from the entire organisation - driving value and ROI from your new software.
Why it's important to have internal champions for your CRM implementation
CRM champions are the most important members of a project team because they are the biggest advocate for the project.
They help drive adoption throughout the rest of the company by communicating its benefits and training users on how to use it. They also work closely with the project manager to ensure that the project stays on track and meets its objectives.
Champions play an essential role in making sure that a CRM project is successful.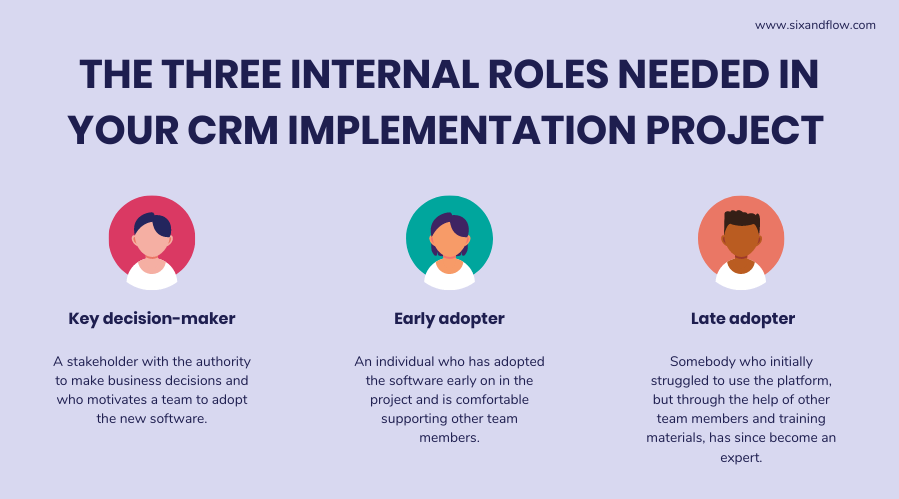 The role of a key decision-maker
A key decision-maker is a critical role in any CRM implementation.
They are responsible for making sure that the CRM system meets the needs of the organisation and its customers. They also need to ensure that the data is accurate and up-to-date and that the system is able to integrate with other applications.
Ultimately, a key decision-maker needs to be able to provide leadership and direction for the entire CRM project.
While the key decision-maker does not need to be involved in every aspect of the CRM implementation, they will need to be available to answer questions and provide guidance when necessary.
If you're working with an implementation partner, they will work with you to ensure API integrations are developed, and systems are communicating with each other.
Once the system is up and running, your partner should create the training and support materials to ensure your project team is set up for long-term success.
They should work closely with your key decision-maker in defining the implementation strategy and ensure your tech stack is optimised.
They will work with your key decision-maker to troubleshoot any issues that arise during the implementation.
The role of the early adopter
With any CRM Implementation, there are a lot of moving parts.
If you're working with a partner agency, they will be there to build out the strategy, ensure the necessary integrations are built to create a single source of truth and offer training materials for ongoing success once the project is completed. That being said, change management and adoption is a common challenge for most organisations.
Early adopters play a critical role in your CRM implementation. They are hands-on with the CRM software and are quick to communicate with the rest of your organisation about the usefulness of the software.
They help ensure that the system meets the needs of the users and that it is integrated into the workflow of the organisation.
They can help to identify any problems within the system before it goes live, and their input can be invaluable in making sure that the final product is as user-friendly as possible.
The early adopter should work closely with the key decision-maker and the implementation team.
Your organisation's partner agency should offer strategic consultation and high-value delivery, alongside a training plan. When building out these delivery assets and training documentation, the agency should work closely with the early adopter to ensure functionality is maintained and challenges are addressed.
The role of the late adopter
The person who initially struggled with using the CRM platform is somebody who can be trained to become an expert and advocate.
This person should be given access to all the resources they need in order to be successful.
This includes meaning they receive regular updates on how the system is being used and what changes are being made.
As the CRM begins to be rolled out to the entire organisation, It's important to place a focus on the late adopters. These individuals should feel supported as they work their way through the system.
This person is critical to the success of your CRM implementation. They can help to overcome any objections that other team members may have.
They understand some of the common challenges because they were once in the shoes of somebody who was hesitant to use the system.
As an agency, it's important to identify late adopters and offer the resources to ensure they become fully comfortable and confident in using the system.
Tips for working with your CRM champions during the implementation process:
Make sure you provide them with the resources they need to be successful. This includes access to all the relevant data, as well as regular updates on how the system is being used and what changes are being made.


Keep them in the loop and let them know about upcoming changes, so they can help to get everyone on board.


Encourage them to act as leaders and offer support to their colleagues who are still hesitant to use the CRM.


Thank them for their hard work and dedication! Without internal champions, a CRM implementation can be much more difficult.



What happens if there is no champion for your CRM implementation?
The system may not be adopted by everyone in the organisation, which can lead to frustration and a lack of return on investment.


There may be resistance from employees who are reluctant to change the way they work.


It can be more difficult to get buy-in from key decision-makers.


If you're looking for more information on CRM implementations, please contact us at hello@sixandflow.com. We would be happy to chat with you about your specific needs!