Every business talks about getting new leads.
We spend months devising strategies for lead generation, invest time and effort writing blogs and guides, or shooting videos, for the single purpose of bringing new customers through the door.
We've all been offered that "new customer" deal that is used as an enticement when you're looking around for a new phone contract or something, right?
All this effort to increase our customer base.
But what about the customers we've already got?
What's our strategy for keeping them happy? Or has customer satisfaction taken a back seat in our growth plans?
If customer satisfaction has taken a back seat, then something has gone wrong.
After all, it's widely agreed as fact that current customers spend more, have a bigger lifetime value and can even form part of your strategy for new customers because they'll give you case studies, or recommend you to other customers.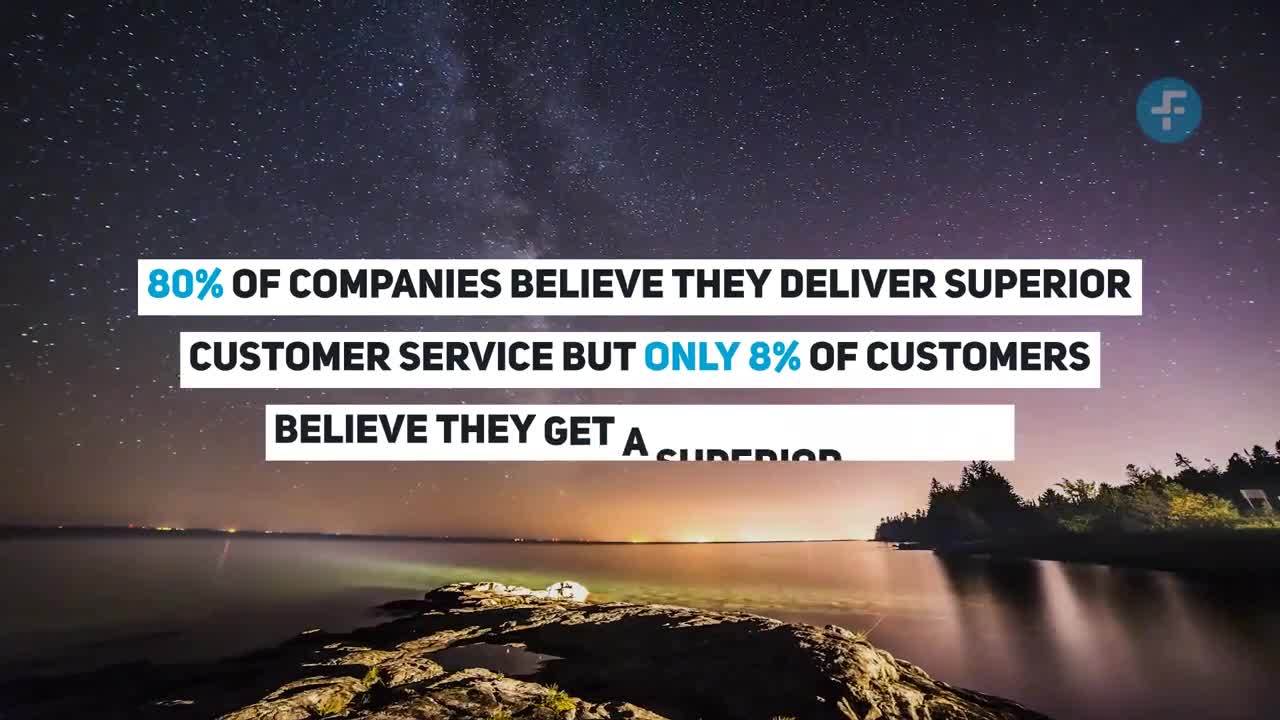 Yet, the data would suggest something has gone wrong - it's just that we, as businesses, don't realise it.
According to a study by Harvard Business School, while 80% of companies believe they deliver superior customer service, only 8% of customers believe they get a superior service.
This is a very bad mistake.
The importance of customer satisfaction
You shouldn't underestimate the importance of customer satisfaction and the investment you should make in customer support.
More than half, 58%, of customers said that customer service is a very important factor in their choice of loyalty to a brand, according to research by Microsoft.
The same research found that 61% of people would stop using a particular brand or business based solely on a poor customer service experience.
Other research by Superoffice, revealed that 68% of customers would move on if they felt a business no longer cared about them. 14% would look for a new supplier if they became dissatisfied with the service they were getting.
Customer service is also becoming more important as the number of options and companies to choose from increases.
In fact, 59% of customers have higher expectations of what customer service should be like than a year ago.
Customer satisfaction as a growth strategy
Obviously, any business looking to survive in the long term needs a steady stream of new business - if they have plans to grow.
And, as we've explained in this blog, you can only get so far by relying on current customers for referrals or to grow your business in isolation.
But, satisfying your existing customers must become a more critical part of your growth plans, judging by the current state of service and the fact that today's customers will leave you based entirely on their experience with you - not just based on the products you make.
Without doubt, customers who stay with you in the long term will provide greater profits to you over the entire customer lifecycle.
But you've also got to factor in that as time goes by and you get a better understanding of a customer, how they work as a business, what their priorities are, and how they operate within their marketplace, the cost of providing a service to them goes down too.
Even in terms of 'new business', your existing customers are a more effective source of profits because they are easier to sell to and increase services in the form of up sells.
This makes complete sense if you think about it.
They've worked with you for a long time, they know you can deliver, and you have to spend less time and effort trying to convince them that you're the person to go with - because they're already with you for a reason.
This, again, is backed up by the data.
According to research conducted by Marketing Metrics, the success rate of selling to an existing customer is between 60% and 70%, compared to between 5% and 20% selling to a new prospect.
These up sells can have a massive impact on your profit margins.
According to management consulting firm Bain & Company in the US, just a 5% increase in customer retention can produce more than a 25% increase in profit.
So, not only is customer success and satisfaction important to sustaining your cash flow and profits, it's directly related to increasing profits as well.
That's not even getting into the issue of company reputation and the fact that referrals from existing customers are far more likely to lead to new business than prospects who come to you cold or through other marketing channels.
Research published in an article by The Drum stated that on average referrals drove up to a 30% increase in new customer acquisition, doubled the referred customer's lifetime value and increased first order value by 10%-25%.
Is HubSpot Service Hub the answer?
With Service Hub, HubSpot have put the tools you need to implement, measure and improve a scalable customer service in your function, in a system that can integrate easily with the rest of your marketing and sales software.
HubSpot Service Hub makes it easy to log customer issues as tickets and assign them to member of your team, and reorganise them based on level of priority.
Built in conversations, through email or chat, make it easier for customers to get in touch with your company when they need to and makes it easier for you to manage customer communications across your entire team.
And for the occasions when customers are looking for information on their own, Service Hub gives you the ability to build a knowledge base on your website to host educational articles or FAQs, which not only provide useful information to customers or prospects, but also add to your SEO and search performance.
Customer satisfaction doesn't just start once someone becomes a customer, it starts from the first contact they have with you as a prospect in the sales cycle. Are you putting the groundwork in for customer success this early?
Try our new Sales Comparison Tool and see how your sales process stacks up against industry best practice.