Have you ever wondered what the Mad Men cast would have made of growth driven design?
If you didn't already know, Mad Men is a TV show based in the 1960s, following Madison Avenue-based creative advertising guru Don Draper, and featuring lots of Canadian Club drinking, Luck Strike smoking and, erm, love making..? This was the golden age of advertising, when budgets were big and projects were flashy.
However, as a UK growth driven design agency, I think we can all agree that times have well and truly changed.
The traditional web design model is totally broken. Growth driven design is the new gold standard for delivering results and bringing measurable business value to clients through web design. If you want more information, read our blog 'Redesigning our HubSpot website with Growth Driven Design: Pt. 1'
Marketing's need for speed
During this year's South by Southwest, digital transformation and customer experience were the biggest buzz terms for the marketing industry. The underlying message of speakers was fairly simple: Every brand has to move faster while maintaining strategies.
Featuring on a panel about livestreaming, Victor Lee, SVP of digital marketing for Hasbro, explained:
"You don't need six months to plan something great. We need to get out of the Don Draper [mentality]. The agency folks are probably going to hate me for saying that."
This is especially the case for innovative markets such as technology, in which the next big thing is constantly on the horizon, threatening to make your current marketing obsolete.
"We have to deliver digital products in a much faster way,"
said Gela Fridman, managing director of technology at Huge.
During a panel on retail innovation, Kohl's director of technology Garima Agarwal also argued that with the "phenomenal" pace of change seen even in the industry,
"we have to evolve; we cannot just be satisfied with the status quo."
Agarwal suggested that marketers should embrace a "fail-fast" attitude, continuously testing to see what's working versus not. Big static campaigns just don't work anymore, because by the time they're done, consumer behaviours will have changed once again.
Growth Driven Design vs. Good old-fashioned web design
When we talk about modern marketing, it's essential to realise the incredible impact of websites. Brands are now able to reach out to people through computers, tablets and smartphones. In turn, consumers have become used to researching products and services online in the comfort of their own home, without having to talk to anyone at your company.
Since people are super-sleuthing online, rather than getting the details from your top salespeople, it's essential you have the latest information available to them on your website. And with markets constantly evolving in hard-to-predict ways, agile web design is key to success.
This is where growth driven design comes in.
Consider traditional web design. It starts with a long and tedious planning process, and ends with a site going live and being left to its own devices - never to be edited until you finally redesign again.
In contrast, growth driven design is:
"a smarter approach to web design that eliminates all of the headaches and drives optimal results using data."
That's the word from HubSpot themselves. In practical terms, it revolves around planning your 'website strategy,' and making regular changes to your 'launch pad' website based on data-driven decisions, enabling 'continuous improvement.'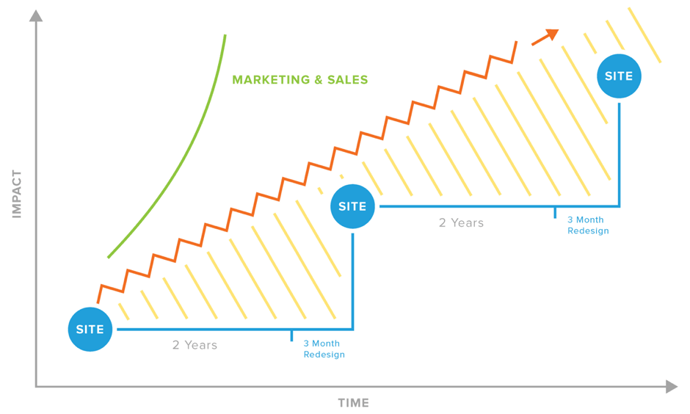 Traditional web design vs. HubSpot growth driven design
By making the web design process a continual learning process, it's possible to speed up launch times, spread out costs, produce reliable growth, tackle any issues as they emerge and make the all important iterative improvements for growth along the way.
So long, Don Draper
When people think about Mad Men in a modern marketing context, they sometimes fail to see that Don's ideas are second-to-none. Don is a genius. But factors of cost and time mean that Mad Men marketing can't exist today.
The days of drinking whiskey and mulling over a client campaign in a smoke-filled office are dying a death in the marketing industry. Even when it comes to the most complicated marketing campaign or the most ambitious website, taking months and months to perfect it is quite often no longer an option.
However, there are some elements of the 1960's ad industry that we can learn from.
In one scene, Don Draper has a meeting with representatives from Kodak where he imaginatively pitches their clunky new 'Wheel' slide projector as a 'Carousel'; a machine that allows people to move backwards and forwards through time whenever they wish.
Thanks to this campaign, Kodak essentially reinvent the market and transform how people look at photography. If that isn't effective marketing, we don't know what is. In our mind, growth driven design is doing the same for web design, transforming a traditionally expensive, risky and altogether painful experience into an affordable, reliable and innovative one.
Growth driven design can be sexy too.
Don Draper's world may be romanticised now, as technical agility takes the main stage in marketing. But that's not to say marketing's not creative anymore. If anything, online campaigns can be more creative than ever.
Growth driven design allows you to create a personalised website experience for specific visitors, based on behaviours or personas. HubSpot Smart Content lets you deliver content based on any field in your contact database, as well as conditions such as location and device.
HubSpot also allows users to test and analysis webpages, calls to action, landing pages and content. Voila, a simple and effective way to make continuous improvements to all the moving parts within your website build.
Last but not least, the platform works as marketing automation software, helping to streamline inbound marketing campaigns and better manage costs. If you're generating traffic through biddable media channels, for instance, HubSpot can better optimise the consumer journey and help to convert those leads without your sales team spending hours on the phone.
We're certain that if the fictional Don Draper was working in the marketing industry today, he would be using growth driven design to build websites, complement his campaigns' creative message and produce incredible results for clients over time.
Six & Flow is a growth driven design agency in the UK, experienced in helping companies to discover and benefit from the new approach to web design. Contact our team today to find out more.
The traditional web design model is totally broken. Growth driven design is the new gold standard for delivering results and bringing measurable business value to clients through web design. If you want more information, read our blog 'Redesigning our HubSpot website with Growth Driven Design: Pt. 1'