In the age of technology, companies need to evolve with the changing times. Digital transformation allows organisations to realise greater efficiency and scalability that can positively affect their bottom line. This process involves utilising digital technologies to improve processes and customer experiences and create new business models.
ERP and CRM systems are two essential pieces of software for businesses today. ERP systems help manage critical business functions, while CRM systems help manage customer relationships.
Why do these two systems work harmoniously together? They have the same overarching goal. They help organisations achieve greater transparency and increase revenue through improving processes.
When these two systems work together, they create a powerful partnership that can help businesses achieve their goals.
In this blog post, we'll cover:
ERP systems
What is an ERP?
ERP stands for Enterprise Resource Planning. It is a type of business software that helps organisations manage and automate their core business processes. This can include tasks such as inventory management, financial accounting, and human resources.
Benefits of an ERP system.
ERP systems are designed to give businesses a complete picture of their operations, allowing them to make more informed decisions and improve efficiency. ERP systems can offer a number of benefits, such as improved efficiency and accuracy, better decision-making, and reduced costs.
CRM systems
What is a CRM?
CRM stands for customer relationship management. CRM systems help businesses manage their customer relationships. The purpose of a CRM system is to help businesses keep track of their customers, manage interactions, and develop long-term relationships with customers.
Benefits of a CRM system.
A CRM can help to streamline and improve customer relationships. Businesses can more easily identify areas to improve customer experiences by better understanding their needs and preferences. This knowledge can be used to tailor marketing and sales efforts, and offer more personalised customer service. When set up correctly, a CRM will offer a single source of truth that helps manage data and gather insights from a central location.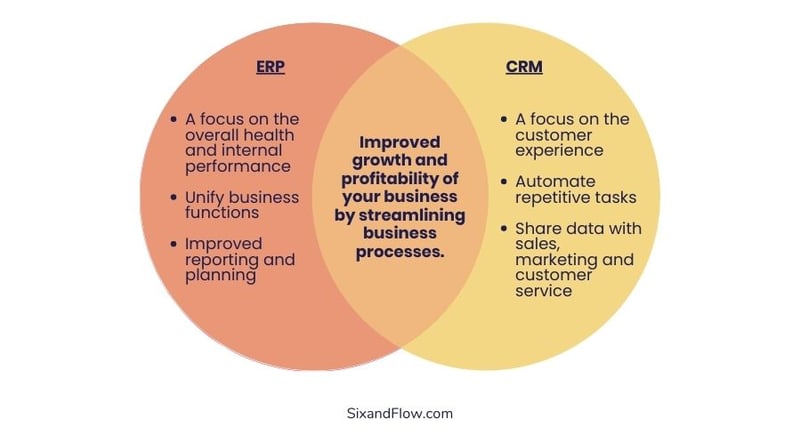 The benefits of an ERP & CRM integration
Should you have both systems?
When ERP and CRM systems are integrated, they can share data and information that can be used to improve business processes. This integration can help organisations reduce costs, improve customer service, and make better decisions.
Let's explore some benefits in greater detail.
#1 Reduce manual billing work
With ERP CRM integration, your sales, customer service and operations teams have access to the same data. Billing can be triggered by your sales team and automatically trigger workflows within your ERP. This eliminates the need for duplicate data entry and reduces the chances of errors.
#2 Create a single source of truth
When changes are made within your CRM or ERP, an integration ensures that changes are automatically updated in the connected systems.
#2 Faster customer support response times
When you have all your data within one system, your customer service teams can help customers quicker. The integration powers them to easily find information such as order status, order history, customer billing history and more.
#3 Build a COMPLETE 360-degree view of your customers
If you didn't know this about us yet, we're big HubSpot fans. In fact, like, REALLY big fans. And that's because they do an amazing job at offering in-depth insights into your customers. But, when you connect your ERP to your HubSpot CRM, you take the customer view to another level. You can offer more personalised marketing and build authentic relationships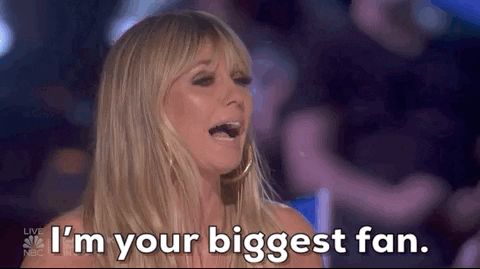 #4 Increase sales
When ERP and CRM systems are integrated, organisations can see which products are selling well and target their marketing efforts accordingly. Additionally, up-selling and cross-selling opportunities can be identified and pursued.
Choose the right CRM
It's likely that if you're integrating your CRM and ERP, multiple parties will be using the CRM system. So, the system needs to be intuitive, yet powerful. The CRM needs to offer the right insights, and power your users to easily access those insights.
Our approach to CRM ERP Integrations
At the start of our approach to CRM & ERP Integrations, we hold a workshop with stakeholders to understand your business case.
We then develop processes to ensure the integration creates a single source of truth within your CRM. Depending on your business case, the integration could be an API integration, ETL integration, EAI integration, or use HubSpot app marketplace.
Our strategy is tailored to your specific business needs and follows an iterative development process. Above all else, our aim is to offer you the tools so that you continue being successful with these integrations long-term. We provide training and support during and after every stage, helping you make the most out of your integration.
CRM ERP Integration Data Points
One of the most important aspects of successful customer relationship management (CRM) and enterprise resource planning (ERP) integration is considering what data points need to be exchanged.
The data points that you choose to sync are typically discussed during our workshop process. That being said, common integrations data points include:
Product information
Client and Customer Information
Pricing
Inventory & stock levels
Payment Data
Delivery information


If you're exploring a CRM-ERP integration, it is important to recognize that there are a number of common data points that should be carefully managed. For instance, customer and client information is widely shared between the two systems in order to ensure accuracy and efficient sales activation through marketing channels. Additionally, forecasting demand and reactive supply-chain processes often involve the transfer of pricing, inventory levels and transport information between ERP and CRM systems. Data points for sales operations use cases may include account management, product requirements or even quality assurance details.