The fastest-growing SaaS companies have already discovered that strategic partnerships are a key growth strategy to scaling recurring revenue.
These companies recognise that building an ecosystem of B2B partners creates a win-win environment.
In this blog, we'll chat about:
What is a partner program

How to choose a partner program

Why you should consider partnership software

Partnership software buyer's guide
What is a B2B SaaS partner program?
A partner program is an initiative launched to form relationships with other businesses to drive revenue.
Partnership programs can be an important tool for businesses to reach new markets or expand their reach into existing markets.
By collaborating with other businesses, B2B SaaS companies can access new customer segments, market their products more effectively, and improve their overall competitiveness.
Types of Partner Programs
Affiliate Partners
An affiliate partner in the B2B space drives traffic to your website through tracked links. They will earn a commission when the traffic converts.
Referral Partners
A referral partner differs from an affiliate partner in that instead of generating traffic, their goal is to identify qualified leads. The referral partner will send these qualified leads for the vendor to close.
Reseller Partners
A reseller will sell your service on your behalf. They will typically have a set of expertise, in addition to relationships with their own audience. They will register the deal and onboard the customer on behalf of the vendor.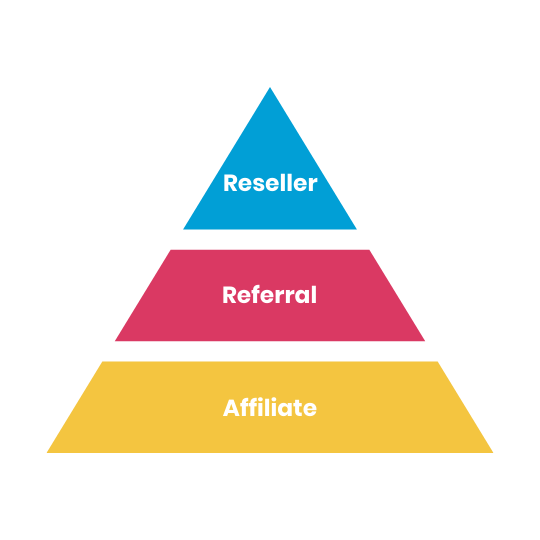 How to choose a partner program
The type(s) of partner program your SaaS organisation chooses will depend on your investment, time, and resources available.
If you're just getting started, it's best to approach partner programs as:
Affiliate > Referral > Reselller.
The benefits of affiliate programs
Quick to launch -

you can build a successful affiliate program within 2-4 months.

Require less investment -

you only pay out commissions when results are delivered.

Scale quickly

- it's easy to recruit new affiliates and grow your program.



When should you implement an affiliate partner program?
Affiliate partner programs should be launched when you are launching your first partner program and you want to experiment.
The benefits of referral programs
Generate high-quality leads

- referrals are extremely valuable as they are more likely to close and have a higher lifetime value.

Increase customer retention

- customers who refer others are more likely to stay longer and be more loyal to your brand.

Be top of mind

- Referrals enable your brand to become top of mind during the initial stages of the buyer's journey.



When should you implement a referral partner program?
If your customers are already referring to your solution, it's definitely worth considering launching a program to scale referrals.
The benefits of reseller programs
Read a wider audience

- Tap into new audiences and markets that your organisation, without having to incur large marketing and sales costs.

Scale lead generation

- Resellers can help you generate leads and scale your sales efforts.
When should you implement a reseller partner program?
It's best to implement a reseller partner program if you already have loyal partners that understand your service and if you have both the investment, time and resources dedicated to building materials and offering training.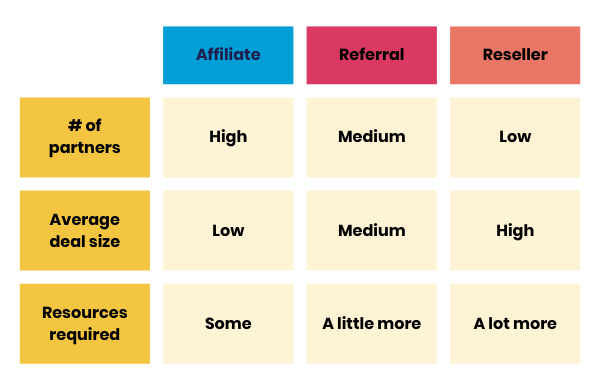 Why you should consider a Partner Relationship Management (PRM)
Building out a successful partner program means looking at both the strategy and the tool.
Depending on which type of partner program(s) you want to launch in the short, mid and/or long-term, the right PRM will help drive efficiencies and offer the opportunity to scale your program.
Here's why:
Leverage a 'template' or foundation to launch your partner program rather than building one scratch.

Tap into a pool of partners and promote your offering

Host resources directly on the platform your partners to access

Automate partner onboarding

Create rewards and offerings that can be accessed immediately

Keep track of key results from your partners and automate payments
Factor to assess when selecting a PRM
What features offered by the platform will help me recruit partners?
To state the obvious, without partners, your partnership program will not be successful.
The first step in building a partnership program is to identify your target partners. These are the companies that you want to work with because they share your company's values and vision.
A good partnership management tool will offer a network of partners that you can tap into.
How will I pay my partners?
Paying your partners can be a labour-intensive job... That is, without the right software.
Skip the spreadsheets and the back-and-forth emails.
The right PRM should automate the processes of paying your partners.
☑️ Let them choose when they want to withdraw
☑️ Automatically distinguish between affiliates, referrals, and resellers
☑️ Easily create custom offers
☑️ Build out different packages for rewarding customers.
How will I onboard partners and offer learning resources?
Remember how I mentioned that certain partner platforms may require a larger investment? To give a refresher, I believe it was the referrals and resellers that fall into this box.
Since these partners are either co-selling with you or selling and onboarding your solution on their own, they need to have access to training and educational resources. These partners should feel as though they are experts in your solution.
So what does that mean for your partnership software? Well, wouldn't it be great if you could host certifications, offer training, create resources, and offer instant support directly on the platform?
Can I segment partners into tiers?
A good way to motivate partners is by segmenting your partner program into tiers. For example, HubSpot achieves this by offering different tiers starting at solutions provider all the way to Elite Partner.
Example of a partnership tiered program: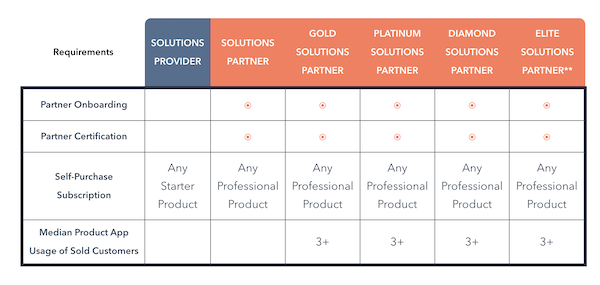 Source: HubSpot
When leveraging software to manage your partner program, you should be able to easily distinguish between tiers, offer custom rewards and set criteria to automatically move partners to different tiers.
Why use PartnerStack?
Now, these are a lot of features you will want your partnership software to have. Pretty lengthy list don'tcha think?
But, something tells me you know where I am going with this...
*PartnerStack enters the room*