Stripe is a payment processing company that allows businesses to accept debit and credit card payments online. When connected with HubSpot, you can manage customer interactions in order to deliver superior customer service, while also aligning your sales and marketing teams.
In this blog post, we explain:
HubSpot-Stripe Integration Use Cases
Send quote payments to your Stripe account
HubSpot's quote feature within Sales Hub enables your team to deliver trackable quotes to customers. By integrating Stripe, you are creating a method for customers to complete payments directly from their quote.
When the purchase is complete, the payment will go to your integrated Stripe account.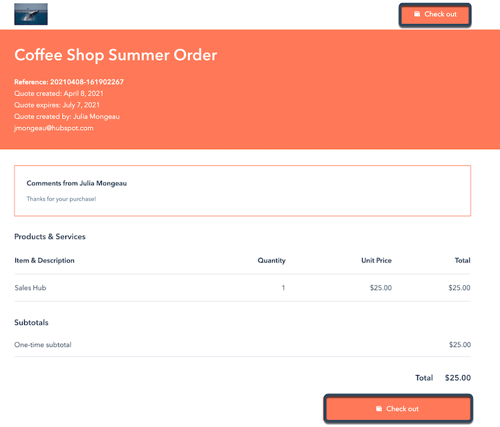 Leverage HubSpot Smart Copy to deliver relevant emails based on which product the customer purchased
When a customer purchases a product, the Stripe-HubSpot integration can feed that information back into your CRM to maintain an up-to-date record of customer activity.
Marketers can then send personalised emails based on the products purchased by customers. The relevant copy will be reflected in the email body using smart content.
Connect the email to a workflow in order to automatically trigger email nurtures, eliminating any manual work needed from your marketing team.
Send email updates when memberships or subscriptions are about to expire or renew.
Customer retention is essential for long-term success. Not only does it provide a reliable source of revenue, but it also helps to build brand loyalty and goodwill.
Retain customers by sending email updates when memberships or subscriptions are about to expire or renew. As you can imagine, customers can become frustrated when their credit cards are charged without advanced warning. By sending a reminder email, you can notify the customer ahead of time and offer them the opportunity to cancel or continue moving forward.
Sending out reminder emails can be achieved by creating a simple workflow within HubSpot. Once the recurring payments have been set up in Stripe, it's just a matter of adding date properties within HubSpot that trigger when a reminder email is distributed.
Stripe-HubSpot Integration Limitations
One-time payments receive a receipt, recurring payments receive an invoice
There may be cases where your customer desires an invoice with VAT numbers, full address, company registration etc. in the footer of their quote. This is a limitation of the Stripe-HubSpot integration as only recurring payments will receive an invoice containing these details.
Itemise purchases within the email copy
One limitation to keep in mind is that the Stripe-HubSpot integration does not enable you to itemise the purchases on the email copy itself.
Direct payments in the currency used by the website visitors' country of origin
If your organisation uses multiple stripe accounts for different currencies, you may experience some limitations in the Stripe-HubSpot Integration.
In cases where you would like to connect multiple stripe accounts to your HubSpot portal, you will need to set up custom code. This enables you to bill customers in the currency associated with the website domain the visitor is viewing.
For example, if a customer is viewing your US site, custom code enables the payments to be directed to the US Stripe account. Any activity on your UK website should be billed to your UK Stripe account.
The difference between Hubspot payments and the HubSpot-Stripe integration
In 2021, HubSpot launched a payments solution built directly into the HubSpot CRM. HubSpot payments powered by Stripe enable your organisation to accept digital payments and have the payment data be reflected inside HubSpot.
Stripe provides the underlying infrastructure for HubSpot payments, and as such can offer secure processing, transmission, and storage of payment information.
Using HubSpot Payments, you can create workflows that send follow-up actions to your customers, share reminders, product updates, or promotional emails.
So, why should you still consider using the HubSpot-Stripe Integration?
HubSpot Payments enhance the customer experience, however, there are still some limitations of the feature.
HubSpot Payments is currently only available for people accepting payments in the United States.
So, any organisations that work across multiple regions or are based in the EU should continue to use the Stripe integration
The Stripe - HubSpot integration enables your customer to pay directly from the quote. This eliminates any back-and-forth, and for B2B companies, enables your sales reps to receive compensation immediately.
When making the decision about which payment vendor or solution to choose, you should consider the use cases...
Look at the limitations to help rule out less effective solutions and map out which solution is going to align best with your business processes and your customer's requirements.
If you are looking for guidance in mapping out your payment solutions and seeing where it fits in your tech stack, get in touch and let us guide you.