Choosing the right marketing automation tool for your business is crucial. Get it right and you'll increase sales, improve your customers' buying experience and grow your business.
Get it wrong and you risk alienating new prospects, antagonising existing customers and ultimately damaging your expansion long term.
But with so many choices available, how are you supposed to know which is best for you? Well, Six & Flow are here to help. We've put together a series of handy guides if you're considering the various marketing automation tools around today.
In this blog we give you an honest head-to-head comparison of HubSpot and Pardot.
We've previously done the same reviewing HubSpot and Marketo.
HubSpot vs Pardot top ten things to consider
Support & Services -

Advantage HubSpot

Security - Advantage Pardot
Price -

Advantage HubSpot

Total Cost of Ownership -

Advantage HubSpot

Usability -

Advantage HubSpot

Scalability - Minor Advantage Pardot
Integrations -

Minor Advantage HubSpot

Platform Completeness + Funnel/Flywheel Coverage -

Advantage HubSpot

Channels -

Advantage HubSpot

Email deliverability -

Advantage HubSpot
HubSpot vs Pardot
But before you go any further, there's something we need to come clean about first: Six & Flow are unashamedly 'Team HubSpot'.
There, we said it.
But wait!
That doesn't mean what you're about to read is nothing more than shameless HubSpot propaganda, far from it. Just because we think it's the best all-in-one marketing automation tool for both ourselves and clients, that doesn't necessarily mean it's right for you.
In actuality, across the Six & Flow business, we have a number of employees who are well versed in using the Pardot stack in a previous life.
We've consulted these team members when conducting the primary research to weigh the good versus the bad about both platforms, honestly! This should therefore provide you with an in-depth comparative breakdown that is actually a fair reflection of user case opinions.
With all the pre-emptive scene-setting out of the way, we will state that at Six & Flow's core, we want your business to grow, no matter what. So, check out our honest comparison of HubSpot & Pardot and see which is your best option.
Pardot
Pardot is a powerful B2B marketing automation platform owned by the SaaS behemoth Salesforce whose key features pivot around email marketing, lead generation and marketing automation.
A bit of background reading on Pardot, it was initially acquired by ExactTarget in 2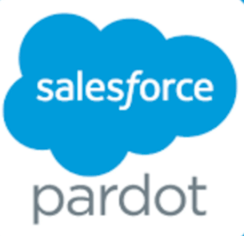 012, and purchased a mere year later by Salesforce for a cool $2.5 billion.
Pardot is an excellent choice for larger organisations already using Salesforce CRM who are looking to execute high traffic email-based campaigns as their main marketing strategy.
As we'll discuss more in-depth, the main criticism of the platform surrounds the price and the tiering options available at scaling sums - the powerful features that can be deployed are only available at the more advanced stages.
HubSpot
HubSpot is a dependable all-round marketing platform designed to let both marketing and sales teams get started quickly with minimal disruption.
HubSpot is an ideal solution for SMEs wanting a user-friendly straight out-of-the-box solution and whose business strategy is to grow through strategic inbound marketing campaigns based around strong blog and social media content.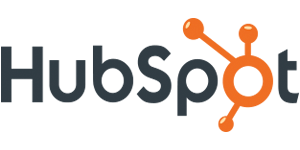 More recently, HubSpot has become more active in the "Enterprise" space and a wave of new features aimed at larger organisations wanting to carry out large scale, more complex campaigns has been added to the HubSpot wheel house.
The entry level for using the tool without the need for a demo with a dedicated sales person makes for a great testing arena to explore whether the software is a good business fit.
The price will scale as you grow, and it makes more sense in a business working relationship that both parties benefit as a result of this.
So, now you know more about each, let's delve into their relative benefits in more detail.
Pardot pros:
Prospect and account tracking
Pardot has robust prospect and account tracking capabilities as well as a reliable reporting function that allows marketers to track campaign performance, ROI, customer lifecycles and email metrics.
Pardot is great at creating tasks for sales teams to carry out actions off the back of new leads as well as creating reminders and follow up emails directly in Salesforce.
Lead segmentation and filters
Pardot is also a strong choice when it comes to lead filters as it allows you to segment your current prospect database empowering sales teams to better target only warm/hot leads more likely to convert.
Purchasing the platform will come with relative peace of mind should you need to bulk out your new marketing team with specialists.
Pardot has more than 2.8 million users, and with certified badges available in Trailhead, you be assured there's a market for employing specific Pardot Trailblazers.
Pardot's Lead Deck is a key USP, giving users a real-time activity update ticker on prospects and leads that visit a service page for example, you will be sent an update directly to your screen and have the ability to email in one simple click.
Pardot cons:
Pricing plans aren't great for new starters and it doesn't encompass social media management tools for entry-level prices.
So, if you're planning to implement or are already following an inbound growth marketing method (of which social media/blogging is a cornerstone) then Pardot probably isn't for you.
To elaborate further on the Pardot's pricing plan, the billing model options you can select are listed below;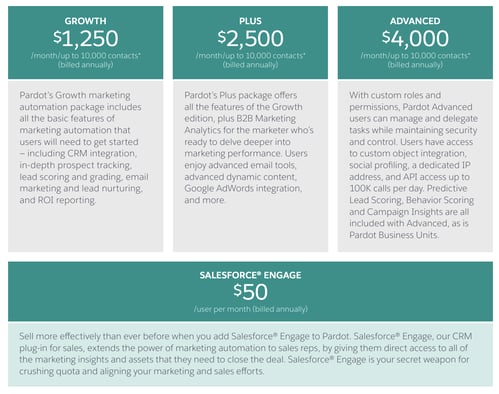 It's a significant outlay and a difficult sell in an uncertain financial market. You'll also note that below each tiered option, whilst the cost is presented as monthly, usage of the platform is billed annually. Therefore, if your team is facing difficulty in the short-term after adoption, or it isn't the right fit for your business, there isn't an option to cancel.
Onboarding can be overwhelming as not only do many new users think the interface is considerably outdated and the landing page builder basic, but there's also a notable lack of online learning resources if users need quick answers.
Lack of B2B & B2C crossover
Pardot is predominantly geared toward B2B marketing, so if you're primarily a B2C seller then Pardot probably isn't the best choice.
Content tracking (or lack of it) has also been highlighted by users as an issue owing to the fact each separate campaign or any sort of channel activity needs a manual redirect to track any incoming traffic (which can be labour intensive).
Integrations and further information is only available at the more advanced tiering options. For example, the Google Ads integration is only available at the 'Pardot Plus' tier, whilst the option to A/B test is only available to 'Pardot Advanced' packages.
There's further purchases that can be bought atop the tier stacks too, with Salesforce Engage sold separately.
Social media support through the platform is on the light side in terms of offering. You'll most likely need to allocate a budget to ensure you scoop up a social media management tool such as Hootsuite or Buffer to bridge the gap.
Customisation is a big issue for Pardot. Not only is the creation of personalised forms and landing pages considerably more clunky than HubSpot, some customisation can only be carried out by a specialist Pardot developer (often at a substantial cost).
In order to track specific channels (at an even deeper layer; channel campaign, or separate entity ad tracking), redirects are utilised by the platform.
Sometimes redirects are warranted, but where possible excessive requests should be minimised to improve page load speed.
An example provided saw one campaign utilise 18 redirect URLs to track activity and resulted in navigated swathes of pages to find the tracking link they were interested in.
Email deliverability/ design/ RSS feeds
Email deliverability is one issue we've heard about anecdotally from businesses who have made the switch from HubSpot to Pardot. We've told of instances of emails, which had 100% deliverability success in HubSpot falling by as much as 10% when switched to Pardot.
We've also heard of instances when people have been unable to submit information into Pardot forms - resulting in extra investment to fix the problem.
Email design is another area which we've discovered Pardot seems to fall short on (compared to HubSpot) as it doesn't provide as many "out of the box" templates.
RSS Email feeds are something else missing from Pardot's repertoire.
HubSpot pros:
The cost of HubSpot starts at free so if you're new to marketing automation and don't want to pay out straight away this is a great way to dip your toe into the ecosystem. After that, you can get access to paid versions of the marketing and sales hub for £42 at Starter level.
The whole philosophy of HubSpot is to put all of your sales, service and marketing activity in one place. And it does that, including all your social media marketing, SEO, content management, analytics and reporting in one place.

HubSpot shines brightest when it comes to content creation tools. If building enticing landing pages, promoting blogs, selling via embedded video, and accessing both customisable CTAs and landing forms is important to you, then HubSpot is the answer.
With HubSpot you can customise everything to your own brand to make sure it matches your current style, rather than having to change to match the tech.
Sales, Marketing, Service, CMS alignment
Sales and Marketing alignment. Given that the sales and marketing functions work best together, a big tick in the box of HubSpot is that its marketing tools connect natively to the CRM. In contrast to Pardot's API access only being available by way of their Plus package, savvy HubSpot devs can tinker with this without coughing up that extra buck. The launch of the CMS Hub only advances the ease of use among developers.
Training and certifications
HubSpot invests heavily in their training resources and offers all their (premium) users access to a wealth of online literature and courses. As with the Pardot solution, there is also the ability to become certified in many of the HubSpot disciplines. This ensures a dedicated employee pool of talent who are at the cutting-edge of the tool.
HubSpot User Group (HUG) community
There's a burgeoning local community scene entitled HubSpot User Group (HUGs) where you can learn and network with like-minded businesses.
HubSpot is also easiest to use straight out-of-the-box for new users thanks to its relatively easy UX design. For the most part navigation around the platform is intuitive, and the UX does a great job of offering helpful hints (even for the most mature of accounts, tips are always present) and keeping you up to date with any changes in the platform a user may have missed.
HubSpot allows for easy social media scheduling and reporting. You can bulk schedule social media posts across multiple accounts across the major platforms and use the inbuilt reporting tools to measure engagement (likes, clicks, shares etc) and measure whether your social activity is generating leads.
If you're looking to include more "modern" methods in your inbound marketing, like conversational and video marketing for instance, HubSpot has easy integrations with the likes of Drift for chatbots (along with its own native chat function) and an integration with VidYard for your video creation and promotion.
This is particularly great for marketers who are often seen as a business expense, rather than an income generator and are usually the first to see their budgets on the chopping block.
HubSpot has introduced an Enterprise level "multi-touch revenue attribution" which can tie any closed deal to every interaction that new customer had with your marketing. Now you can actually show what your marketing activity is doing to generate leads and revenue. It also makes planning easier because you can focus on the parts of your strategy that is bringing in the money.
Content & asset partitioning
Another improved feature (currently in beta) is the ability to partition CTAs, forms, emails, lists, workflows and even reporting dashboards by teams, so everyone has access to the content they need.
Previously this was only available on pages and blogs.
HubSpot cons
While HubSpot offers a reliable basic version of its platform, its best offerings are only available through their Enterprise and Pro packages - which can drive prices up as you scale.
Reporting can be an issue with HubSpot. While it does offer an array of easily digestible options, there's no getting away from the fact it comes second to its Pardot counterpart if you're an enterprise-level outfit needing a heavier-hitting reporting function.
However, improvements made at the Enterprise level have gone a long way to improving this.
HubSpot's impressive versatility can also be a barrier for new users. While its manifold moving parts offer agility as you grow, some users have reported feeling overwhelmed with having to understand its full capabilities.
While HubSpot offers more customisation options, the templates can sometimes be too basic if you need more complex precision changes making.
Verdict
If we were writing at this time last year, the verdict would have likely gone like this.
Pardot is a great choice for enterprise level B2B organisations looking for a robust marketing automation platform that could handle high traffic campaigns, while HubSpot was a much better choice for SMEs that were focussing on long-term content driven marketing campaigns, and needed a simpler "out of the box" solution to get them started with marketing automation.
However, we can't say that anymore.
As much as we run the risk of being accused of bias, we honestly have to say that the changes HubSpot have made in the last 18 months, and the focus they have put on their Enterprise offering, has taken them above Pardot across all business sizes.
From its scalability, improved reporting (with further improvements in the pipeline) and increased automation limits (1,000 workflows and 20 reports per dashboard) meaning you can use HubSpot to create and measure much larger scale, Enterprise level campaigns, HubSpot has become a legitimate player in the Enterprise marketing automation sphere.
In this blog we outline a typical onboarding process that you expect if using a HubSpot agency.
Whichever marketing automation platform you decide to use you need to have a great inbound marketing strategy to fuel your growth.
Download our Inbound Marketing Strategy guide to learn how to create a content strategy that will get your lead pipeline full.