Welcome to our exciting new blog series! We've been working hard in the background to bring ideas for growing your KPIs. This blog series isn't a "get-rich-quick" scheme; instead, it's a way to optimise and focus on critical areas that matter.
So, here's what you can expect...
We look at the most critical key performance indicators for marketers, sales or customer service leaders and share strategies to help you grow those KPIs. We'll go in-depth into evaluating each metric and develop realistic tactics to ensure every team gets the best results possible.
Before I started this week's article, I first researched the topic: Website traffic.
I did what you're supposed to do... you know, the typical stuff - keyword research, competitor research, etc.
But, what I found on Google's Search Engine Results Pages was not what I wanted to write. They talked about generic tactics that didn't feel actionable.... like, posting to social media, getting backlinks, or getting listed on online directories.
Don't get me wrong. YOU NEED THESE THINGS.
THESE THINGS ARE IMPORTANT.
But, if you want to build a cheat code for success, it means diving a little deeper...
Ideas to grow website traffic
#1: Strategy
The disclaimer to this blog post is that we will be listing a series of tactics. But, before you embark on the tactic, you must ensure it aligns with your north star.
"Strategy without tactics is the slowest route to victory. Tactics without strategy is the noise before defeat."
- Sun Tzu
Marketing tactics should always be about delivering the strategy and generating success.
By understanding where you are in the marketplace, where you want to get to, and what resources you have, you'll have a better chance of meeting that KPI.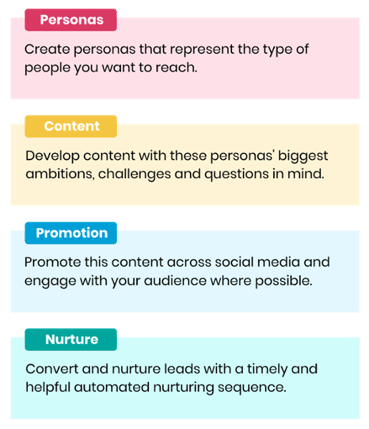 #2: Create content that drives referrals.
There are a few ways to drive traffic to your website:
Organic Search (Keyword traffic)
Paid Media (Paid Search, Paid Social)
Email Marketing
Organic Social
Direct Traffic
Referrals
Don't get me wrong, it's crucial to drive traffic through each of these channels. But, one of the most challenging channels is referrals.
Your business shouldn't only be focussing on driving traffic through keywords. You need to also look at how you can drive referrals.
Creating content that encourages customers to refer their friends creates a network effect where your customers are marketing for you.
What type of content helps to drive referral traffic?
Research reports
Training
Opinion pieces & thought-leadership
Your company's story


Your content strategy should look at both driving organic traffic and driving backlinks.
How do referrals impact website traffic:
Increase brand awareness
Strengthen Domain Authority
High-intent traffic
#3: Create content that your competitors aren't willing to put the time into creating
At the beginning of this blog post, I mentioned researching "Growing Website Traffic". A simple google search allowed me to identify an opportunity to create more meaningful content.
As part of your content strategy, be sure to take the time to create content that is unique compared to your indirect and direct competitors.
Some key elements to consider:
You need a great headline - Remember, it is a battle for eyeballs.
Optimise for new visitors (search intent)
Optimise for branded searches
Leverage subject matter experts - this could be internally or part of your partner network
#4 Create content consistently
Consistency is vital for growing website traffic.
Many goals can define growth... Growing revenue, growing employee count, etc. But scaling is about doing more with less.
In tip #3: Create content that your competitors aren't willing to put the time into creating, I mentioned putting the time and effort into your content strategy.
You should always keep this in mind.
But also... remember, AI is getting more and more powerful. Are there AI tools your team can use to scale content creation (ex: blog writing, image creation, presentations) without sacrificing quality?
#5 Create a competitor comparison page
Create a page on your website that compares the features and benefits of your product/service against other companies in the industry.
The search term should go along the lines of "Alternative to [competitor name]" or "[your company name] vs [competitor name]"
The great part of these website pages is that they capture high intent.
The second excellent part about this tactic is that it is scalable. Once you create a template for one competitor comparison page, you can replicate your approach and create more landing pages.
#6 Create a paid media strategy
Paid is external marketing efforts with a paid placement to increase the traffic to a landing page. Paid media is typically the 2nd highest traffic driver.
Earlier this year, HubSpot shared how traffic is generated to their website. The graphic reveals that 22% of Hubspot's traffic came from direct channels, Display Ads and Paid Search account for 21%.
Paid media is one of the most effective ways to drive traffic to a landing page. It should be directly integrated into your broader marketing strategy.
#7 Create a free tool
Creating an effective free tool on your website is a great way to show off your expertise and provide valuable information to potential customers. Free tools strengthen visitors' trust in your business, proving you are knowledgeable and experienced.
A great side benefit of having a tool on your website is that you can collect many email addresses.
#8 Focus on SEO
Create topic clusters
The topic cluster method places all your content assets related to a single topic onto one "pillar page." This central hub then links back out to each asset.
This approach showcases to google that you are an expert in the specific topic and will help you rank higher in search results.
Format content for feature snippets
When creating content, start by listing a table of contents. HubSpot has a beta setting where you can automatically add schema markup to each blog post. This helps search engines better understand the contents of a webpage and is what Google uses to generate rich snippets on SERP pages.
Internal & external links
Linking to other websites can also help improve your SEO. When you link to another website, you effectively tell search engines that you trust that site and believe it has something valuable to offer users. And, when you link to other pages on your website, you help search engines understand the structure and contents of your website.
Content optimization
The quality and quantity of content on your website play a significant role in improving organic traffic. You can create more traffic by optimizing existing posts or creating new ones that are keyword-rich and informative. Opt for longer-form content, as Google's algorithm favours it. Plus, longer pieces tend to generate more shares and referral links, boosting SEO performance.
#9 Affiliate Marketing
Affiliate marketing can be an invaluable tool in your company's marketing arsenal. Affiliate partners are a powerful asset for expanding your website's reach to new audiences that would otherwise be inaccessible through traditional marketing channels.
If you're considering building out a partnership program, but don't know where to start... you can't go wrong with affiliate marketing. According to PartnerStack's partnership pyramid, affiliates required fewer resources to set up and can offer high reach, making it an ideal way to generate more traffic to your site and drive indirect revenue.
You can learn more about creating your partnership program here.
#10 Live Offers from Partner Resources
Now this one is a little different than affiliate marketing. But, again, it showcases the value of partnerships.
Platforms such as ParnterHub, enable you to partner with companies on a one-time basis. For example, you may receive a live offer to be featured on a blog, where you, in return, will receive a backlink to your site.
This is a great way to expand your reach by working with complementary companies.
Inbound marketing can take some time. But if you're armed with the right tools and strategies, nothing can stop you from achieving your traffic goals. Just remember to be patient – Rome wasn't built in a day!
Give us a shout if you'd like guidance or insight into a marketing strategy that can generate more traffic.
Happy growing!