Inbound marketing is the future - don't believe us? Rightly or wrongly, 'scam' and 'outbound marketing' are two words that are firmly aligned in many minds, and it's becoming seriously problematic.
We've all heard a story about someone's granny being fleeced by a dodgy cold caller, and despite high hopes, recent GDPR changes don't seem to have solved the problem. In fact, HM Revenue and Customs received 60,000 reports of phone scams in the six months to January 2019 - up 360% compared with the six months prior. Posing as tax officials, callers often threaten legal action or jail if victims fail to comply.
We firmly believe in inbound marketing as a transparent, ethical and valuable alternative both for prospects and for brands. But what makes this strategy so much better? Let me tell you...
On EU're side
GDPR came into our lives in 2018 to protect our personal data. Companies that collect data and misuse can be heavily penalised (Up to €10 million, or a percentage of annual global turnover – whichever is higher) Major companies including Carphone Warehouse, Marriott Hotels and Facebook have fallen foul of recent data protection legislation.
The changes heavily tighten up consumer opt-in options when they submit their personal data to a company and dictate how the company has to handle said data. Most important is a proposed clampdown on data breaches, with both cold-callers and the firm that supplied the data at risk of big fines if they contact customers that haven't specifically said they are happy to be contacted with marketing information.
That also means that companies using a lead generation company to get access to data also need to be extremely vigilant. Is the company you've partnered with collecting the data you're using in your outbound marketing efforts gathered ethically and with the owners' consent?
In simple terms it means that companies have to be more responsible than ever with customer data, and only reach out to prospects if they have indicated they're willing to hear from them via an "explicit indication of a consumer's wishes". It'll be wise for business owners or your marketing department to keep hold of proof of opt-ins and consumer permission consent…
Outbound marketing, Out-rageous?
That's not to say that outbound marketing is a deceptive, horrible cesspit of deceit, with all marketers that use it looking to string the public up and steal their bank details. But, rather, it's more than fair to say that the spotlight is on outbound like never before.
The actions of some select marketers and brands, eager to make as much money as possible, has tarred the industry with quite a nasty brush. Outreach can still be an important sales strategy for brands of all shapes and sizes, but isn't there a better way to make sales than having a floor of telemarketers bothering people and shelling out on potential out-of-date consumer data lists?
And are you really able to measure an accurate picture of your return on investment with cold calling, leaflet drops, setting up stalls in shopping centres, and other forms of outbound marketing? Or could you completely reinvent the way your company does sales as well as complying with the EU with a smart inbound marketing strategy that makes you an online force to be reckoned with?
If you take a step back and realise you're over-reliant on outbound techniques then changing to an online inbound model can be more cost-effective in the long-term, generate better sales leads for your business, give you critical information on where your money is being spent for a better ROI, and futureproofs you against your competitors.
Chalk and cheese
Outbound and inbound are all means to the same end in generating more sales, collecting customer data, and more. But in practice they're entirely different models, and the pace and rate of new online marketing technologies being released both improve the success and targeted reach of inbound marketing campaigns.
The transformational nature of inbound marketing also means that it can be a tailor-made marketing solution for any business of any size. How about some stats. Let's go back to the HubSpot State of Inbound report. A lot of marketers they talked to suggested that outbound strategies were 'overrated'.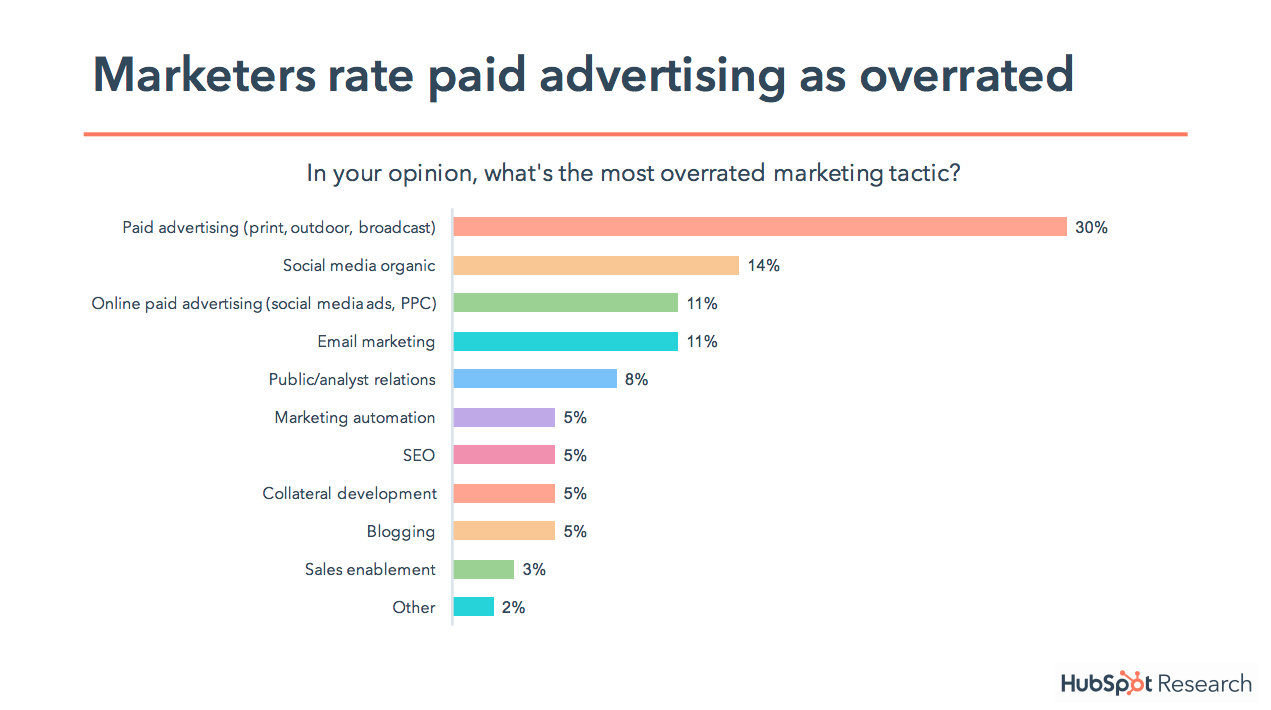 Source: HubSpot State of Inbound Report 2018
So what's the attraction of inbound over outbound marketing? As well as higher returns, it can give brands more creative control over their campaigns. It allows marketers to target highly specific groups of people and, most importantly, brings customers to you instead of the other way round.
Incredible inbound
That's the dream, isn't it? Instead of your sales floors hammering outbound sales calls, wouldn't it be better if people found you by themselves, liked what they saw, bought off you and willingly submitted information, eventually becoming long-term customers that go around telling their friends and family about you?
That's the basic theory behind inbound, and it genuinely works for brands that get it right. HubSpot also points out that inbound is the preferred strategy for brands no matter the industry, be it B2B, B2C, or non-profit. It's easy to see why; you can quickly and easily set up an inbound campaign right now to let people know you exist in the digital space and reach out to them.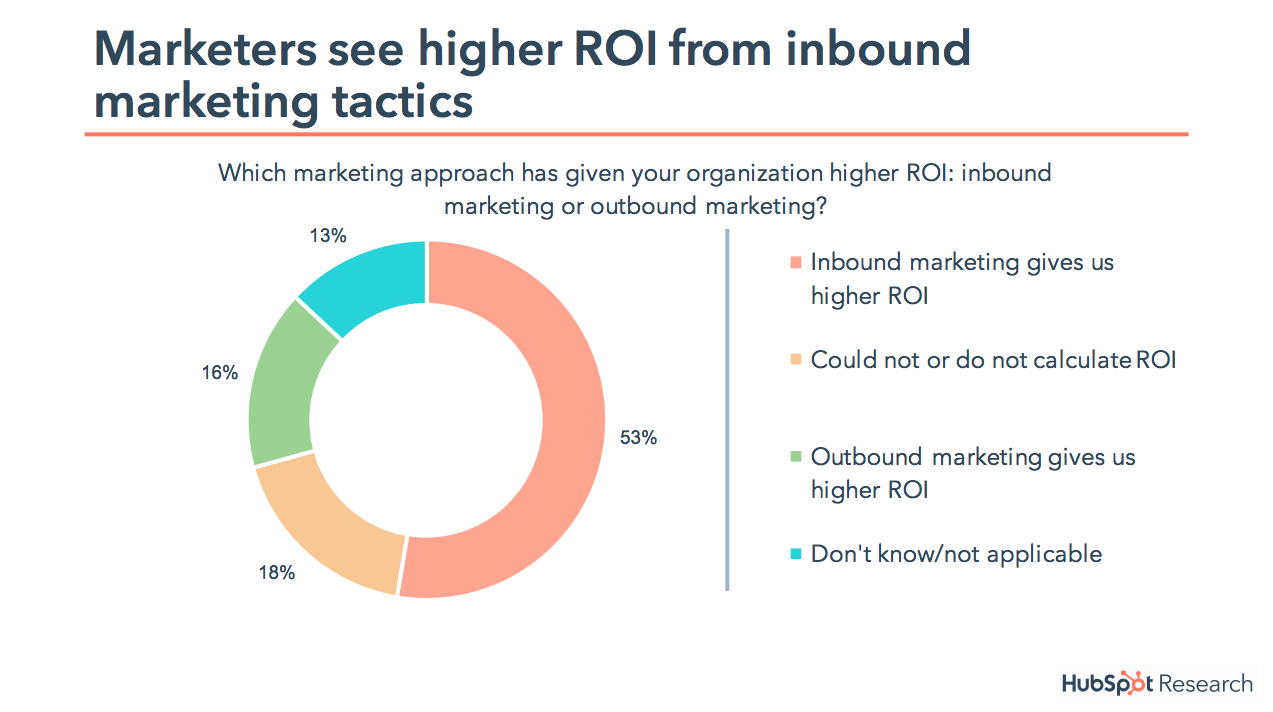 Source: HubSpot State of Inbound Report 2018
The best and most successful campaigns carefully consider their market, and implement a strategy that cherry-picks a number of inbound techniques such as content marketing, email outreach and more. The best campaigns also understand their audience, their likes and dislikes.
Putting your audience in a box will get some inbound results to an extent, but the clever company will truly dissect customers and their interests in this world of digital globalisation. We've talked about psychographics before and how they, hands down, beat archaic demographic information, and how brands can make serious informed decisions based on primary research and other key factors.
A creative company that ethically gathers and uses customer data in the right ways that entertains, informs, is easy to communicate with, and treats you like a real person. That's what great inbound strategies do for fledgling companies and brands that have dominated sectors for years. Isn't it about time you joined them with an affordable, tailored campaign of your own?