We first completed a workshop to map the current strategy and processes that Medavie Blue Cross had in place. We needed to understand:
Their requirements
Sales and marketing processes end-to-end
Marketing, sales and retention personas
Their current tech stack
The friction points that exist across marketing, sales and customer service.
Once the workshop was completed, our team put together an action plan for implementing HubSpot, integrating systems, and creating an inbound sales and marketing strategy, before offering the training to enable the Medavie Blue Cross team to continue leveraging HubSpot for ongoing success.
Marketing Hub Implementation
In order for the team to succeed, Medavie Blue Cross needed to merge what were their isolated systems for marketing activities into one centralised hub. We advised them to implement Marketing Hub Enterprise.
Now, the team is able to manage and track their ad campaigns and social media efforts. With respect to communication, they have a series of templates created and automated emails that enable the marketing team to deliver more personalised emails to leads and existing customers.
Leads are captured through HubSpot landing pages and blogs where they can track all their marketing efforts at the campaign level.
Marketing Automation
Medavie Blue Cross needed to increase the use of automation to help buyers move down the funnel faster. We identified where blockers and friction points existed within the sales cycle and introduced automation to allow the sales team to focus on their most important activities.
Now, form responses automatically trigger lifecycle stage updates and leads are systematically added to contact lists. This ensures the leads are enrolled in personalised email nurture workflows. HubSpot automation then triages form fills and assigns ownership based on their set routing criteria.
Marketing automation was also used to trigger automated email flows and prompt new clients to complete action items, resulting in a smoother onboarding process.
Sales Hub
We advised Medavie Blue Cross to sign up for Sales Hub Enterprise. Their sales process involved multiple high-touch activities. By using Sales Hub, their sales team can now record and track calls for training and record-keeping purposes.
Sequences bought back time for their sales team by automatically triggering email cadences, while also setting tasks and prompting call reminders.
In combination with Operations Hub Professional, we set up integrations so that all call & email activities are communicated back to Salesforce, enabling the Medavie Blue Cross team to report on the effectiveness of outreaches.
Integrations and Operations Hub
A series of integrations were used to connect HubSpot and Salesforce to enforce a single source of truth. We used two-way syncs to connect all marketing and sales data within HubSpot and Salesforce.
Given that two systems needed to work in tandem, a series of integrations were set up so that the buyer journey was tracked and could power their team to make more data-driven decisions.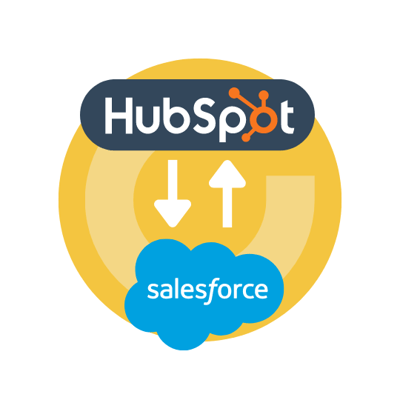 Client Enablement
Alongside setup, configuration, and defining new marketing strategies, we supported Medavie Blue Cross with resources to use HubSpot more effectively. Through a series of training sessions, access to our knowledge base, and ongoing support, sales and marketing teams are now aligned with each other. This has resulted in greater cohesion and has allowed them to make use of the full HubSpot toolset for greater ROI.
As Medavie Blue Cross drives towards realising its market share potential, the marketing team is fully comfortable deploying campaigns, measuring ROI, and continuously improving their methods of outreach within HubSpot.