In the past, many industries relied heavily on outbound calling to reach potential customers. However, this approach is increasingly seen as intrusive and ineffective.
As a result, many companies are now shifting to a research-based calling strategy, in which sales representatives make calls only to those customers who have already shown an interest in the company's products or services. This approach is much more targeted and efficient, and it can be further supplemented by integrating your cloud-based phone system with a CRM system like HubSpot to track call activity and call content.
HubSpot + Aircall: Growing better, together
HubSpot has created an elegant UI that is intuitive at each step. Through its advanced functionality, such as programmable automation and custom objects, teams are powered with the tools to scale their efforts.
Aircall, on the other hand, is an enabling technology for HubSpot users. The platform offers a professional phone system built for HubSpot users on any plan.
When working with clients who utilise both HubSpot and Aircall, theirs one similarity that specifically stands out…
Think about what Apple did to consumer products like the iPhone, computer, and watch… They created feature-rich tools that every single end user knows how to use.
The same could be said for HubSpot and Aircall.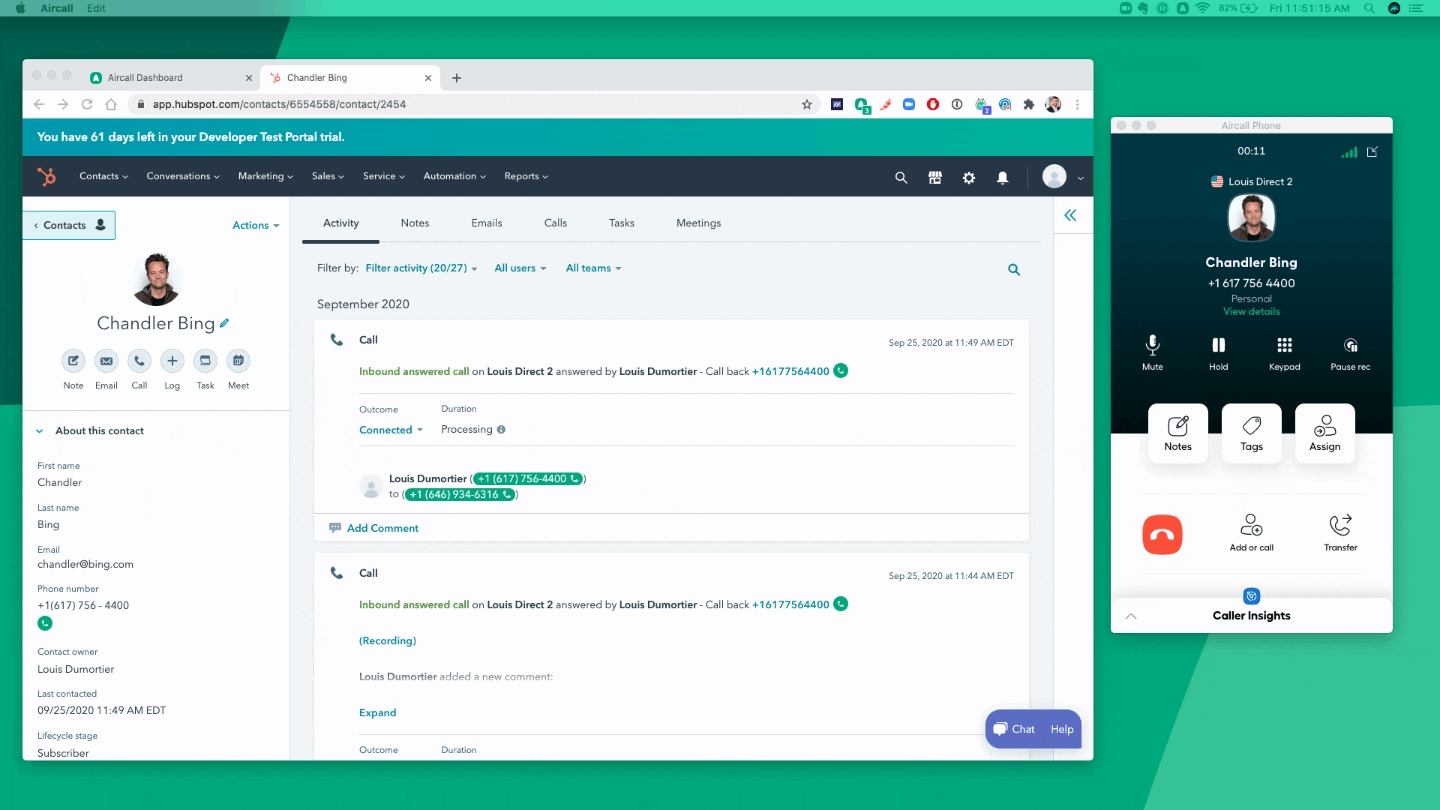 But Aircall's value here goes beyond aesthetics. The telephony platform also offers:
Advanced phone and call centre functionalities
Call quality and VoIP experts
Call logging into contacts, companies, deals, and tickets.
Automation and analytics
HubSpot Vs. Aircall
After reading those list of features, you may be thinking, what makes Aircall different to HubSpot? HubSpot offers its own inbound calling features, so why should customers consider leveraging both tools?
Well, as a prefix, 65% of Aircall customers use HubSpot.
HubSpot's calling capabilities
Customers can make and record calls directly from HubSpot CRM. Within Sales Hub or Service Hub, you can make calls directly to contacts using a HubSpot-provided phone number, an outbound phone number registered for calling, or a third-party calling provider.
But, HubSpot is not a native phone solution.
And, the reality is that not all organisations use HubSpot alone. While we could rant about why organisations should use HubSpot for all of their marketing, sales, and service efforts, the reality is that organisations often turn to a few different platforms to address their needs.
The final verdict
Aircall makes HubSpot better through its integrations and abundance of different features that extend beyond HubSpot's capabilities. Aircall makes HubSpot's CRM work better.
And, for those organisations using multiple platforms such as HubSpot and Zendesk, you have the ability to integrate Aircall bi-directionally into both systems.
Aircall for sales and support teams
Aircall is a cloud-based phone system designed for sales and support teams. We mentioned at the beginning of this post that many companies are shifting to a research-based calling strategy. For those companies, the ability to track the activity of calls and call content within your HubSpot CRM is critical.
HubSpot - Aircall Use Cases
Let's explore the specific ways that HubSpot and Aircall can work together to improve productivity.
Eliminate post-call data entry
When a call is made using Aircall, the details of the call are automatically logged into HubSpot contacts, companies, tickets and deals.
Power dial calls
Referencing your HubSpot contacts, upload a list to Aircall to automatically call contacts within the list during your designated call blocks.
Trigger workflows
Within Aircall, assign custom tags to contacts and calls that are built into workflow triggers within HubSpot.
For example, if a contact is determined qualified, a "qualified" tag can trigger them into an automatic workflow where you can push product FAQs, guides, and other relevant assets. Or, if you've reached the contacts voicemail, automatically enroll them into your voicemail workflow to eliminate any manual work from your sales team.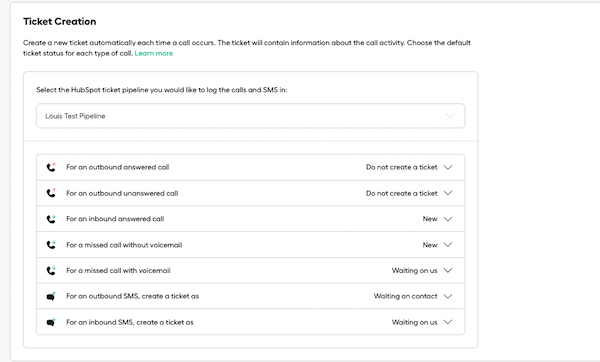 After call activity, automatically create tickets & attribute them to specific pipelines.
Aircall admins can choose in which pipeline to create tickets and the specific ticket status for each call type.
Priority Rooting
If a contact is calling into your phone line, and a specific sales rep is the contact owner or has had previous conversations with the contact, Aircall will ring that contact owner first.