There are multiple customer service platforms available in today's ecosystem, but if you're looking to build authentic relationships with your customers, it's likely you have both HubSpot and Intercom in the running.
To see which platform is best for your business, we'll review the following key features:
HelpDesk
Omnichannel
Fully integrated CRM & Automation


As with the other comparisons we've done, we'll tell you now for full disclosure that we're an Elite HubSpot partner and unashamedly "Team HubSpot". Having said that, we complete this review unbiased and when Intercom has the advantage, we will say so.
For the purpose of this comparison, we have looked at Intercom's features and HubSpot's Service Hub features.
Help Desk: HubSpot or Intercom?
Looking at HubSpot, their service hub offers a helpdesk solution that powers less manual data, entry encourages transparency and collaboration, promotes self-service and helps teams prioritize work. In addition, their helpdesk is fully integrated with the HubSpot CRM meaning you already have a lot of the data you need to provide world-class support.
On the Intercom side, they too offer a helpdesk solution as part of their suite of products. Intercom's help desk is complimentary to their chat tools.
HubSpot's chat tools
HubSpot consolidates all of your customer communication channels including email, Facebook messenger, WhatsApp, and live chat into one place.
The shared inbox feature in HubSpot is called Conversations Inbox - here you can loop in other team members, escalate issues, and leave private comments. Create custom views, such as "High-priority", "Escalations" or "Order issues". Filtering rules here help teammates prioritize and organize work through automation.
Intercom's chat tools
When you use Intercom's software, you can integrate chat conversations into your browser, or web or desktop application. You can connect email and chat channels into one shared inbox and leave private messages for teammates.
Similar to HubSpot, within Intercom, you can also filter messages according to priority levels.
A key area where Intercom differs lies in its ability to report on chat conversation topics.
HubSpot's & Intercom's knowledge hub
Regarding knowledge hub tools, both HubSpot and Intercom offer sophisticated solutions. Businesses can create search-optimised help articles, videos, and documentation. These can be broken down into categories to empower customers to help themselves more intuitively.
Both platforms offer reporting within their knowledge hub functionalities so that you can track terms, capture feedback, and identify gaps.
HubSpot's customer portal
HubSpot goes above and beyond by offering a secure customer portal. This feature empowers your customers to gain ownership over their experience. Here, customers can see ticket status changes and past resolutions.
Activate your portal to keep ticket conversations going between customers and reps, so issues are resolved faster. When you connect the customer portal to your shared inbox, ticket conversations keep going between customers and reps.
HubSpot also offers a ticketing system to record, organize, and track all of your customers' issues in one dashboard that's accessible to your entire customer support team. When customer support queries come in, you can set up workflows that will automatically create tickets for you, helping your reps eliminate manual data entry.
Intercom's customer portal
Intercom does not offer a customer portal. Reps can integrate Intercom with external ticketing software, such as Jira, and feed that back for reps to see. However, there is limited visibility on the customer side.
Summary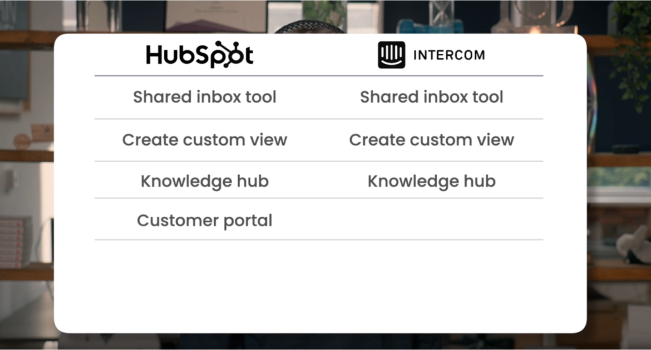 Omnichannel: HubSpot or Intercom?
Conversational features that deepen customer relationships, offer additional self-service capabilities, improve team capacity, and help to scale 1-on-1 conversations.
HubSpot's chat tool
Segment chat widgets by website page to offer better value to your customers. This means you can better help your customers based on their exact needs and ask something like, "Any questions related to pricing?" on your pricing page - a strategy that tends to be more effective than offering a generic bot on every page.
You can also store chat history under the user's profile so that your teams have complete context of past interactions.
Hubspot offers online and offline support through chatbots. When set up to your portal, a chatbot can send customers to the right knowledge base articles. When customer support queries come in, you can set up workflows that will automatically create tickets for you, helping your reps eliminate manual data entry.
Intercom's chat tool
Intercom's live chat functionality with respect to omnichannel has many similarities to HubSpot.
However, as we mentioned earlier, one area where Intercom has its advantage comes down to the ability to offer live chat beyond a website and directly within an app. A feature that is advantageous to companies who offer a separate desktop or mobile application.
Intercom's chatbots also ask customers a series of questions, which can help with better self-service and conversation routing. This means that even when your customer support team is offline, your bots can still help answer your visitor's questions. However, they lack the automatic ticket creation process that HubSpot offers.
HubSpot's calling features
HubSpot offers its own inbound calling feature, in addition to integrations with other cloud-based calling platforms, such as Aircall. These integrations are quite sophisticated in that call recordings and notes will be hosted within HubSpot for your service and sales teams to access. You can also complete custom reporting on tracked terms using conversation intelligence (CI).
Intercom's calling features
Intercom does not offer its own calling feature, however, you can also integrate external software, such as Aircall. These integrations are typically less sophisticated as you cannot record and store the call within Intercom.
Summary
Intercom does not offer inbound calling
Both platforms offer similar live chat and chatbot functionalities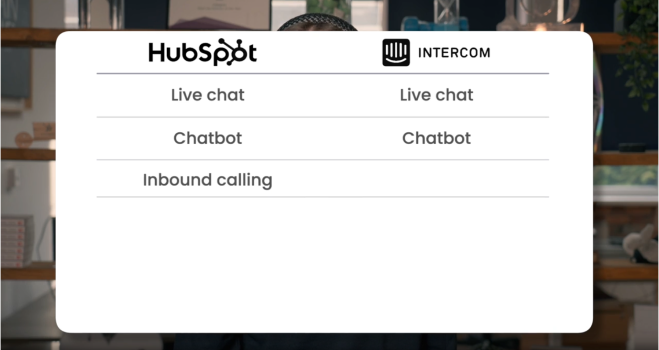 Fully Integrated CRM & Automation
The last set of features that we are going to review to compare HubSpot and Intercom relates to automation and creating a single source of truth within your CRM.
HubSpot's automation
For customer support-related queries, HubSpot offers simple ticket workflows and help desk workflows.
These power you to ​​easily set up workflows that ensure the highest priority tickets get resolved.
Because you can link Service Hub directly to your free HubSpot CRM, triggers can be set up to create a deal or enrol customers into nurture sequences, all based on tickets.
Engage in conversation marketing through automated conversation workflows. Here, you can trigger emails to be sent out for marketing, customer support, or sales purposes and even set reminders for your internal team to follow up.
Once tickets are created, Hubspot powers you to create different pipelines to help team members organize their work.
Intercom's automation
Intercom offers a similar, but not quite as robust a tool, called series. Here, you can power emails and chat widgets based on certain criteria. However, because Intercom does not have a ticketing system directly within their platform, automation cannot be set up to automatically create customer tickets.
HubSpot's reporting
Your customer service tools need advanced reporting and analytics. Using HubSpot, You can easily import data using custom objects, and integrate your favourite apps via the HubSpot App Marketplace. Then, create reports using service-specific analytics to uncover key insights that help you deliver service that is both efficient and authentic.
Metrics to track:
CSAT
Average time to close tickets
Chat wait time
Support volume.
HubSpot offers a series of pre-defined reporting. You can also take it a step further by completing analyses on custom reports. When you use reports for both Service Hub in addition to Marketing, Sales and/or Operations Hubs, you can create a detailed view of your customer.
For example, gain insight into the lead to conversion rates by channel and how many interactions a customer had with your organisation before becoming a customer.
Intercom's reporting
Intercom also understands that identifying the right insights is key to operating at scale.
Reports offered:
High-level overview report
Lead generation reports
Customer engagement reports
Customer support reports
Conversation topics
Custom reports.
This way, you can clearly see conversation volume per topic, median response time, the median time to close, and CSAT.
HubSpot's SLA capabilities
In HubSpot, you can set a Set service Level Agreement for tickets in the inbox and easily report on and monitor Time to First Reply, and Time to Close.
Intercom's SLA capabilities
Similarly, Intercom offers you the ability to est SLAs in your inbox.
Summary:
Both platforms offer sophisticated reporting, SLA capabilities
HubSpot's reporting becomes even more powerful when you use it across all your go-to-market teams.
HubSpot offers workflows for ticket creation and triggering marketing and sales emails.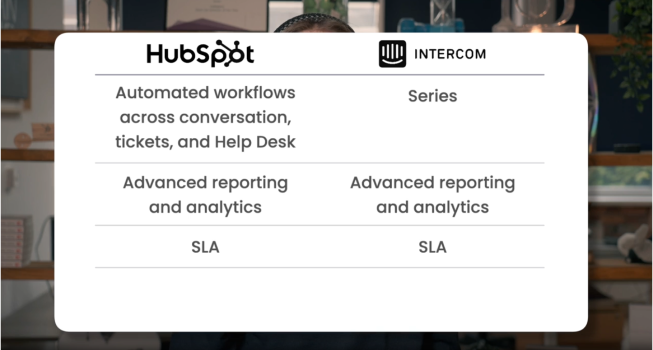 HubSpot & Intercom Pricing comparison
Intercom does not offer a free tool. It offers a flexible pricing structure that is dependent on the number of personnel using Intercom within your business and the number of unique people you've reached this past month using Outbound messaging. This makes Intercom's pricing complicated and at times, a little unpredictable. This means that even though Intercom's starter plan is $67 a month, you may experience higher billing periods depending on your business growth. Of course, there are plans that will bring you to a higher base price than $67 a month, never mind those additional costs.
In this article, we mentioned a series of features, including Whatsapp and Surveys. These features will cost you more each month, with Whatsapp starting at $9/mo per seat and surveys starting at $49/month.
HubSpot offers a simple and intuitive pricing plan. Not only can you get started with a free CRM and customer service hub, but you can also integrate your sales, marketing and operations hub under the same free plan. Plans then slowly increase from £42 a month to £330 a month and finally tap out at £990 for Service Hub Enterprise.
Conclusion
In the end, both platforms offer sophisticated customer support tools. They each offer their own advantages and the decision on which platform to use ultimately comes down to your use case and probably business size. In the end, it is best to compare which features are most important to your business, but also consider the value that can be derived from integrating your CRM with customer service, marketing, and sales. HubSpot's CRM platform is designed to empower you to put the customer at the heart of your business
Six & Flow is a proud HubSpot elite partner. We strongly believe that tools are most powerful when they offer a single source of truth, are intuitive to use, and empower your teams to collaborate. Because HubSpot's CRM Platform is more sophisticated compared to intercom's CRM, we find HubSpot makes it easy for companies to get off the ground running and prioritize the customer experience.