We're delighted, giddy and proud to announce that Six & Flow is the very first Diamond HubSpot Partner agency in Manchester, and one of only a few in the whole of the UK!
HubSpot's industry-leading sales and marketing automation software is well-known across the digital sector, and you'll have heard plenty about it if you've read our blog. Diamond status is reserved for the very top tier of partner agencies, with only five other UK agencies currently holding this title.
Our journey to becoming a
diamond HubSpot partner agency
The move to diamond tier closely follows Six & Flow's third birthday, and continues our rapid growth in Manchester's thriving digital scene. We've gone from plucky startup to established agency, and this latest achievement is recognition of our ambition, passion and determination.
Over the past three years we've built a culture centred around growth. We've focused on developing a team-first environment which allows us to challenge each other, giving us the basis to grow. We don't always get it right, but we try.
A little over ten months ago, we had celebrated crossing the line into the HubSpot Platinum tier. I had a little more hair and a slightly smaller waistline… But I couldn't have been more proud of the team, what we've built and where we were heading. Now with an amazing team, some incredible global clients and my improved follicle aerodynamics, I'm excited to be leading the first diamond HubSpot partner agency in Manchester!
I can't even begin to describe how proud I am of the team and how thankful we are for the agency support, training and friendship we've had from the team at HubSpot over the last few years. We have worked closely with the industry-leading marketing automation platform from the very beginning. It was the right move for us as an agency and for the clients we've helped grow along the way.
What does being a diamond partner agency mean for us - and for you?
As an inbound marketing and sales platform, HubSpot helps companies to attract visitors, convert leads and close customers. This is all thanks to a combination of clever tools which effortlessly enable lead segmentation, automated nurturing and marketing analysis. But, over the last couple of years, it's become more than that. We use it with clients ranging from the account-based marketing to enterprise CRM implementations and business automation - it's no longer just sat in the marketing realm.
So what does diamond status mean? Well, the HubSpot Partner program recognises agencies based on the value they deliver to their client base, not just how much of the platform is sold. So, essentially, the new status is a quality stamp, it shows we add value to the clients we work with.
From a practical point of view, it also means we benefit from an even better relationship with our HubSpot partners. We've always worked closely with the team, but now Six & Flow is recognised as one of the UK's leading partner agencies, this is only going to strengthen.
This is also good news for our current and future clients. Not only will we be first in line to find out about any new HubSpot developments, integrations and other gadgets that invent, we'll also be feeding back on direction and tool implementation.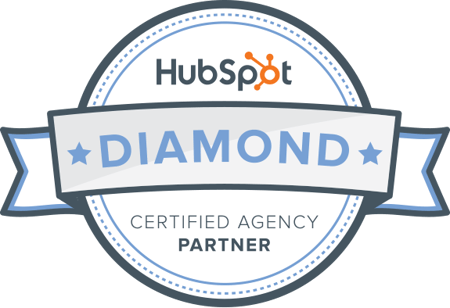 What this
diamond HubSpot partner has planned for 2019
Having created the agency in 2015, and becoming a Platinum partner in January 2018, it's incredible to be able to see out the year with the title of Diamond HubSpot partner.
HubSpot is already a huge deal stateside, but as the first Diamond partner in Manchester, we like to think we're helping to fuel the inbound marketing trend in the UK. Our relationship with HubSpot has always been close, and this cements that.

Six & Flow isn't planning on slowing down in the new year, either. We have big plans both in the UK, Ireland and even further afield. But, it will definitely involve more client growth, more agency growth and most importantly, more team growth.
Being blunt, we'd also really like you to think about how we could work together too...