Tom Burgess is the Senior Partner Enablement partner at Vidyard - a video hosting and analytics platform powering businesses to drive more leads and improve engagement through video.
Vidyard has empowered brands like HubSpot, Google, and LinkedIn to change how marketing, sales and customer success teams use video.
As a major driver of growth, Vidyard has worked closely with its partners to build a strong referral network. Agencies like Six & Flow previously leveraged email communications to connect clients to the Vidyard platform.
It wasn't until Six & Flow introduced Vidyard to the PartnerStack platform did repetitive tasks become automated and transparency improved across the entire customer journey.
Creating a transparent referral process
As Vidyard's partnership environment was scaling and growing, they needed the supporting technology in a partner relationship management (PRM) system to grow alongside them.
Vidyard needed a platform that would fulfil its marketing goals of sending email campaigns, Sales Program Incentive Funds (SPIFF), and building knowledge resources.
In addition to this initial onset criteria, Vidyard was looking for a platform that would offer a closed-loop system. One where transparency was established from partner inception to lead referral, and finance teams had insight into payment for those leads.
PartnerStack offers an extensive library of integrations and enabled Vidyard to connect its CRM to the PRM. PartnerStack tracks Vidyard's lead referrals, their CRM tracks actual progress, and finance has transparency into payments. Prior to using PartnerStack, those 3 toolsets weren't communicating with each other. Now, there is complete transparency from start to finish.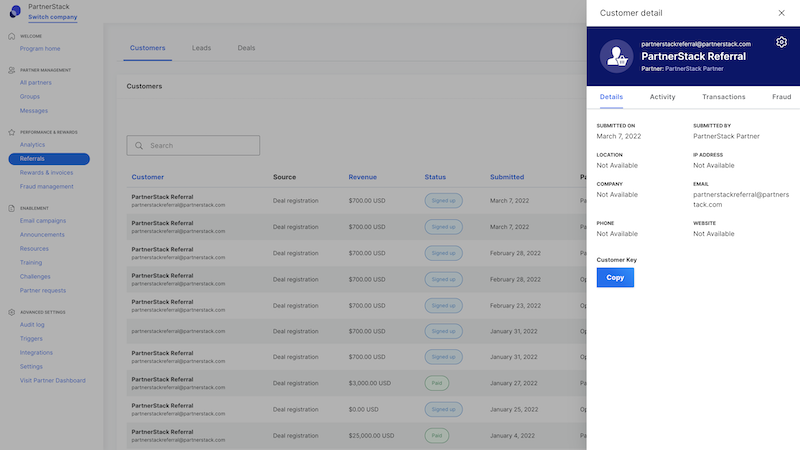 A Focus on enablement
Over the past year, Tom and his partnership team at Vidyard have been working hard to build out the Partnerstack platform and introduce a tool that maximises value not only for Vidyard but for its partner network as well.
Leveraging the PartnerStack platform, Vidyard has built a one-stop shop for its partners to submit referrals, track the lead through the entire journey, and get paid.
While these were basic criteria for their partnership platform, they wanted to take their PRM further by promoting self-service and helping buy back time for its partnership team. This was achieved through automation, a training hub, online resources, and a source to send messages - all within the PartnerStack platform.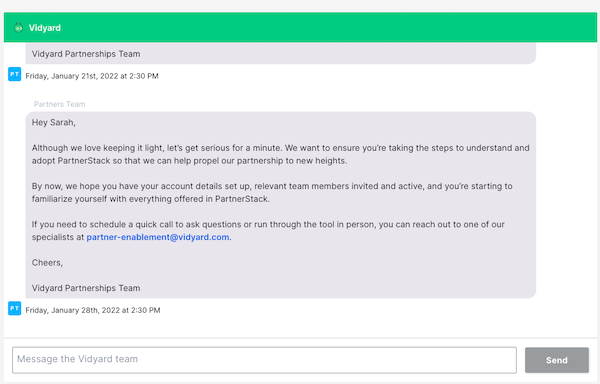 Vidyard has built an extensive resource base for partners to educate themselves on the platform and stay up to date on the latest product releases - in essence powering the partner to become an extension of the Vidyard team.
They've cultivated a unique partnership program that is driven by human interaction. However, as they grow and scale, the video hosting platform needed to introduce elements of self-service.
The educational piece resides within PartnerStack, enabling partners to easily access the tools they need to showcase the value of the Vidyard platform. Partners have resources at their disposal to learn more about the platform on their own time and explore materials beyond initial setup tutorials.
The learning hub within PartnerStack, in combination with the referral and performance hubs, is powering partners to see their relationship with Vidyard as mutually successful.
Resources & Training
Vidyard is not only a client of Six & Flow but a partner as well. Since implementing PartnerStack as Vidyard's PRM platform of choice, we have gained access to resources that power our sales and marketing team to better communicate the value of Vidyard.
Through access to a library of training materials, case studies, brand guidelines and more, our team at Six & Flow can immediately find quick resolutions to queries and dedicate our own time to learning more about the Vidyard platform.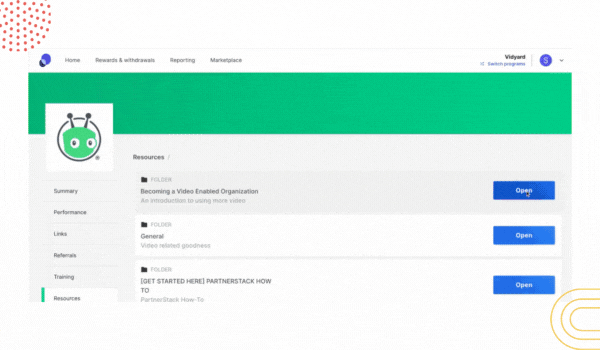 Links & Referrals
Within the PartnerStack platform, we can easily create custom links to attribute specific referrals. This offers transparency for both Six & Flow, Vidyard and PartnerStack.
For Six & Flow, we can easily track referrals and understand which clients are using the Vidyard partner. This transparent dashboard enables us to follow up with clients, understand how effectively they are using the platform, and share playbooks that help them continue to drive leads and power engagement using Vidyard.
By using the PartnerStack platform, Vidyard has a pulse on its highest-performing partners. They can understand what attributes enable partners to better sell their services, use these metrics to build new educational resources and understand the drivers of a successful partnership.