HubSpot Partner Day 2018 kicked off in fantastic fashion as partners were hit with the much requested and anticipated product launch of HubSpot Video Hosting. A product feature requested for some time, much of partner day was underpinned with this product release, and whilst each year is heralded as the year of something, video marketing is where it's at for the coming year!
Where: HubSpot Partners Day 2018
Speaker: Chad Rogers
Topic: 20 Ways to Use Video at Every Stage of the Buyer's Journey
HubSpot suggest than, rather than focusing on extremely high production costs for a few video creatives, much more authentic and conversational videos can be used in a testing process, allowing for brands to discover which creatives work best.
Video marketing features are now woven throughout the HubSpot CMS, allowing for three key uses;
Marketers

will now be able to host their own videos from within HubSpot and better understand their impact with a completely new analytics suite

Sales

teams will be able to utilise conversational aspects with prospects in a one to one manner

Services

teams can utilise videos to show their teams how to solve a problem rather than try to explain with words
Chad began his introduction to video marketing by answering some simple questions to set up the session; where, why and when?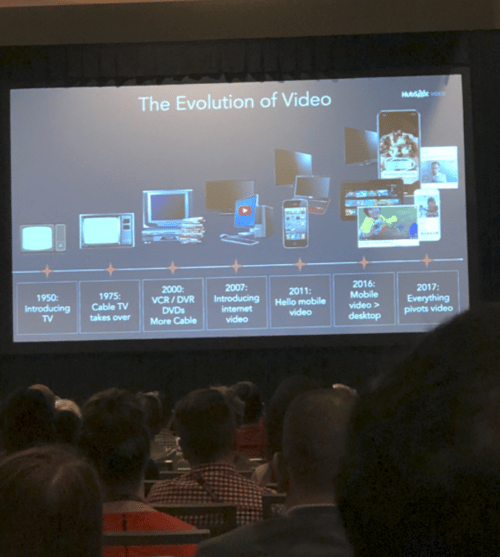 Where does video sit in the traditional funnel?
Video is largely seen as completely upper funnel, brand building and informative medium.
Why video for your business objectives?
Well, put simply, we're humans, and it's in our nature to be drawn in by light and noise. Think about it, would you rather learn about a topic online by reading swatches of text or through video?
When and how is video utilised?
Against historical principles and popular understanding of the buyer's journey, rather than video existing solely as an upper funnel awareness vehicle, it can add value at each stage of the buyer's journey.
So why the explosion in video? And just because spend is being ramped up by others, does it mean you should exist in this space too? Well put simply, it comes down to our makeup as a human and how our brains are wired. If you imagine any feed, whether social, news or content led sites, there is so much stimulus and so much noise – with videos are concentration can't but help be drawn in by movement and at its root of psychology is a subconscious and learned behaviour.
But it should be noted that authenticity is key – and it doesn't mean spend thousands on production, actors, sets etc. effective videos can be achieved in a variety of different ways, even down to just a webcam or some online creation software. It's this reason which continues to see ad spend on video increase because there isn't a high entry point.
With the art in the science, you can model the traditional online marketing framework over and at that point ask why should video content only exists as a means to draw new users at the 'awareness' stage – are missing a trick in doing this? Here exists the reason spend continues to grown on this medium because companies have unlocked video's true potential to shine at any stage of the buyer journey.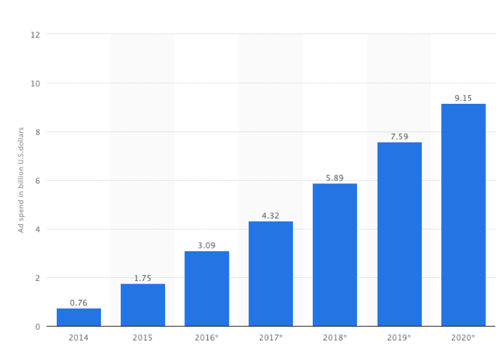 We should know by now the value of video marketing can't be comparable to response channels which deliver return in a more immediate manner, rather, they are the an agile tool which can be used to delight users and build that brand-user relationship.
As Chad rightly points out, we shouldn't always look to sell to the customer, we need to give back too and take heed from traditional commercials which sought to build that emotional connection with its users.
20 video types and tips
Educational
Comedic
Informative – think medical space
Industry news/insights and product/service comparison
Timelapse – these can work great with lifestyle or product shots
How to – teaching videos are extremely popular right now on social and have markedly positive ramifications for traditional and Amazon led SEO
Promo – often connected to your marketing mission: these can be product or seasonal launches and work best when utilised with a creative and audience split test
Influencers – influencers add clout, especially with that influencer's audience.
Explainers – these are probably the most common type. These will typically live on your website
Product – especially for Amazon. This type will get you picked up on search for Amazon. They will typically perform best with highly contextual marketing
B2B – these should focus on customer spotlights
Social video for Instagram
Trending video – don't be afraid to piggyback on a trend; political, seasonal and holidays – South Park pioneered this
Case study videos – Don't neglect case studies they are powerful words about your brand/service/product and it doesn't take long to pull together into a simple video
Testimonials – a lot like case studies or customer spotlights but they speak to you in a one-to-one manner
Tips and tricks – works well in the fashion, service, home products. Add value and delight customers rather than continually trying to sell; build your own basket with rope for example – tangible ideas for the masses
Interviews – these can work well if you have a complex product or service in the B2B space
Vlogs – much like influencer videos, short vlog type characters can act as peer related feedback to your audience
Events
Explanatory videos
In summary...
Essentially, keep your existing customers engaged and don't just focus on new leads. Put simply, don't just keep selling, rather, delight the customer's you already have and add value to your working relationship.
It shouldn't cost two years' marketing budget to produce a video which resonates with your target audience. As explained in this blog, there are many angles you can adopt which will allow you to enter the space with a much lighter production cost but strong engagement.
In closing, one rather enjoyable analogy that HubSpot use internally to explain the value of your video is to understand Pizza Hut's dough methodology (really!). Not all content should cost an arm and a leg to produce, and Pizza Hut found that rather than throw waste dough away, they made breadsticks. Essentially, what content you do have can always be repurposed for video, which means you should all be doing it in 2019!