We like you. You're our kind of person. You're obviously very intelligent (you're reading this!) and you care about your customer's buying experience.
And because of that, we're going to pull back the wizard's curtain so you can see for yourself how HubSpot's simple email sequences and Vidyard's adaptable video tool have made such a BIG difference to Six & Flow's conversion rates.
How big? How does a whopping 400% increase in new meetings booked sound?
Impressive, right?
And they could do the same for you. But don't just take our word for it. Have a quick read through this short guide and see how you too can convert more prospects using hyper-personalised, automated, conversational content.
Your prospect downloads a free guide
Because you're already following an effective inbound marketing process, you've already circulated a wealth of engaging and informative online content designed to attract prospects with a business problem you can solve.
After all, that's what inbound is all about, right?
A prospect notices your content and likes what they see. Why wouldn't they? You've curated it specifically for them; it's content written in their language about a problem you know they have.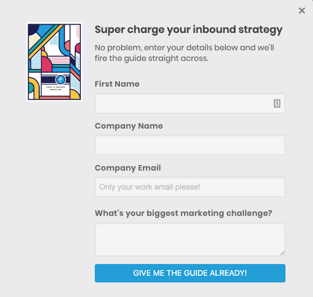 After enjoying your blog, pillar page, video, animation etc., your prospect, if interested, will usually want to know more. So, prompted by a compelling CTA, they enter their particulars into your simple HubSpot lead capture template (customisable to suit you) and give you permission to send them more information. The result? They receive useful, relevant content and you get fresh, clean GDPR friendly data in return.
It's a win-win for everyone.
The power of personalised
The next stage is speaking to the prospect direct to find out if the guide helped solve their problem. But what happens if you can't get through?
This is where the power of hyper-personalised email sequences comes into play.
Using information automatically pulled through by HubSpot, and harnessing the power of a video tool such as Vidyard, you can impress your prospect by deploying their own web page as the backdrop for a personalised video.
Now imagine this was YOUR website and the animated circular gif in the bottom corner was also a short personalised video made just for you. You'd be tempted to click through and find out more, right?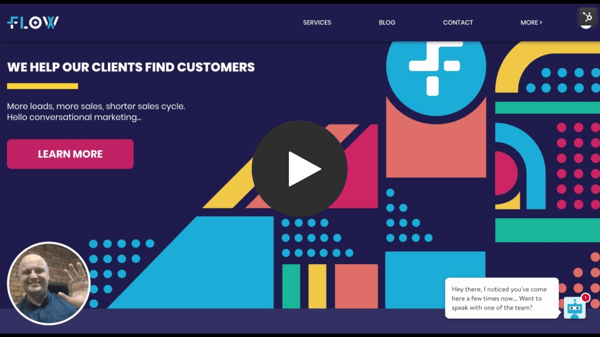 In the video, you can address the prospect by name, tell them what you like about their website/company, and even offer real-time advice on how you can help.
It's the perfect way to stand out from the competition and a great way of showing your prospect you care about their business.
Not everybody wants to buy the first time.
But that doesn't mean they didn't see the value in your video. In fact, it's highly unlikely a prospect will decide to buy on the first interaction with your company. Remember, they may just be discovering their problem and therefore are only at the first 'Awareness stage' of the buying journey.
But that's OK. This is about nurturing prospects, not hitting them with the hard-sell right out of the gate.
After recording your hyper-personalised prospect video in a matter of minutes (it really is that quick), the next stage is to construct your automated follow-up email sequence.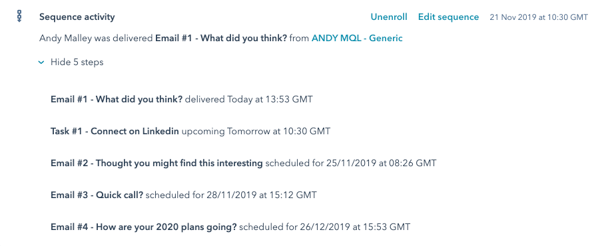 Exactly how many is up to you: too few, and you might stop just short of a sales conversion. But too many and you run the risk of overkill. We recommend three or four spread evenly over a month or two so you stay in client's thoughts without being invasive.
You can schedule the remaining emails - each with their own unique video and sales message - on a timescale to suit your sales process (see above).
This means, amongst many other things, you can send date specific emails to promote live events, send prospects personalised birthday messages, or even record and schedule Halloween messages in early June to be automatically delivered late October.
Here's an example of two follow up emails we inserted into the above sequence (note how each contains both different copy and a different pre-recored video scripted to suit the message).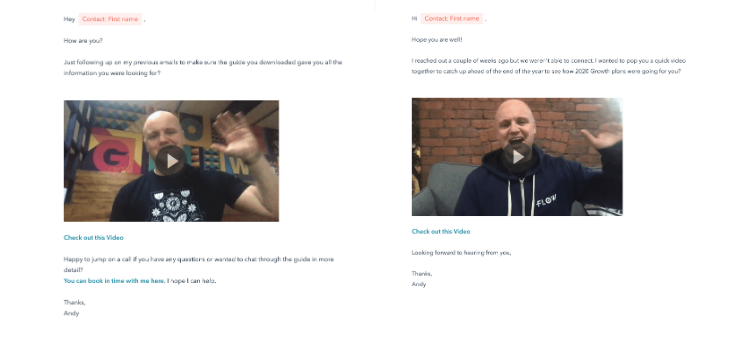 Because HubSpot is an all encompassing CRM tool, you can monitor each email sequence campaign and track important metrics such as open rate, replies, unsubscribes, and/or meetings booked. This way you can keep tabs on what you need to tweak. Getting a decent open rate but a poor click-through? You might have a weak CTA. Getting a decent click-through but poor reply? Then your video message could need work.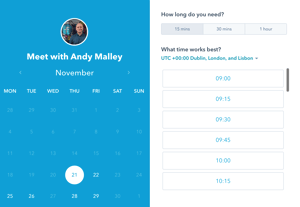 HubSpot even lets you include a meeting link so prospects can book a conversation straight into your diary with minimum fuss.
See! We told you this was easy.
Once you've taken the time to record your 'stock' videos - the generic but reusable content attached to follow-up emails - all that's left to do is write the offer copy, choose a compelling CTA to match the email message, and add links to further 'free' content (such as blogs, pillar pages, etc.) you think the prospect might like.
Think about it - how would you feel receiving a hyper-personalised video addressing you by name and talking about solving a problem you have?
We know, right! It's a game-changer.