If you're a recruitment agency you know that finding and getting new clients is essential to your success. But how can you do that effectively?
The recruitment industry is built on relationships. And for scaling recruitment firms, doing this at scale can prove a challenge without the right tech stack.
With HubSpot for recruitment agencies at the centre of your tech stack, you can attract more leads, engage them more effectively, and delight them with great content and customer service.
The HubSpot platform for recruitment & Staffing agencies
HubSpot isn't just a tool for the marketing, sales, and service industries. The platform consists of 5 different hubs and offers a CRM. These tools help you improve your lead generation process, build authentic relationships, and improve credibility.
HubSpot and the flywheel method
The flywheel methodology focuses on creating momentum in order to deliver exceptional customer experiences. Unlike the sales funnel, which relies on acquiring new customers to generate growth, the flywheel model starts by focusing on your existing customer base.
The theory behind the flywheel is that if you deliver exceptional experiences for leads and keep your current customers happy, they will continue doing business with you and referring new customers your way. This creates a virtuous circle of growth that can be sustained over time.
Marketing strategies your recruitment agency can use to ATTRACT more clients
Generate leads through SEO
By optimizing your website content for the keywords your target clients are searching for, you can attract more traffic to your site and generate more leads.
Within HubSpot, you can leverage the SEO tool to create topic clusters surrounding pillar pages, and capture recommendations to improve your website's SEO score.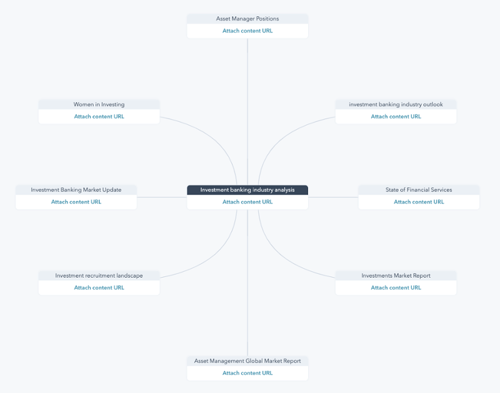 Blogs
The value of blog posts is a hot topic amongst marketing professionals. Regardless, it is a form of content you still need to be leveraging.
Your recruitment agency's blog should include a mix of content types - however, you should focus on evergreen and top-of-the-funnel topics to attract new leads.
You can host your blog directly on your website, whether it be on a subdomain or a subfolder. From there you can add them to your topic clusters to help improve the performance of pillar pages and increase organic traffic.
The content you create should be in reference to the buyer personas that you have created in HubSpot.
👉 Access your free template to build ICPs and Buyer Personas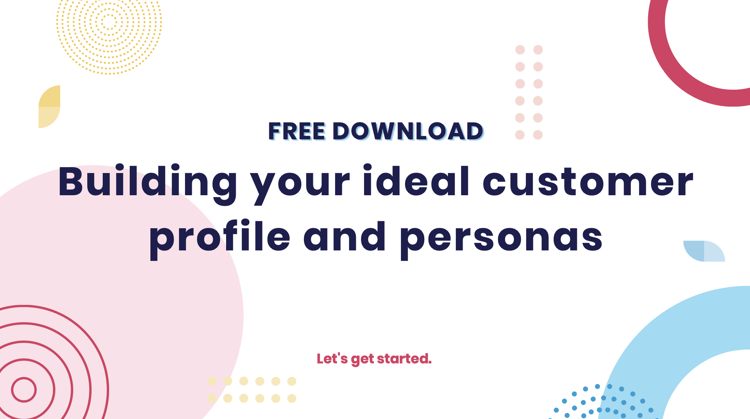 Biddable Media
Biddable media captures visitor traffic and improve conversions as you can promote any page you wish from your website - whether it be for brand awareness, content downloads, research reports or more.
Advertising allows agencies to target specific channels, such as LinkedIn, that are known to be effective in targeting and reaching key audiences.
HubSpot also allows you to bring all your ads under one dashboard. You can connect all accounts and merge existing data with HubSpot data. This unified view allows you to see which ads generate the best volume, and the highest quality leads and influences the overall ROI of your biddable lead generation campaigns.
Social Media
Social media is a great way to show your success as a recruitment agency, your brand personality, and your knowledge of specific industries.
By sharing blog posts, infographics, or other pieces of content that would be valuable to your target client, you can drive traffic back to your website and increase the chance of conversions.
Using HubSpot's Social Inbox tool, you can manage all of your social channels in one place, track your competitor's posts and engagement, alongside analyze your recruitment agency's social results.
Marketing strategies your recruitment agency can use to ENGAGE more clients
Conversational Marketing
Live chat provides a direct line of communication between the agency and potential clients, which can help to build trust and credibility.
By using a chatbot, you can offer potential clients instant gratification. They can get the information they need right away, without having to wait for someone to get back to them during business hours.
Chatbots can also help you capture more leads. By providing potential clients with an easy way to get in touch with your agency, you can increase the chances of them doing business with you.
And by offering value-added features like appointment scheduling and automatic follow-up, you can further differentiate your agency from the competition.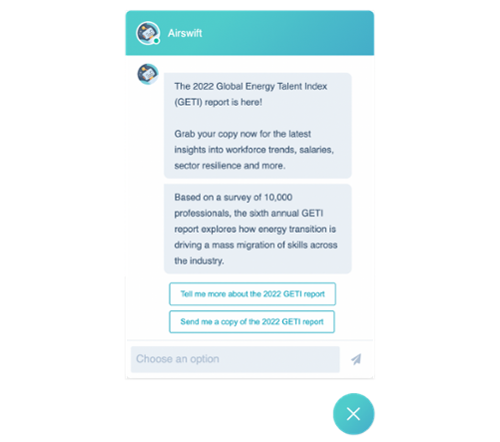 Source: Airswift
Email
Personalized email content can be an extremely effective way to engage potential clients or nurture them until they are sales-ready.
By using HubSpot's Workflows tool, you can automate repetitive tasks like sending follow-up emails and scheduling appointments.
You can also use Email Templates to save time when composing similar emails over and over again.
Landing Pages
One of the best ways to attract new clients is by creating content that appeals to their specific needs and pain points. They should be created with your buyer persona in mind so that they offer tangible value. Consider adding a form or a chatbot to your landing page to capture client traffic and convert them to leads.

Meeting links
Recruiters should focus on creating opportunities for engagement and connection. One way to do this is by embedding meeting links on web pages and within chatbots. This will allow potential clients to easily connect with a recruiter in a non-obtrusive manner. It helps to create a sense of transparency and trust between the two parties.
Connect your calendar to HubSpot so that when clients reach your calendar, they see an up-to-date version of your availability. This will allow you to focus on your clients and prospects without having to worry about administrative tasks.
Strategies your recruitment agency can use to DELIGHT more clients
Help desk
A help desk can help you keep track of candidates and client inquiries, as well as help you resolve issues quickly and efficiently. By using a help desk, you can provide a more personalized and responsive experience to candidates and clients alike.
HubSpot's helpdesk tool is built into their service hub package. With HubSpot's ticketing system, you can record, organize, and track all of your clients' issues in one dashboard.
Feedback Surveys
You can use feedback surveys to get valuable insights from your clients about their experience working with your recruitment agency. This feedback can help you identify areas of improvement and make changes to your process in order to provide a better experience for future clients.
NPS surveys are a great way to measure client satisfaction and get feedback on your recruitment agency's performance. With HubSpot, you can automate the process of sending out NPS surveys so that you can focus on other areas of your business.
By using HubSpot, recruitment agencies can find and get more clients easily with the help of its many features. From the attract phase all the way to the delight phase, HubSpot offers a variety of tools to help agencies improve their lead generation process and build better relationships with their clients.