Inbound 2023 is in full swing, and whether you're catching it live or virtually, you've probably heard about the exciting new features that have been released. The team has been hard at work, revamping the HubSpot platform.
During this year's HubSpot Spotlight Session, Yamini Rangan (CEO), Dharmesh Shah (CTO, Co-Founder), and Andy Pitre (VP of Product) discussed how generative AI is impacting the way we work, shop, and buy.
Last year, Inbound focused on the theme of 'the Age of the Connected Customer'. With the rise of digital transformation, we witnessed an explosion of information at our fingertips.
While it has its advantages, it has also led to disconnected data and systems, customers, and people.
But now, a new wind of AI has blown in - welcome to the age of intelligence.
HubSpot has embraced this movement and has developed a Smart CRM.
So, what's the difference between a CRM and a Smart CRM?
Introducing the HubSpot Smart CRM
The HubSpot CRM has always been designed to foster connectivity. The CRM platform seamlessly integrates with other hubs to promote alignment through information sharing.
With the introduction of the Smart CRM, this commitment to connectivity remains unchanged. However, now it is further enhanced by the power of intelligence. The Smart CRM is an AI-Powered System of Record, while the Hubs - including marketing, sales, service, operations, commerce, and CMS - transform into an AI-powered System of Engagement.
So, let's delve deeper. What are the latest features that have been added to the HubSpot platform? In this blog post, well cover features released for:
HubSpot CRM Customisation Capabilities
CRM Development Tools to Build UI Extensions with React as Front-End
Develop UI extensions (custom cards) using React for CRM record pages. After deploying to HubSpot, you can access the project within the account to track its build and deploy history, configure settings, and monitor usage of the private app.
The Impact: Developers can leverage this technology stack to create custom, flexible, dynamic, and interactive cards. By doing so, customers can enjoy fully tailored and immersive user interfaces that seamlessly fit inside the UX of HubSpot's platform that make it adoptable and easy to use.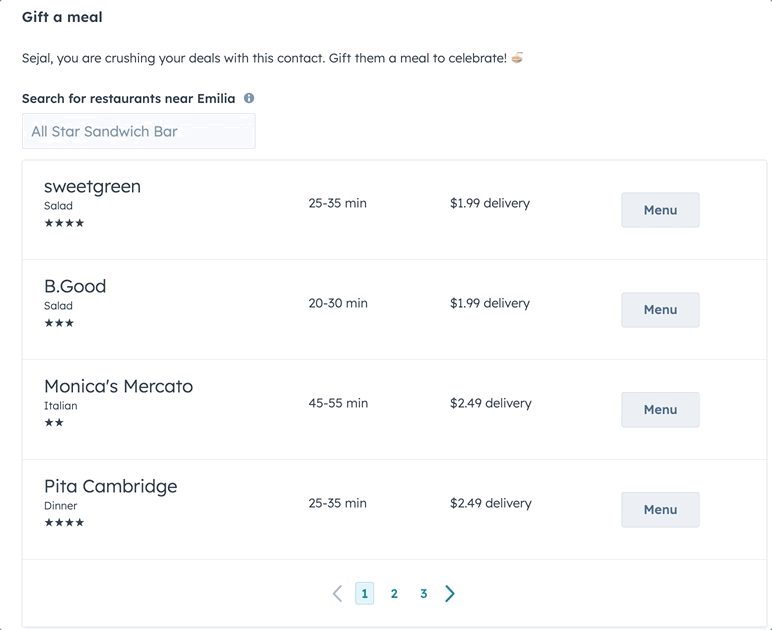 Docs:
Customise the record middle column
Minimise the number of tools your team has to go back and forth in.
The CRM record page editor allows admins to customise the middle column of a record to match their business' needs for specific teams. Admins can now add new cards and tabs to the record page, so their teams have access to the right information at the right time.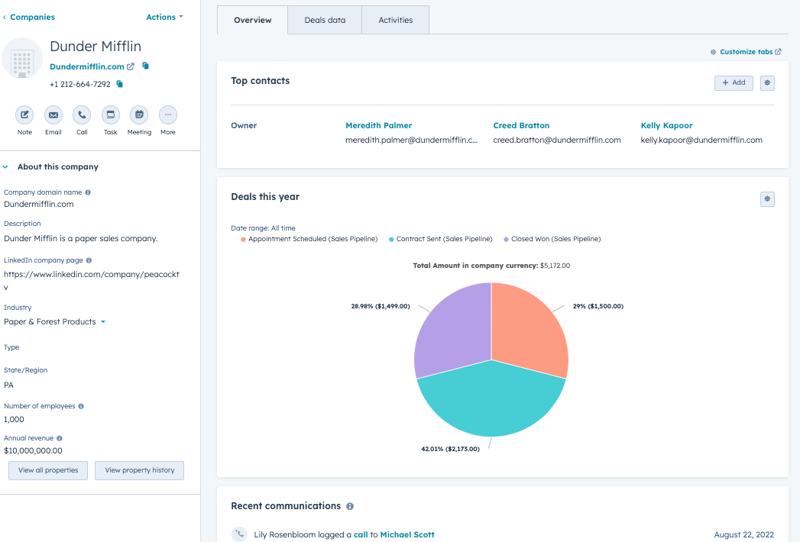 Additionally, admins can build custom cards with 8 available CRM data components to visualise your data and keep your teams within HubSpot including Report, Association Table & Stage Tracker.
New HubSpot Sales Hub Releases
Something's afloat, and it's not just in the water—HubSpot is making waves with their Sales Hub enhancements! We're ready to dive in!
HubSpot Prospecting Workspace
HubSpot's Prospecting Workspace allows sales teams to streamline the process of finding and reaching out to potential customers. From this page, reps can see what their goals are and how they are progressing toward them.
The Prospecting workspace provides a comprehensive view of all your contacts and companies, presenting pertinent details that impact sales velocity. Here, you can view:
Summary of all upcoming and overdue tasks, meetings scheduled and sequenced tasks.

Review your schedule in the schedule tab and update meeting outcomes in one unified workplace.

Activity feed grouped by contact. You can filter by Activity type or Sequence enrollment.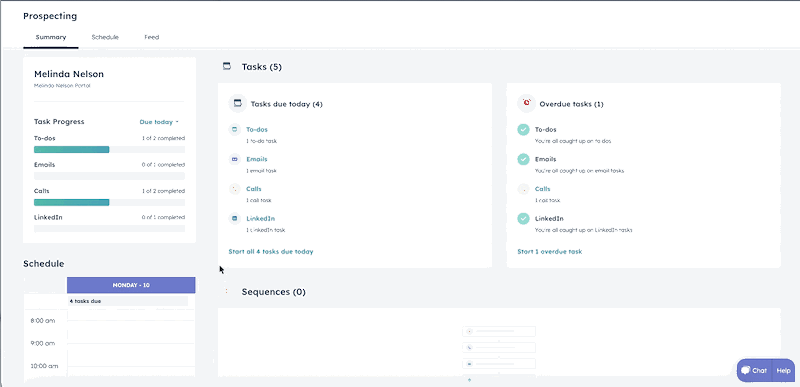 The HubSpot Prospecting Workspace is yet another tool in HubSpot's suite that bolsters efficiency, providing the capabilities sales professionals need to succeed in today's fast-paced digital landscape. Armed with these powerful features, sales teams can drive their prospecting efforts with greater precision and productivity without having to leave HubSpot.
Currently available to all Sales Hub Pro and Enterprise users.
Lead Management
HubSpot has introduced a new "leads object" to clearly differentiate between Leads and Contacts. This distinction ensures that Lead is recognised as a distinct entity from Contact.
Users can now effortlessly generate leads from contacts, just as they do with deals. No more tedious task of assigning leads to reps or wasting time on unnecessary work.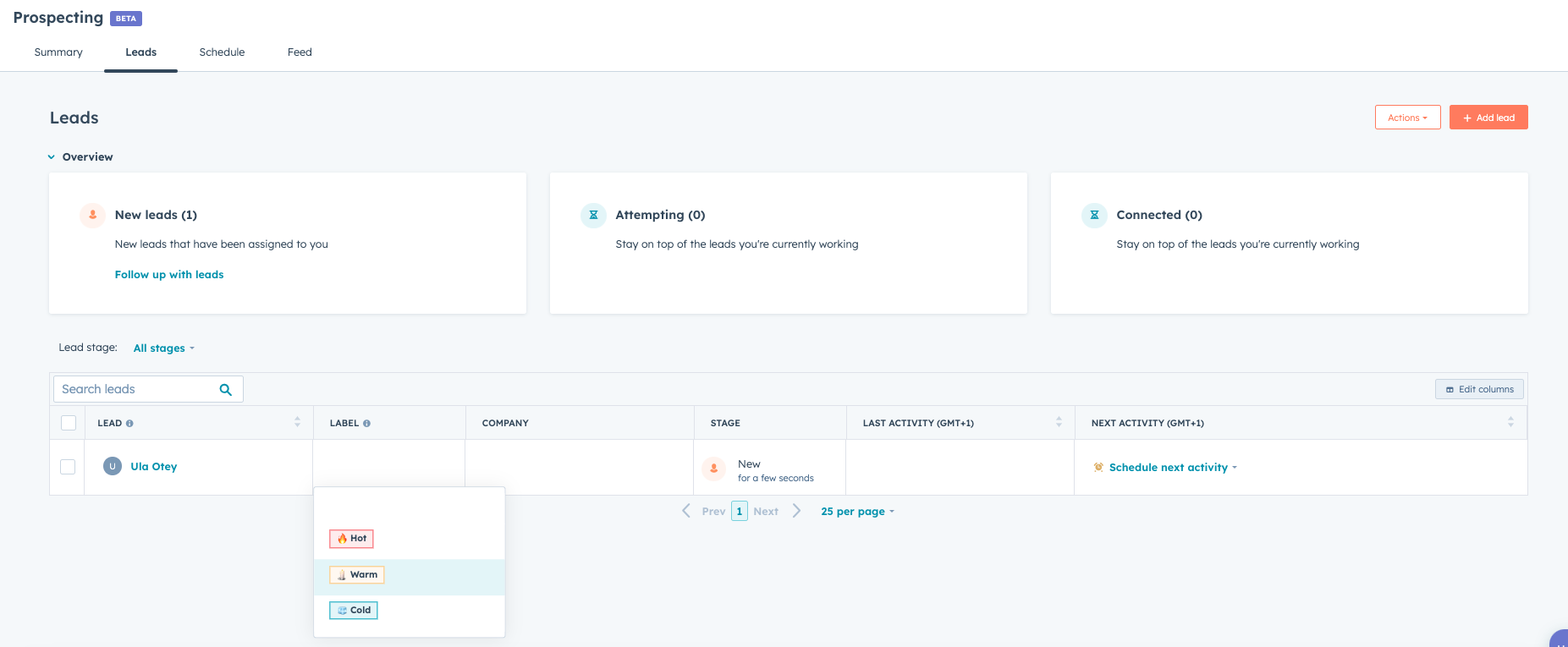 Currently available to all Sales Hub Pro and Enterprise users.
A/B Testing in Sequences
Sales sequences now allow you to split test two different emails and compare their performance. Experiment with different templates by sending 50% of the emails to each group. This will enable you to quickly make decisions and optimise your outreach, while also providing performance reports for both email variations.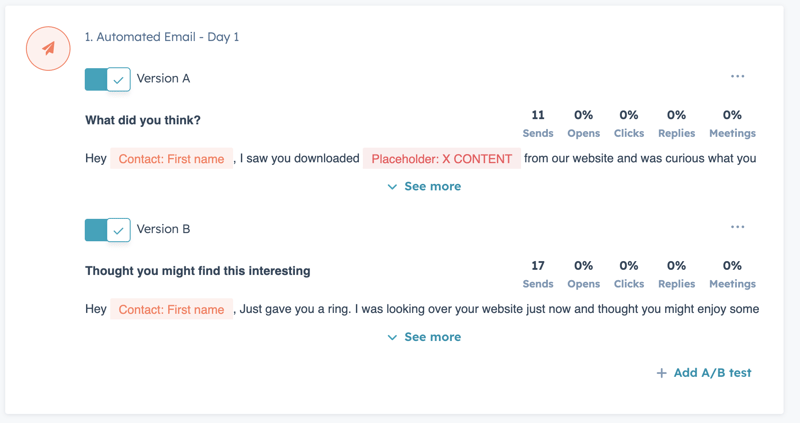 The A/B testing beta feature allows teams to optimise prospecting email performance. Teams can quickly experiment and iterate to improve their outreach efforts and boost conversion rates.
Currently available to all Sales Enterprise, Sales Pro, Service Enterprise, and Service Pro users.
Sequence Step Analytics
To enhance Sequences functionality, HubSpot has introduced Sequence Step Analytics, providing detailed insights. With step-level analytics, you can track and analyse each step in your sequence, gaining valuable understanding of how reps are executing the steps and their conversion into booked meetings.
Currently available to all Sales Enterprise, Sales Pro, Service Enterprise, Service Pro users
Sequence Outcome Reporting
HubSpot has introduced two new metrics to help Sales Hub Enterprise customers analyse their sequence performance:
Deal Rate - the % of contacts enrolled in a sequence that resulted in a deal being created

Total Revenue - the amount of revenue from closed won deals influenced by the sequence shown in company currency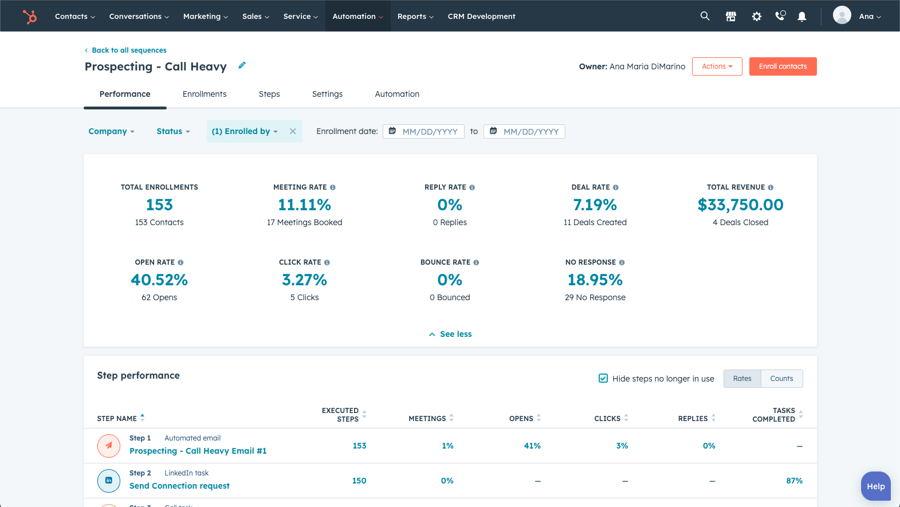 Until now, the metrics available have primarily measured prospect engagement, but we've lacked insight into how sequences impact business outcomes.
Currently available to all Sales Hub Enterprise Users
Book Meetings on Behalf of Others
Enable sales reps to schedule meetings on behalf of other reps and incorporate round-robin routing functionality directly within the contact record. This streamlines the process of booking meetings for the next available rep in the rotation while giving credit to both the meeting booker and the meeting host.
Currently available to all Sales Enterprise, Sales Pro, Service Enterprise, Service Pro users
Lead Form Qualification
With HubSpot Forms, you now have the ability to create conditional redirect rules for efficiently qualifying and directing your leads to the appropriate rep.
By implementing conditional logic based on form responses, you can personalise the thank you message, URL, or meeting scheduling page for each submission.

When a lead meets the qualification criteria based on their form inputs, you can redirect them to a specific meeting link page and tailor their journey.
For instance, if a visitor indicates they belong to Industry A or their company size is 1-10, instead of a generic redirect, they will be automatically directed to a meeting scheduling page B that is precisely tailored to cater to their industry and company size.
Currently available to all Sales Enterprise and Service Enterprise users
Lead Reporting
The Leads report allows sales teams to easily track lead activity, from initial contact to deal conversion, and analyse lead conversion rates to optimise lead nurturing strategies.
It also enables businesses to evaluate lead source effectiveness and assess sales reps' performance, driving data-driven decisions for revenue growth and sales success.
Lead contact rate report: Uncover how reps are engaging with your quality leads and why they convert.

Lead source report: See how your inbound, sales, or your product-qualified lead sources perform and contribute to high-value leads.
Prospect Activities Reporting
This out-of-the box report provides sales managers with valuable insights into the activities of their teams and reps. By analysing prospecting activities, you can evaluate the efficacy of your sales processes, resource allocation, and overall team performance.
Analyse the performance of various activities during the Prospecting process, like:
HubSpot Embed for Salesforce
Now, you can enrol contacts into HubSpot Sequences and create meetings directly from Salesforce records, so reps can spend less time clicking between tabs and more time connecting with customers.
This means that if you're using Salesforce as your CRM and HubSpot for prospecting, you can now enrol in a sequence or book a meeting directly from Salesforce through the HubSpot Visualforce window.
HubSpot Embed works within the Visualforce framework in Salesforce by displaying a window of information that summarises interactions on a Salesforce record.
This feature is open to anyone with a salesforce account and who has CMS Enterprise, CMS Pro, Marketing Enterprise, Marketing Pro, Sales Enterprise, Sales Pro, Service Enterprise or Service Pro.
Forecast Insights
Measure the reliability of your forecasts and the effectiveness of your forecasting process with forecast accuracy tracking. This allows managers to identify trends, patterns, and factors to improve the performance of your forecasts.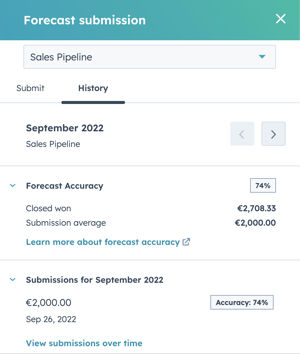 Currently available to all Sales Enterprise, Sales Pro, Service Enterprise, Service Pro users
AI Forecasting
Conduct a thorough assessment of the forecast generated by the team and compare it with HubSpot's new AI-powered forecast. This innovative forecast leverages historical sales data to predict future sales. By harnessing the power of AI, certain teams have achieved an impressive accuracy rate of over 95%.
Deal Inspection View
You can now see insights on pipeline health when managing Deals.
Taking a look at these insights on a weekly basis will give you an 'at a glance' view of the status of your sales pipeline and sales process.
These new insights empower sales reps to prioritise effectively, while enabling managers to provide more impactful coaching.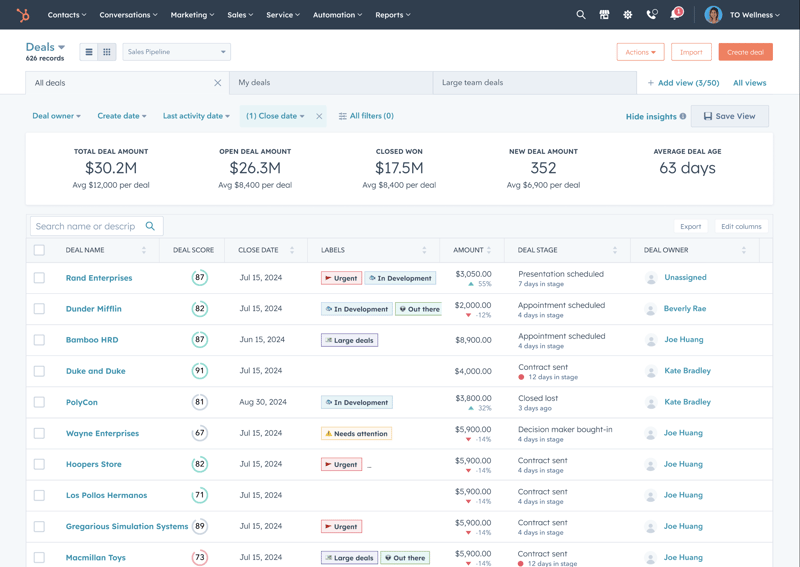 Each default deal view provides a concise summary of amount, stage, and duration information, allowing you to easily comprehend the data and track the progress of your deals. You can effortlessly navigate between different pipelines and their default views to gain data insights specifically tailored to subsets of deals. This data aids in identifying trends, areas for improvement, and prioritising deals to focus on.
Currently available to all Sales Hub Starter, Professional, Enterprise users
Deal Funnel Reporting
HubSpot has made significant changes to our funnel reporting.
'All stages in any order' funnels got updated with skips, conversions & time in stage

'All stages in order' funnels got updated with skips, conversions, time in stage. You have 2 visualisation choices: Sankey & Funnel. Customisation is available only for Enterprise.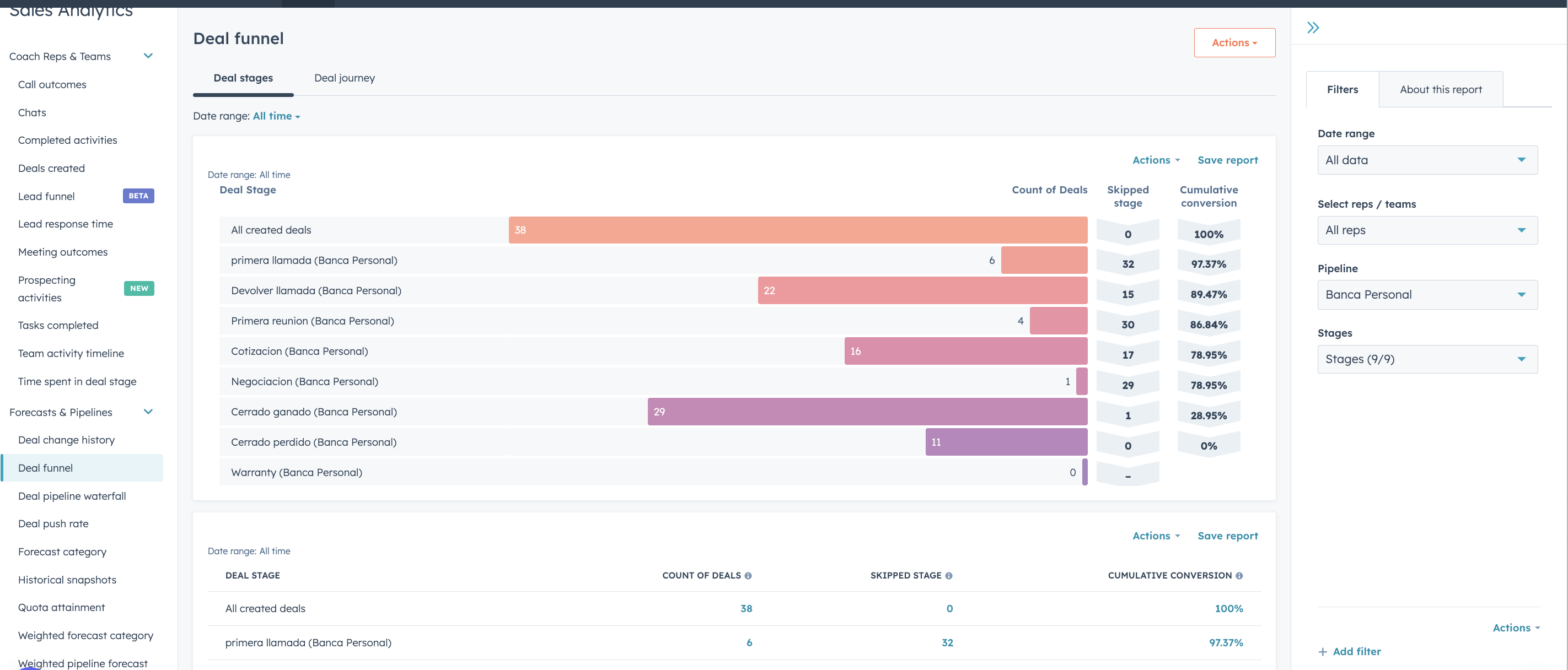 This updated reporting now show skips, conversions & time in stage - helping sales teams make data-driven decisions & implement targeted sales strategy improvements to increase conversion.
Currently available to all Sales Pro, Sales Enterprise users.
Deal Journey Analytics
Customer Journey Analytics now includes the ability to build journeys based on deals. Get a true reflection of the path from prospect to revenue and see where your deals are dropping of or skipping steps.
Currently available to all Sales Enterprise Users.
Deal Tags
HubSpot has introduced coloured deal tags! Now, sales reps can effortlessly scan the board view and instantly identify priority deals. Super admins have the power to create up to ten (10) deal tags, each tailored to specific conditions. These deal tags will appear on board cards when the corresponding conditions are met, streamlining the sales process and enhancing efficiency.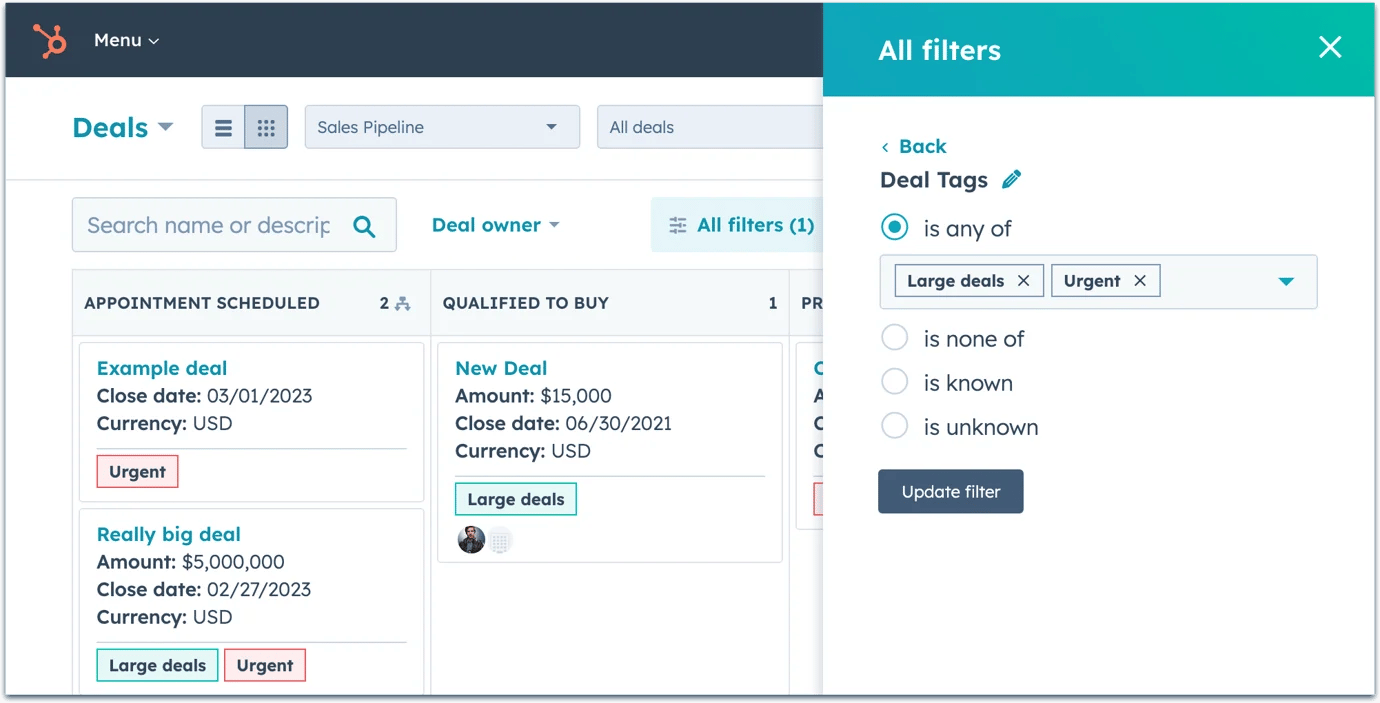 Currently available to all Sales Starter, Sales Professional, Sales Enterprise, Service Starter, Service Professional, Service Enterprise
Advanced Playbook Recommendations
Deliver precisely tailored enablement content to your teams, precisely when they need it, by leveraging advanced playbook recommendations. Playbooks can be recommended based on any property within any object. Recommendation rules can be derived from properties in the current object or any related object.
Playbooks: Snippets and Rich Text Formatting
We are excited to introduce snippets support in playbook note fields. With this new feature, you can effortlessly save frequently used phrases as snippets and conveniently reuse them in your playbook notes. What's more, you now have the ability to enhance the formatting of your notes using a range of rich text editing tools. Experience the convenience and flexibility of this powerful update today!
Currently available to Sales Pro, Sales Enterprise, Service Pro and Service Enterprise users.
Playbooks on Custom Object Records
You can now access playbooks directly from custom object record pages. Create interactive content cards displayed in contact, company, deal, and ticket records. When speaking with prospects and customers, your team can reference these and create standardised notes.
Coaching Playlists
To enhance the process of onboarding and up skilling reps on a larger scale, HubSpot has introduced a feature that allows users to save call recordings to playlists.
With this new functionality, exemplary calls from experienced reps can be effortlessly added to coaching playlists. These playlists can then be shared with specific reps or the entire team, enabling them to improve their soft skills and adopt successful selling tactics.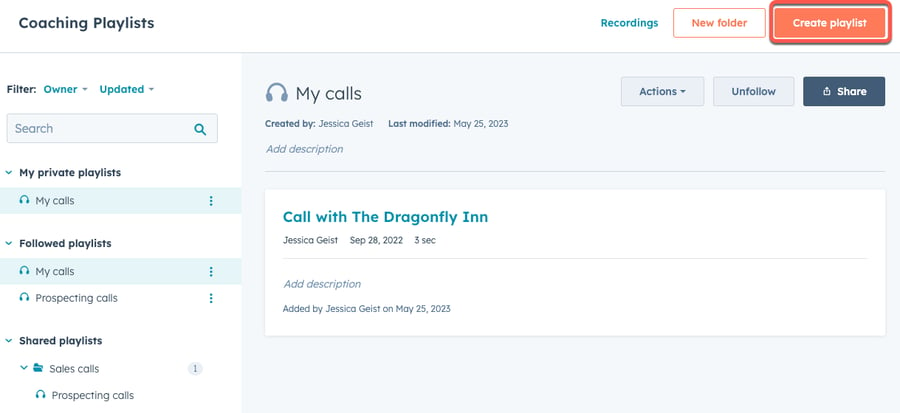 The introduction of Coaching Playlists not only simplifies the onboarding and coaching process for reps but also makes it faster, easier, and more scalable.
Currently available to all Sales Pro, Sales Enterprise, Service Pro and Service Enterprise users.
Sequences on Mobile
The iOS and Android Apps will provide support for enrolling, un-enrolling, pausing, and resuming contacts within a sequence.
Currently available to all Sales Pro, Sales Enterprise, Service Pro and Service Enterprise users.
Content Assistant on Mobile
Artificial intelligence (AI) has made its way to the HubSpot mobile app, revolutionising how our customers work on the go. With the new update, iPhone users can enhance their communication efficiency while prospecting or selling, thanks to AI-powered email composition. This feature enables users to compose emails with ease and speed, ensuring a seamless mobile experience.
Available to all hubs and plans.
QR Code Scanner
The QR code scanner empowers salespeople to efficiently generate and store new contacts in their CRM with a streamlined two-step process by effortlessly scanning a QR code.
Sales reps can access the QR code scanner either by navigating directly to the 'More' tab within the Mobile HubSpot app, when creating a new contact straight on the mobile CRM page or long tapping the HubSpot app icon and accessing it through the home screen shortcut.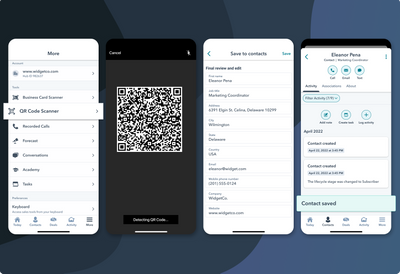 Available to all hubs and plans.
HubSpot AI Assistant
Introducing your new companion, the HubSpot AI Assistant. In this section, you'll discover all the exciting details about the latest features of your new AI buddy within the HubSpot platform.
AI Subject Line Generator
Referencing email insights and industry best practices, the Subject Line Generator analyses your marketing email content and will generate three compelling subject lines.
No need to prompt the tool. Enhance your writing quality, optimise for word choice, structure, readability, and eloquence while preserving the original meaning.
Available to all hubs and plans.
AI Website Builder
HubSpot has built a single-page, AI-enhanced onboarding experience that dramatically reduces the number of decisions CMS Free users need to make when getting started with a website.
In this flow, HubSpot will:
1. Ask the user questions about their business after signing up.
2. Leverage generative AI to create 1 single-page site.
This feature does not create an entire website.
Currently available to all CMS users.
AI-Generated Social Copy Within Blog Editor
Generate social posts effortlessly without leaving the blog post editor. This powerful HubSpot AI tool assists you in crafting captivating social captions for your blog posts. It even provides concise summaries of the content, presenting you with multiple variations to choose from.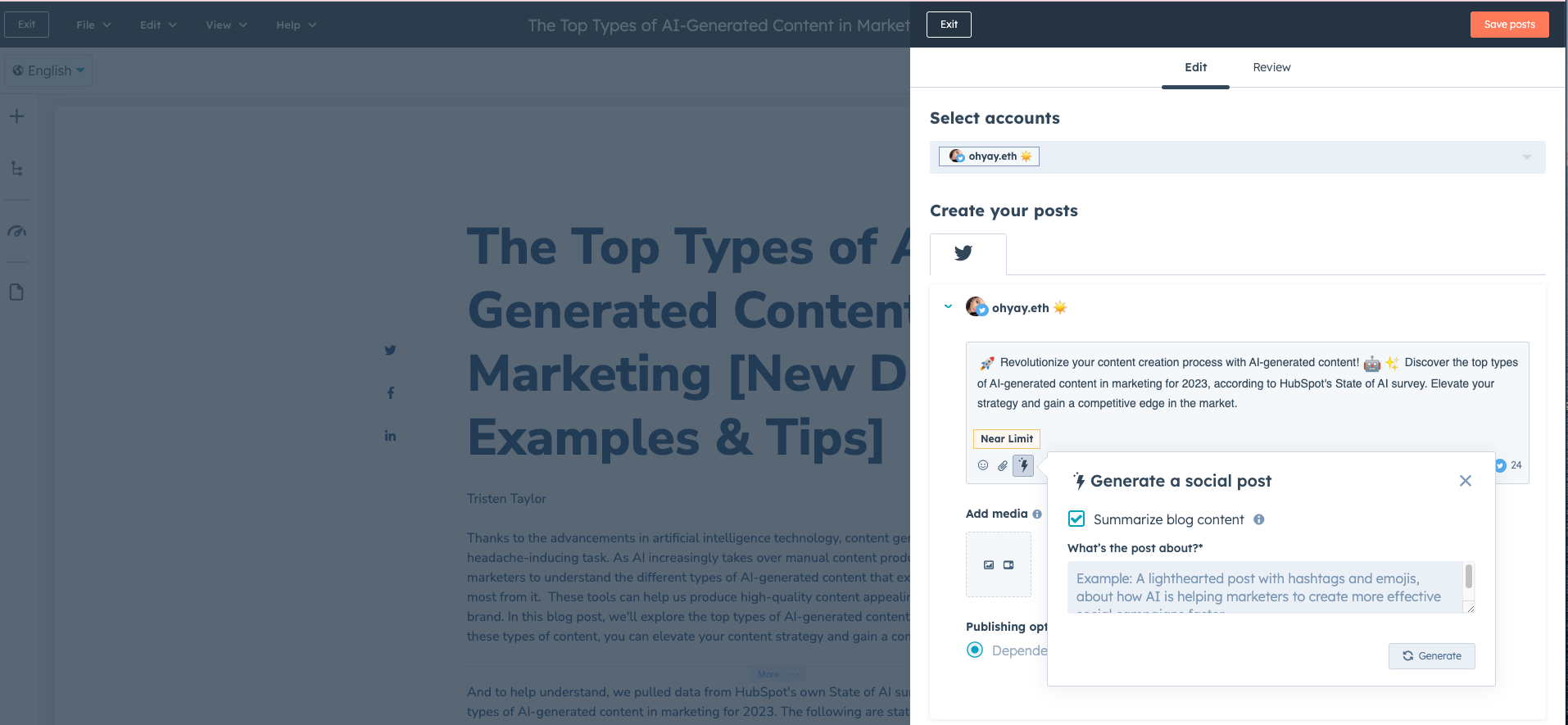 To create an AI assisted social post based on a blog from the list view:
In your HubSpot account, navigate to the Marketing > Blog

On this page, click on the All scheduled or Recently published blog view

Hover over the blog you want to summarize and click share




Currently available to Marketing Pro, Marketing Enterprise users.
AI-Powered Content Ideas for Blog with Semrush Data
Powered by ChatGPT and referencing keyword data from Semrush, this AI tool simplifies the process of generating blog post topics, suggested post titles, descriptions, and outlines.
By providing a brief overview of a broad topic you're interested in exploring, HubSpot will supply specific ideas that resonate with your audience. They'll even evaluate topics based on their ease of ranking and popularity on Google search, empowering you to achieve optimal results.
Currently available to all CMS Hub & Marketing Hub users.
AI Content Assistant: Title & Meta Descriptions
HubSpot has introduced new AI functionality to the settings field in website pages, landing pages, and blogs. With this update, you can now generate SEO-friendly titles or meta descriptions using AI. This innovative feature analyses the content of your page and utilises AI to produce captivating titles and meta descriptions that accurately reflect the essence of your page.
Currently available to all CMS Hub & Marketing Hub users.
AI Content Assistant: Image Generation
Generate images based on a prompt or context from the task being performed.
Currently available to CMS Pro, CMS Enterprise, Marketing Pro and Marketing Enterprise users.
AI Content Assistant: Slash and Highlight Commands
Within the editor page of landing pages, website pages, blog, global content, marketing email, knowledge base, conversations inbox & social, marketers now have the ability to generate blog outlines, paragraphs, ideas, or conclusions.
They can also edit existing text, allowing them to rewrite, shorten, expand, or adjust the tone of the selected content.
This enhanced functionality empowers content creators to improve the quality of their writing, ensuring optimal word choice, structure, readability, and eloquence while retaining the original meaning.
Currently available to all CMS Hub, Marketing Hub, and Service Hub users.
AI Assisted Report Descriptions
You now have the ability to effortlessly add and modify descriptions on Reports, all with the added advantage of AI assistance. This seamless process ensures both swiftness and simplicity.
Understanding Reports can be quite challenging, but having a descriptive summary that explains its contents, usefulness, and the questions it can answer makes gaining insights much easier.
Currently available to all Operations Hub users.
AI Generated Reports
You can now use Generative AI in HubSpot to create reports with just a simple question. For example, ask, "I want to know the average deal size for new business so I can develop an appropriate discounting discounting strategy."
Currently available to all Operations Hub users.
Conversation Summary
Conversations in active threads across all channels can now be conveniently summarized in the comment section. This feature provides a concise overview of the conversation, allowing any inbox user to quickly grasp the context without having to read through every single message.
Currently available to all hubs.
Content Assistant in Inbox
Users can leverage the content assistant to perform a wide range of tasks, such as crafting responses to customer queries or modifying selected text. They have the option to rewrite, shorten, expand, or alter the tone of the content, thereby enhancing its overall quality while preserving its intended meaning.
Currently available to all hubs.
AI Landing Page Creation from Content Generation
Easily create a stunning landing page in no time! With Campaign Assistant, effortlessly generate captivating copy, then build your landing page with just a single click. From zero to a professionally published page in a matter of minutes.
Currently available to all hubs.
LinkedIn & Facebook Text Ads AI Copy Generation
Craft compelling ad copy effortlessly with Campaign Assistant. Generate 3 variants to test for your upcoming campaign at the click of a button. Enhance your word choice, structure, readability, and eloquence while retaining the original message.
Currently available to all hubs.
Closing Thoughts
As we continue to ride the digital wave, it's clear that artificial intelligence isn't just an optional extra in the marketing toolkit - it's the magic wand.
With every click and command, we're generating sparks of brilliance, crafting narratives with ease, and transforming ideas into immersive experiences.
From intriguing ad copy to insightful reports, HubSpot's AI capabilities are truly a marketer's dream come true. It's not just about doing things faster or easier - it's about doing them smarter and weaving a digital tapestry that dazzles and delivers.
So, are you ready to step into the future and let AI take the reins? Brilliant things await, and it's time to get started!