Inbound marketing platform, HubSpot, has named Six & Flow (formerly Grain) as the winner of its International Client Growth Story Impact Award for Q2 2016!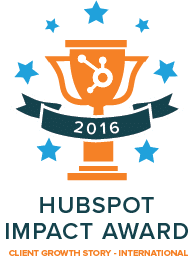 As a HubSpot partner agency, we're made up that the company loved our client story, and excited to accept such a prestigious award. The HubSpot Partner Agency Client Impact Awards are a representation of the best of the best – and that's not just us bragging! With so many marketing agencies now implementing the inbound marketing methodology, HubSpot launched these awards as a way of recognising high performers in the industry.
Why our client loves inbound marketing
HubSpot was impressed with our client growth story for our London based investment client – we've talked in our blog about how we used online lead generation and nurturing strategies to help them attract heaps of new business. Within six months, they saw a fivefold increase in revenue and leads, and achieved a ROI of over 3000%. HubSpot published this case study too!
In short, we helped our client to grow, and we grew as an agency through our work on this campaign. We've learnt a lot along the way, and we're incredibly proud that this has been officially recognised.
"Winning this award is a real honour," said Richard Wood, our Managing Director at Six & Flow.
"It just goes to show that by understanding clients and developing innovative solutions, newer agencies like ours can produce world class work that creates real value."
What HubSpot thinks about our inbound marketing
Patrick Shea, Field & Channel Marketing Director at HubSpot, had some kind words to say too. She said we "set an example for how businesses everywhere should be transforming their marketing with inbound."
"Since day one as a HubSpot Partner, their agency has been creating valuable, seamless interactions for their leads, prospects, and customers.
"Six & Flow integrates inbound into every aspect of their business, marketing, and mission, and the Client Growth Story Impact Award is a true testament to their success.
"Agencies everywhere can learn from their innovative tactics and impressive growth. Our team here at HubSpot is proud to call Six & Flow a Partner and recognise them with this Award."
What's next for Six & Flow
So what now? Well, we've been entered into the annual awards which are presented at INBOUND16 in Boston, so we have all our fingers crossed (although this does make typing slightly difficult.)
HubSpot is also launching a new website to share more information about Impact Award winners. This will feature a video produced by us, outlining our winning campaign, and we can't wait to get producing. Cut! End scene! Oh, we're getting carried away. Watch this space for our cinematic debut.
Working with a HubSpot partner agency can complement the technical side of the HubSpot software and introduce a hugely-effective inbound marketing campaign that can take your business to the next level of growth. If you would like more information, read our blog "How working with a HubSpot partner agency helps brands grow"