It's time to consider the importance of paid media efforts within the B2B eCommerce market. How can biddable media - or more specifically an integrated digital marketing channel mix - provide an intuitive omnichannel experience and win you a slice of the $12 trillion pie?
That's right. According to Shopify, the B2B eCommerce market grew to a whopping $12 trillion figure worldwide in 2021. So, if you're not already on the paid media train, it's time to start thinking about how you can make the most of this essential marketing channel.
The covid-19 pandemic expedited a change in the way B2B eCommerce brands interact. Companies are making the majority of their purchase decisions online. This isn't something new, we saw this trend occurring a few years back - the pandemic just accelerated this shift in behaviour.
But, it goes to show, that there still is a human behind the brand.
The Rise of Digital Media Touchpoints
As I mentioned earlier, purchase decisions are made online. And today's buyers are more educated than ever. Business buyers are applying research phases similar to those they would use for their own personal purchases.
A well-thought-out paid media channel structure, one that slots in with your inbound efforts, can be priceless for capturing buyers. And because buyers reside on multiple touchpoints, you can get creative with your google ads, remarketing, social media advertising and more.
The key is to start with a buyer persona. When Six & Flow structures buyer personas for ourselves or for clients, we take the time to understand the requirements of key decision-makers. This step helps us to decide the channel mix we think will best capture your target audience and buyer persona.
Paid media simply accelerates interactions within your market and reaches target audiences at specific points in your purchase funnel. It's advantageous because the very nature of the medium means it can be set up quickly, scaled appropriately and improved continually.
Offer highly personalised marketing experiences
With paid media, you're in control of your message. And, you're in control of who sees that message.
Thanks to the agile nature of paid media, we're able to cater to key target audiences and their specific positioning in the purchase funnel. Through remarketing, copy can be tailored to effectively nurture leads through the sales cycle. A really solid CRM system can further elevate personalisation for your buyer personas.
Once a buyer lands on your website or social channels, you can take personalisation a step further with conversational marketing. Using drift's conversational marketing platform, create sophisticated chatbot scripts where messaging is tailored according to visitor behaviour, needs, and more.
Track success and ROI more effectively
Target users at every stage of their buyer's journey - from awareness all the way through to purchase intent. You can track the ROI of each marketing campaign to a granular level and optimise the content you share and channel according to business buyer preferences.
This allows you to make real-time decisions that can improve your chances of success and also increase your bottom line.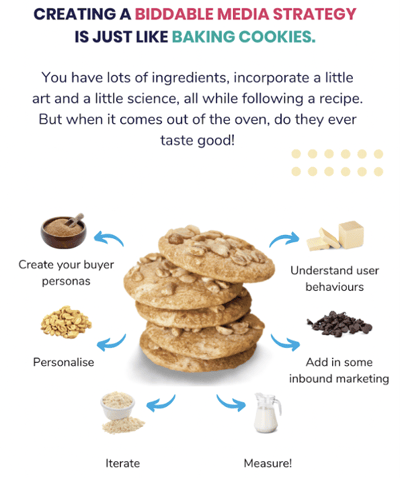 Buyers Expect Integrated Journeys
As I mentioned earlier, the key decision-makers within your B2B audience will be digitally savvy and expect high standards from your digital marketing presence when communicating with your brand. Realistically, an integrated omnichannel approach is required to meet buyer expectations.
There are a number of decision-makers at different levels within the B2B eCommerce space, and this further complicates the targeting and complexity of your digital marketing strategy. The more people involved in the decision-making process, the more complex the purchase funnel becomes. Here, channel use and understanding become pivotal.
Six & Flow usually adopts an Account-Based Marketing (ABM) strategy at this point. We seek out those different players and target them with tailored messaging, personalising our approach to individual needs.