A CRM is a powerful tool. It offers the blueprint to create authentic relationships with your customers from your first marketing activity to after they become a client. But, it's important to realise CRM implementations can fail.
A CRM typically does what it says it will do - in my opinion, the product wouldn't be on the market and have a large customer base if it didn't. The crew at Six & Flow and I are big HubSpot fans. I mean what's not to love...
Intuitive Interface
Powerful reporting
One code base across all 5 hubs


I'll stop there. I could go on a tangent about HubSpot. That's not what this blog post is about. This blog is about why CRM implementations fail. And, I'm not going to lie, despite HubSpot being an amazing platform, your HubSpot CRM implementation can fail too...
An Introduction to CRM Software
CRMs come in all shapes and sizes. Some easy to use, others... not so much (If you know, you know).
They offer a roadmap to growth. By this I mean, it offers the tools for you to enhance customer satisfaction, quickly meet customer needs, make data-driven decisions, and improve collaboration cross-functionally.
Some CRMs (😉) can do a lot more than just that because they are intuitive to use and provide a solution not just for sales, but for your whole business. Your CRM is the heart of your business.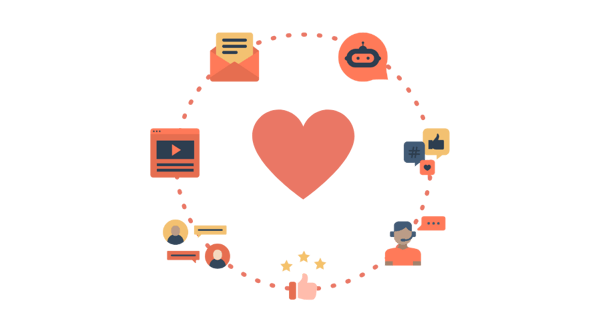 Why CRM implementations fail
CRMs are the software that can result in growth. But, without the proper foundations in place, your CRM project might just fail.
According to Merkle, 53% of CRM implementation failures relate to a lack of management bandwidth. When you don't put enough time into defining your exact CRM strategy and training your team to use the platform, you're entering a costly path.
I recently moved from Canada to the UK. Back in Canada, we drive on the right side of the road. Here in London, I wouldn't dare touch a bike, never mind a car - at least not yet. Why? Well, to me, the streets are chaos and I haven't got the hang of which way to look quite yet. So, I take the bus. I sit on the very top of those big red buses in the front seat, looking out to the road, trying to get my bearings. I let the bus driver drive the bus down the road(map) and I just have an understanding of where I need it to take me.
I think you know where I am going with this...
CRM implementations typically fail not because the CRM doesn't do what it says it will do (or the bus driver doesn't know how to drive), but typically because the foundation isn't in place (or because I don't know how to drive).
You get the point. Let's explore one of the main reasons why CRM implementations fail.
Looking at the source
There are a number of reasons why CRM implementations fail. We explain them here in this blog post.
But, if you want to do one thing to ensure your CRM implementation is successful, you need to look at who will drive the strategy, onboarding, and alignment.
The #1 Reason: Who's driving the bus?
The bus driver can be an internal team member or a partner agency that you work closely with.
When you choose HubSpot as your CRM platform, they require you to onboard. Whether it be with one of their consultants or with a partner agency.
The thing to take note of is that the HubSpot onboarding team act as consultants (this is pretty typical for most CRM software). They help guide you, but you are in charge of defining the strategy, setting up the software, and tailoring it to your business. You probably need a pretty skilled bus driver. If you have this person in-house, well then your company is in a good position to implement the CRM on its own.
How to prevent CRM Implementation Failures
If you don't have this person in-house, or feel that their time is better spent on other projects, It's worth considering a Partner Agency.
A partner agency becomes an extension of your team. I can't speak for all partner agencies out there - as everyone has their own approach. But, at Six & Flow, we get to know all the stakeholders who will directly or indirectly be using and/or benefiting from the platform. Our goal is to get to know your business and everyone's needs. This is a critical part of creating the CRM strategy and implementing it according to your exact use cases. From there, we offer training, support, and resources to ensure your team is set up for long term success.
We do all of this is because we understand that it's going to cost you more if your CRM fails. And, we're here to help your organisation drive more leads and sales, and create less friction.